This past weekend, I walked outside to find the mountains covered in snow, a sure sign that winter is just around the corner. I am amazed at how fast the summer season flew by and how much was accomplished here at Kenai Fjords. It was an especially warm and sunny summer for the park, with the temperature reaching or exceeding 80 degrees in Seward on four occasions. While everyone enjoyed the abundance of sunshine, I was reminded regularly by my co-workers that this is not typical Kenai Fjords weather. We may have sweated more in the field than other years but the clear skies certainly helped with completing many projects such as repeat photography and seabird monitoring via timelapse cameras.
This summer was also full of new experiences for me, including living in Alaska, doing coastal field work, and managing this blog. It has been a lot of fun and I wouldn't trade my time here for anything. I have enjoyed learning about new plant and animal species and watching the changing of the seasons. I was lucky enough to spend a lot of time out near Exit Glacier and am amazed at the amount of change that can occur in just one summer. The glacier has been retreating year-round for the past 3 years and it makes me wonder if or when it may advance again. After looking at photos of Exit Glacier from 1920 to the present, I just want to go back in time and see it in its full glory, in a healthier state.
We hope you all have enjoyed reading about the fascinating research projects that took place in Kenai Fjords this season ranging from glacier monitoring and hydrology to raptors and seabird research to trail impact monitoring and invasive species management. Be sure to check back next summer for new adventures from the Kenai Fjords Resource Management team. Until then, take care and happy trails!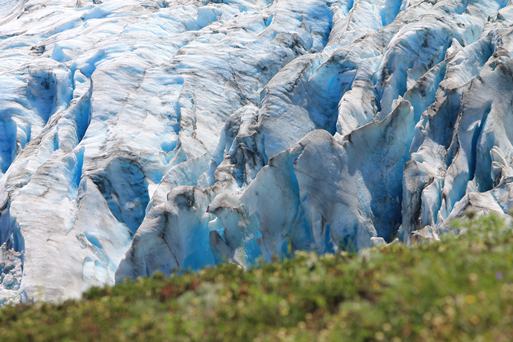 Exit Glacier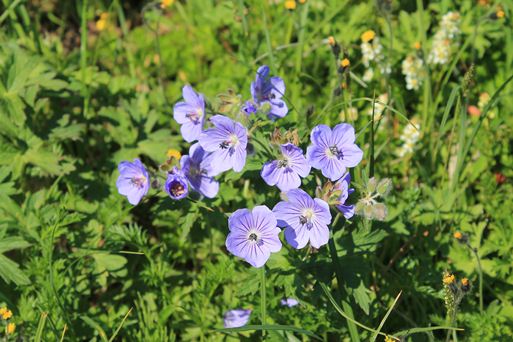 Geraniums along the Harding Icefield Trail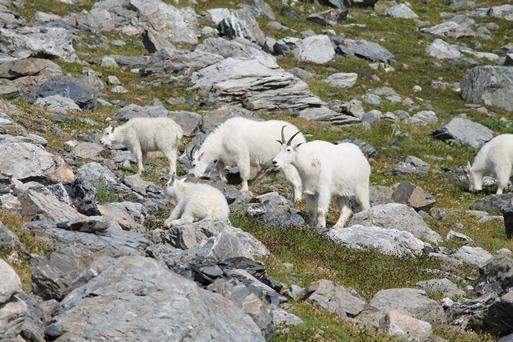 Mountain goats off the Harding Icefield Trail
Sunset in Aialik Bay
Photos: NPS \ Julie Markus