The wind is howling around us, somewhere between 35 and 40 miles per hour. It feels even stronger than that as we bounce along on the choppy waves at 25-30 knots towards Squab Island in our tiny 16" open boat. I am slightly worried because all six of my time lapse cameras sit at the top of the ridge on this tiny island and are positioned right in the path of winds that come funneling down off of one of the largest tidewater glaciers in Kenai Fjords National Park. As we approach the island the wind intensifies. I begin to hear the sounds of gull cries carrying on the wind. I can see a number of them hovering above the island, the strength of the gusts making it difficult for them to land.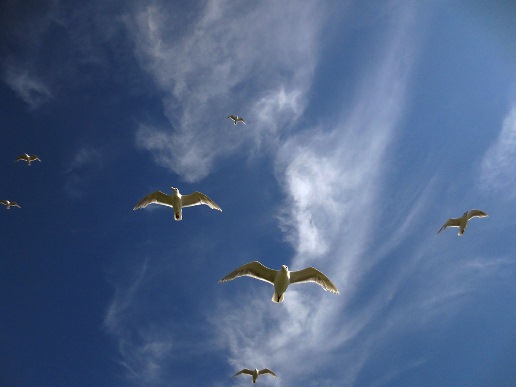 Gulls hovering in the wind. Photo: UAF \ Jen Curl
Luckily for my field partner, Elisa Weiss, and I, even on a day of angry winds, the landing for Squab Island is easy as it lies in the protected waters at the head of Aialik Bay. After ditching our bright orange float coats, we climb through umbels taller than both of us, pushing our way towards the top of the island. It is the beginning of July and hatching began about a week ago. I can see fluffy chicks here and there hunkered down in crevices and between stands of cow parsnip and grass, some still in nests and others mobile enough to move from hiding spot to hiding spot. Glaucous-winged gull chicks in their first few weeks are surprisingly cute with their soft down and yellow spotted coloring. I move with my shoulders down, frequently glancing warily at the sky as I walk, hoping to keep nutrient-rich guano from landing on my body/head/face/hair. Despite the stiff wind it is a blindingly sunny day, but my rain jacket is on - just in case.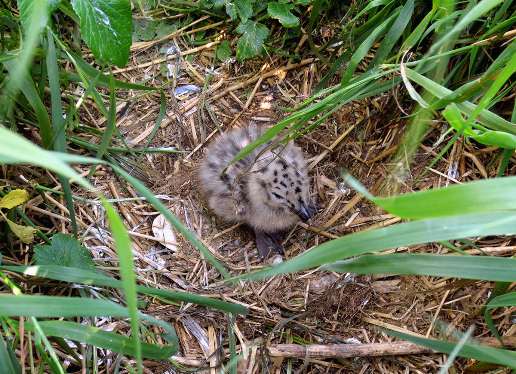 Glaucous-winged gull chick. Photo: UAF \ Jen Curl
This visit to Squab Island marks the approximate halfway point for my field season this summer. This is the second and final year of my graduate project, a collaborative effort between Kenai Fjords National Park and the University of Alaska Fairbanks. We are trying to answer some basic questions about how to monitor seabirds in the Kenai Fjords region. Our goal is to determine the best way to estimate how many birds there are for a given species (abundance) and how to detect changes in regional abundance over time.  Glaucous-winged gulls are among the most abundant ledge-nesting seabirds in Kenai Fjords National Park. Because of their abundance and wide-spread distribution across the region, gulls are a good model species to help address these research questions.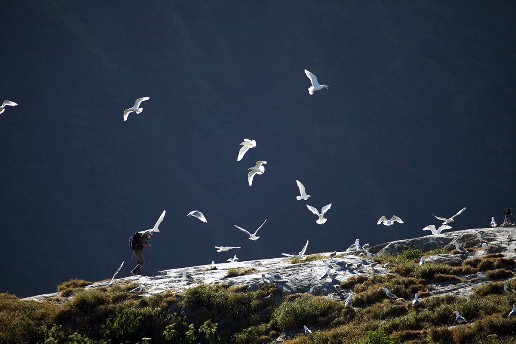 Elisa hunkering as she walks across Squab Island. Photo: UAF \ Jen Curl
In order to accurately measure the abundance of animal populations, researchers have to understand that many factors contribute to our ability or inability to see or "detect" the animals we study. For seabirds that often breed in large colonies, examples of these factors could include changes in the number of birds present at a colony (attendance), whether birds are hidden by vegetation or tucked away in crevices or burrows, and environmental variability such as the glare of direct sunlight, the angle of a steep cliff, or turbulent marine weather - all of which might affect our ability to detect the presence or absence of a bird.
Time lapse cameras are effective tools in that they can study populations of animals without requiring the presence of researchers, maximizing the resources of an agency like the National Park Service. I deployed six cameras on Squab Island, each set to take a photo every hour. By clicking this link (Time Lapse Video), you can watch a time lapse video from one of our cameras. Notice distinct locations where there is consistently a bird present (probably a nest site!). You can see the coming and goings of birds and that there are definite times with more and less birds present. Finally, you can see how the vegetation is changing across a number of days and imagine how it might change our ability to detect birds. Ultimately, these time lapse photographs will help us to determine how detectable gulls are both for current and future surveys at other colonies.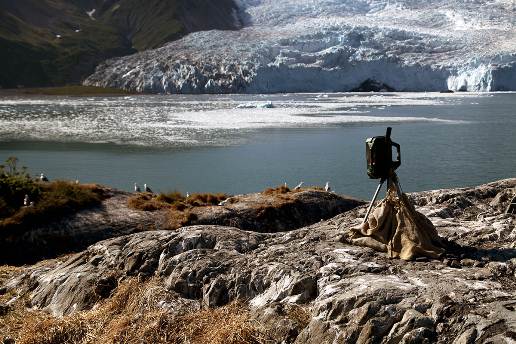 Time lapse camera with Aialik Glacier in the background. Photo: UAF \ Jen Curl
I watch silhouettes of gull wings suspended overhead and listen to the bustling sound of a colony as we hike down.  I scan the rugged walls of Aialik Bay and pause to look towards Aialik Glacier as a rumble causes the ground to vibrate with the energy from a large chunk of ice plunging into the ocean.  I feel privileged to do my graduate work in such a beautiful place.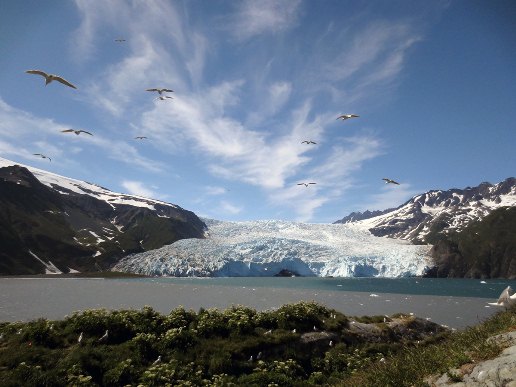 View from Squab Island. Photo: UAF \ Jen Curl