Twisted Stalk at Exit Glacier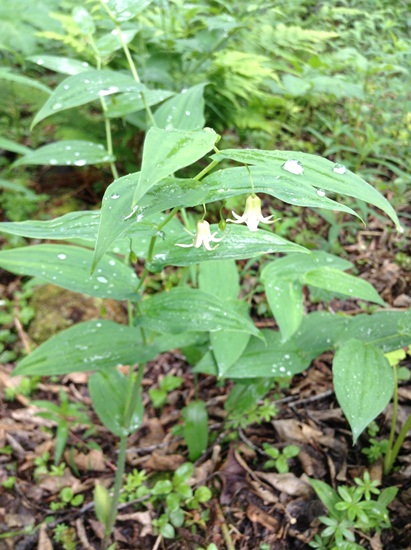 Photo: NPS / Lindsey Kromrey
Twisted Stalk (also known as Watermelon Berry) is found in moist woods and meadows at low to subalpine elevations. It is found on the Glacier View trail in Kenai Fjords National Park  
Interesting uses for Twisted Stalk: The seeds in the berries can be used as a laxative.
Can Twisted Stalk be eaten? Both the young stems and leaves can be used in salads or boiled and eaten like spinach. The berries can be made into jelly, jam, or syrup.
*IMPORTANT* The young plant looks similar to False Solomon's Seal which is poisonous. Be aware that the seeds have laxative effects. Use caution when eating these recreationally. 
Single Delight at Exit Glacier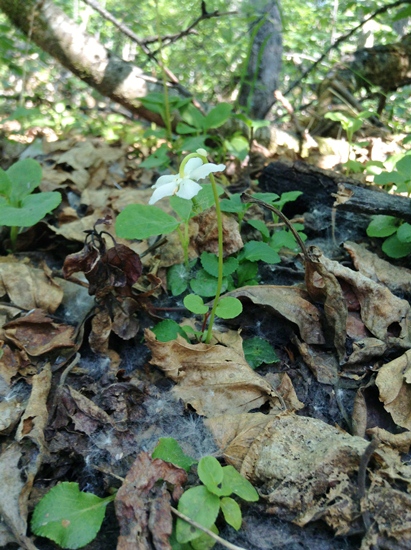 Photo: NPS / Lindsey Kromrey
Single Delight (also known as Shy Maiden) is a small flower found in moist coniferous forests at low to middle elevation. It has small oval leaves and a long stem with a flower that points towards the ground. This plant is found along the Glacier View trail at Exit Glacier. 
Interesting uses for Single Delight: The flower has been used to heal rashes, bunions, and corns. Tea made from the plant can help cure colds, sore throats, stomach disorders and lung troubles.
Can Single Delight be eaten? The flower, pods, or entire plant can be made into a tea. The plant contains Vitamin C.
Devils Club at Exit Glacier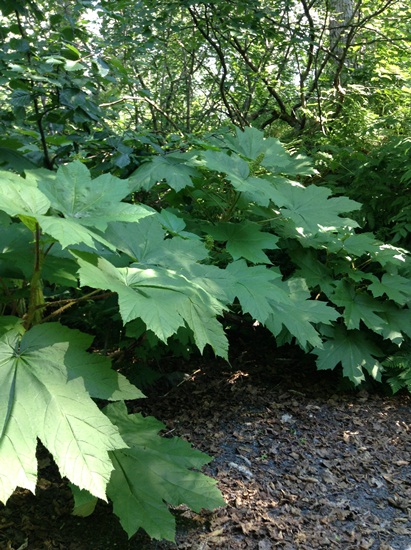 Photo: NPS / Lindsey Kromrey
Devils Club is a large plant with large spines on its underneath side. It is found in moist woods along streams and avalanche sites. It can be found at Exit Glacier (Kenai Fjords National Park) along the Glacier View trail.
Interesting uses for Devils Club: Various native groups used the devils club as a fishing aide. Since the lightweight stalk can be carved, it was used for many fishing purposes. It was used as a moving attractant for fish also as a snagging visual tied near the hook. The Devils Club sticks were also used as protective charms. Because of the spines, this plant was seen as being highly powerful.
Can Devils Club be eaten? The young shoots of Devils Club are edible. The roots and inner bark can be used to treat rheumatism, diabetes, and lower fevers.
*IMPORTANT* This plant has large spines that can lodge in skin and cause rashes and/or allergic reactions. Please be extremely cautious when handling this plant.
Please wash all plants well and verify that you correctly identify any plant harvested. Other plants may be harmful to your health. Plants along roadways or other areas with pollution or pesticide should not be eaten. (Also note that plants cannot be harvested in Kenai Fjords National Park.)
- Lindsey Kromrey, Interpretive Student-Ranger-Student