On Tuesday, August 7, the YCCs wrapped up their summer with a brown-bag lunch presentation and award ceremony. Due to unexpected technical difficulties, the YCCs weren't able to access the powerpoint presentation they had been preparing for the luncheon. They performed great under pressure and quickly brainstormed an alternative. When the audience, which consisted of about 30 park employees and members of a visiting Southeast Alaska Guidance Association (SAGA) crew, arrived and found their seats, the YCCs reenacted stories from the summer in a series of safety-oriented skits.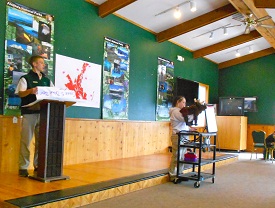 The skits ran the gamut from an everyday example of proper lifting technique to an incident in which a large brown bear charged a visitor in front of the Exit Glacier Nature Center. Two of the YCCs, Meret Beutler and Corianne Douglas, were staffing the Nature Center when the bear incident occurred and later received Peer Safety Awards for alerting rangers to the presence of the bear and helping with crowd control.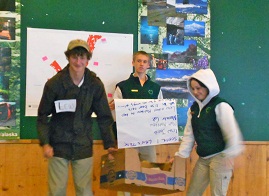 In one of the skits, Christian and Brandon created a dramatization of the time that Christian accidentally hit Brandon on the head with a shovel. Matthew narrated with a poem he wrote to mark the occasion:
Once upon a rainy midsummer day,
Brandon and Christian were on their way
up the Harding Icefield Trail,
while facing a ferocious gale.
They didn't hesitate
to take a break,
because Travis and Stacey knew that they would be late.
As they stopped and rested,
Christian decided that he would not be tested
by Brandon's good looks.
So he swung his backpack like a bag of books,
as if he were throwing it at his bed. 
Then the shovel
(Which was inside his back pack)
hit Brandon on the crown of his head!
Brandon yelled "Ouch!
I need to sit on a couch!
Christian you goon!
You're acting like a baboon!"
Christian Said "I'm sorry. I'm acting like a fool."
Christian is now cautious when carrying his tool.
Needless to say, the event was a success and the skits were a big hit. Thanks to Alaska Geographic for providing cake for the event.