The boat turns into Holgate Arm of Aialik Bay and the ruggedness of the south side of the fjord comes into full view. I've seen this ridgeline and its hanging glaciers at least a dozen times, yet I never grow tired of them. To my eye, the scenery in this fjord seems relatively unchanged. But, when I hold up a photo that was taken by a previous NPS employee, I am surprised to see just how different it is from 23 years ago. I try to replicate the original image by taking a digital photo and previewing it on the camera for a comparison. It looks pretty good, but I end up taking several more just in case. It's hard to get photos from an exact location when on a boat; the height of the boat, the timing of the tide cycle, and the speed at which we drift due to currents and/or wind seem to prevent us from finding that one spot. Nevertheless, we are close and the challenges of getting out into the fjords and having good weather for viewing and photographing the landscape make the opportunity to record this environment at this moment even more invaluable.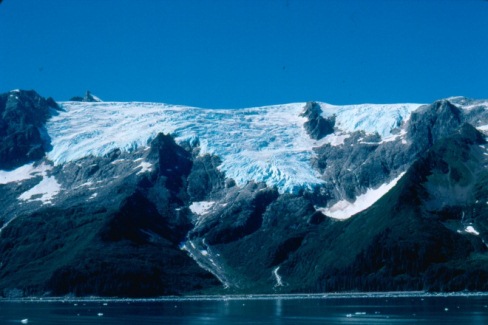 South Holgate Carapace, 1990. Photo: NPS \ M. Tetreau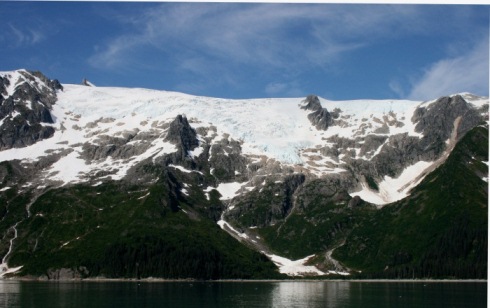 South Holgate Carapace, 2013. Photo: NPS \ D. Kurtz
Although tidewater glaciers tend to get the glory, the smaller glaciers and less prominent features have their own tale to tell.
We're lucky here in Kenai Fjords National Park. Well, we're lucky for many reasons, but for this particular project, we are fortunate to have photos of the tidewater glaciers that were taken in the early 20th century. In 1908-1909 U.S. Geological Survey geologists, U.S. Grant and D.F. Higgins explored the outer Kenai Peninsula, documenting the positions of the tidewater glaciers they observed with hopes to "attract attention to some of the most magnificent American scenery that is now accessible to the tourist and nature lover." Today these photos and descriptions are priceless as they allow us to see what the fjords looked like when the glacier terminuses extended well beyond their current positions (like McCarty Glacier which has retreated more than 10 miles in the past century) or to witness a stable glacier that has experienced little change in over 100 years (as is the case with Aialik Glacier). But it's not just glaciers that have changed in this landscape. These photos from the past and new photos that have been added to the series will allow us to look at changes in snowline and seasonal snow persistence. We will be able to monitor changes in vegetation including species composition and distribution following disturbances such as deglaciation, landslides, and tsunamis. We may even be able to study changes resulting from large scale events such as seismic uplift or climate change. The photo collection is a dataset as well as a historical archive that, with new technology and techniques, can be quantified when draped over digital elevation models and may lead to more research and analysis opportunities in the future. Perhaps the most exciting part of this project for me is not in identifying and documenting changes that have already occurred, but in preparing future researchers to look at changes that are yet to come.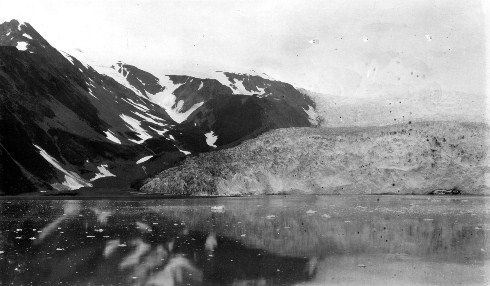 Aialik Glacier, 1909. Photo: USGS \ U.S. Grant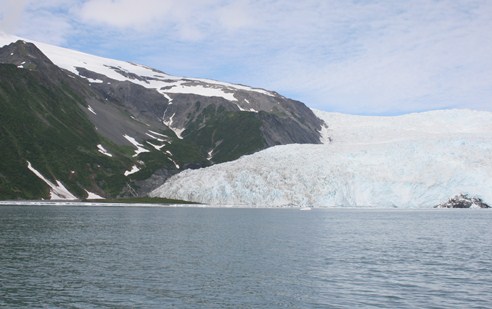 Aialik Glacer, 2013. Photo: NPS \ D. Kurtz
Although my role in this project is small, when I think of the big picture- how we all fit into the big scheme of things- it's humbling. Taking the pictures and comparing to those of the past brings out the philosopher in me. I ponder how small we are and how short our time is in the world, yet marvel at the influences our species has as a whole. Instead of taking a photo to record a scene of beauty, I take it to document the changing landscape, knowing that it will be more than just a pretty picture.
Photos from KEFJ's repeat photography project can be found online at https://science.nature.nps.gov/im/units/swan/monitor/repeatphoto/RepeatPhotography.cfm