The time was approximately 5:00 am and our skiff was motoring steadily against the ebbing current that flowed like a river from James Lagoon into McCarty Fjord.  Slowly but surely, we navigated around rocks and shoals until we were safely in the lagoon.  We continued on, following a GPS waypoint to our destination, a soft-sediment monitoring site where we conduct excavations for intertidal clams.  Tides in James Lagoon are delayed by up to two hours due to the amount of water that drains out of the narrow channel we use to access the lagoon, so we arrived well in advance of the tidal elevation we target for digging clams.
I was discussing how we should pass the time, when my field partner pointed out a sea otter foraging just offshore of the soft-sediment site.  Part of our long-term monitoring plan involves observing sea otters foraging to document changes in their diet over time. I had planned to collect foraging data at James Lagoon after completing the clam sampling, and was fortunately prepared with the necessary materials to observe the sea otter.  After setting up a high-powered telescope on shore, we observed the sea otter feeding at the surface, from which we could identify the prey being consumed and estimate the size of that prey relative to average paw width.  By watching otters dive and collect prey throughout Kenai Fjords we are able to monitor dietary trends in what the otters are eating and how that is changing over time. We are also able to estimate how the prey population may be changing (larger/smaller, more/less abundant) over time.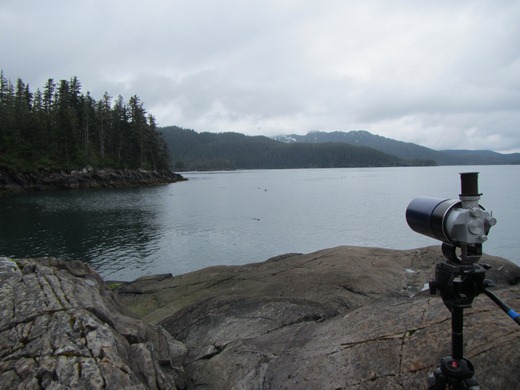 Telescope set up to observe foraging sea otters. Photo: USGS
The sea otter feeding at our site appeared to be an older female, with grizzled, blonde fur on the back of her head making her easier to distinguish from other otters in the areas.  After her first dive she surfaced with several small clams.  Her next dive was in the same location, and this time she emerged with a large Butter Clam, Saxidomus gigantea.  Her following dives consisted of clams and one helmet crab, Telmessus cheiragonus.  I continued to observe her for several consecutive dives before she decided she had finished foraging and swam off.  This entire foraging bout took place over about 45 minutes.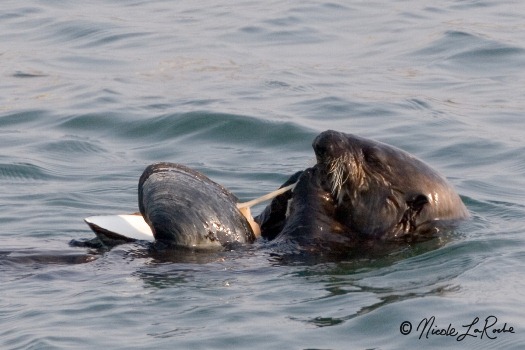 Sea otter feeding on a clam. Photo: USGS \ Nicole LaRoche
Finally, the tide had dropped enough to see the site marker indicating where we should begin our clam sampling and it was time to dig. We began the excavation process from the site marker, which was established at the 0 mean-low water tide line in 2007. We laid out a 100 meter transect tape, and sampled rectangular plots along this transect. Working as a team, my field partner and I took turns digging, hauling buckets full of sediment to the water's edge and sieving to collect the clams.  We finished up after about two and a half hours, just as the tide started to creep back up and submerge our site again.  We identified and measured every bivalve we hauled from the sand including but not limited to: steamer clams, butter clams, horse mussels, and cockles. This process allows us to document the species that occur in Kenai Fjords and also track changes in those bivalves (density, size, species composition) that may be consumed by nearshore predators, like the sea otter I had watched earlier that morning.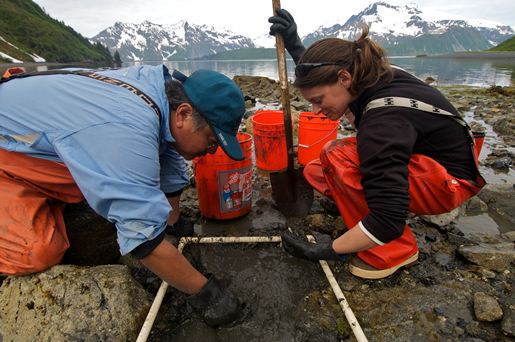 Digging for clams. Photo: NPS
One of the great things about being immersed in the field, is that it gives you time to think about the system you study.  In the nearshore there are many different pieces to the puzzle and understanding how or why an ecosystem changes is no simple feat.  There are many complex interactions between species and also important environmental drivers.  The long-term monitoring program encompasses much more than just clams and sea otters to try to understand the nearshore system.  At the same time my field partner and I were sampling the soft-sediment site, other members of our team were out at established mussel bed and rocky-intertidal monitoring sites to examine invertebrates, seaweeds, and water quality in the area.  In addition to the intertidal work, later that afternoon we went out to sample eelgrass beds, conduct marine bird and mammal surveys, and survey black oystercatchers.  All of these different metrics are part of a holistic approach to monitoring the nearshore system that will contribute to our overall understanding of dynamics in this important ecosystem.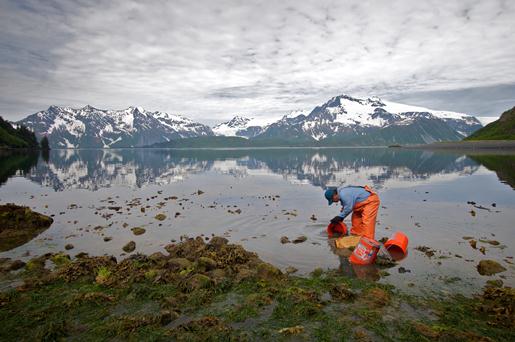 Nearshore monitoring in Kenai Fjords. Photo: NPS