Brandon and I have been doing projects that other YCC's haven't had the chance to do. So far we have met a bundle of new faces and personalities who all had the same drive to get the job done as a team.
On June 26, Brandon and I went to a project with the Resurrection Bay Conservation Alliance (RBCA) to re-"veg" a certain area where on-goers had been killing delicate plant life and eroding the soil there. Everyone was split into two groups; one group had the cleared, soft sand area to work at and our group had the gravelly, bushy area to work. The event involved a lot of shoveling in knee deep water and finding rocks in the freezing stream, but once we passed the barrier of work, things seemed to become more and more fun. After we had restored the base of the stream bank, we hauled bundles of willow and alders and laid them at an angle so the soil wouldn't move once it was dumped. After they were laid in place we formed a bucket brigade to dump topsoil and gravel on the willow, which took a while because there was a lot of soil to be replaced.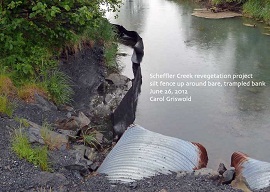 The stream bank was badly eroded before we started our project.
Once lunch time came along we had a good hour-or-so lunch hanging out with everyone else that contributed to the project. After lunch our group started to plant grass behind the willow and dumped more soil and gravel, making multiple layers of gravel, top soil, and plants. Soon the eroded little beach began to fill with plants and willow trees, and we were finished. We packed all our supplies up and loaded it into our jeep and said goodbye to the rest of the volunteers and the RBCA. We got into our crowded jeep, drove back to our office around 4:30, and then headed for home.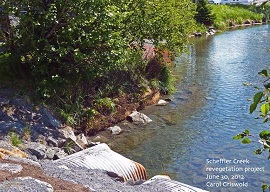 Taken a few days after our project, this photo shows how the alders and willows we planted are holding the new soil in place.