Did you know that peregrine falcons and bald eagles regularly prey on other birds, particularly seabirds?  Peregrine falcons and bald eagles are top predators in the marine food web, preying heavily on marine birds that forage and nest along the Kenai Fjords coastline.  Top predators are vulnerable to the environmental contaminant loads in their prey - especially those retained in fatty tissue (such as mercury and organochlorines).  This vulnerability is heightened in high latitude environments since greater fat stores are needed in shorebirds to survive the harsher, colder conditions.  Researchers from Kenai Fjords and the US Fish and Wildlife Service spent 9 days at sea collecting data as part of a pilot study to investigate the seabirds' role in the productivity and contaminant loading of raptors in the park and adjacent Alaska Maritime National Wildlife Refuge lands.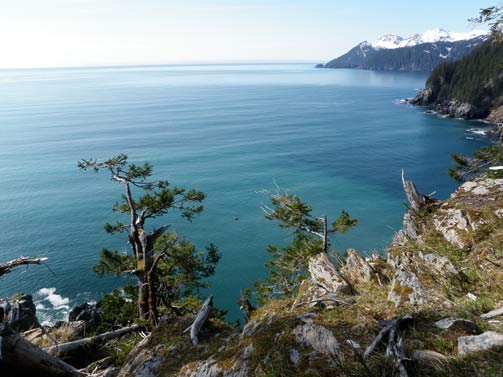 On a rare sunny day, a researcher observes from a skiff below Yalik Point. (Photo: NPS/Elisa Weiss, 2012)
For up to four hours we scanned potential nesting cliffs to determine whether falcons were nesting at the site and for up to four hours we swayed in the boat at the will of the seas.  The exposed coastline is a challenging place to conduct boat-based surveys, especially in May when storms still frequently blow into the western Gulf of Alaska - we were happy to find blue skies and calm waters at our first site, Yalik Point in Nuka Bay!  We played a peregrine's "eechup" call using a wildlife caller at a potential nest ledge to feign intrusion relying on the peregrine's highly territorial nature.  We got an immediate response from a falcon pair.  They darted across the cliff looking for a potential intruder, but all they saw was a group of floating biologists eager to count them.
As part of this study it is necessary to collect peregrine and bald eagle eggs.  Eggs are used to test for contaminant loads since females transfer contaminants from their tissue into their eggs.  We also collected shed feathers for mercury analysis and other feathers, fur, and bones around nest sites for prey analysis.  However, finding and accessing peregrine nest ledges proved to be more challenging than imagined, especially with high seas.  Each falcon egg we collected represents hours of effort beginning with confirming active nest ledges from rocking boats in 6 foot seas, then climbing steep hillsides through prickly devil's club and salmonberry and over 5-ft diameter old growth spruce logs to reach cliff tops, and finally repelling from the edge of 1000-foot cliffs into nests.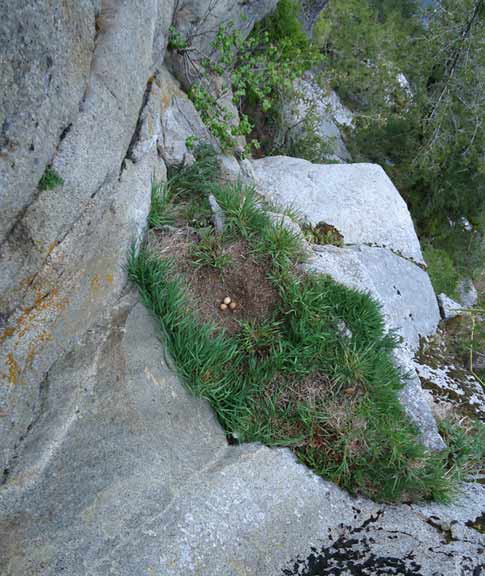 Looking down at a peregrine falcon nest on the very steep Aialik Cape. (Photo: NPS/Steve Lewis, 2012)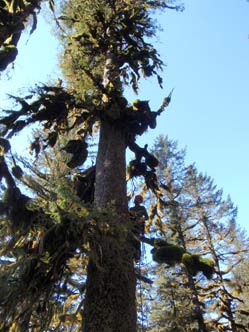 Tree climbing to a bald eagle nest in Nuka Bay. (Photo: NPS/Laura Phillips, 2012)
The seas continued to build, shortening our trip, and sending us back to Seward battling 12-ft waves and driving rain. We arrived home with 4 peregrine falcon eggs, 2 bald eagle eggs, a large bag of prey remains, a lot of new raptor ecology and behavior information, and an even greater appreciation for our captain, Jamie Thomton, and deckhand, Mel Knight.
These samples will be processed and analyzed this fall, so look for those results in spring 2013. We will return to bald eagle and peregrine falcon nests later this month to observe chick numbers at the nests and collect more prey remains.