Caring for the cultural resources of Kenai Fjords National Park is a responsibility shared by multiple divisions within the Park. In June of 2014 staff from the Visitor and Resources Protection (VRP) and Cultural Resources divisions boarded the M/V Serac, traveling from Seward to Nuka Bay and a number of locations in between. The primary goal of the trip was to give VRP staff an opportunity to get up close and personal with historic sites, in order that they may more effectively keep an eye on them during their various patrols throughout the Park. Things they will be on the lookout for include impacts from erosion, wildlife, vegetation and human visitors.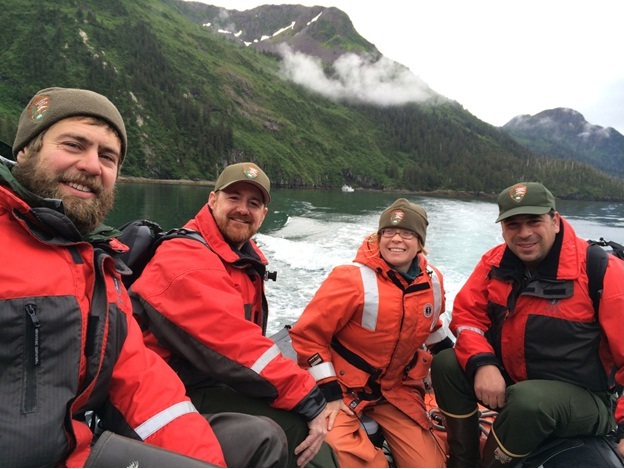 Visitor & Resource Protection and Cultural Resources staff motoring to an historic site.
Photo:  NPS / John Anderson
The field crew included VRP Rangers John Anderson, Jeff Carpenetti and Travis Fulton; Cultural Resources lead Shannon Kovac and Archeologist Jon Hardes, as well as the crew members of the Serac. Between June 24th and June 27th of 2014, we visited more than a half a dozen historic sites as well as a couple of precontact archeological sites (some nearly 3,000 years old!) dotting the coast. Shannon Kovac provided members of the crew with summaries of what to expect at each site, in terms of features and artifacts and some history of the various areas. For my part, beyond better familiarizing myself with a number of the mine sites I was visiting for the first time, I (Park Archeologist Jon Hardes) did my best to address questions related to the pre-contact archeological sites we visited along the way.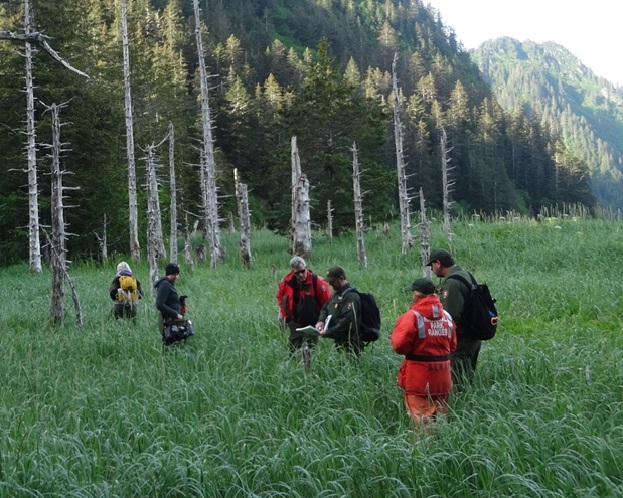 Staff discussing the finer points of a precontact archeological site while onsite.
Photo: NPS / Travis Fulton
Sites visited, varied from small pre-contact locations with little-to-no human signature left on the landscape to the remains of elaborate mining operations, complete with adits, ore bins and related domestic structures. Making our way to some sites required little more than stepping off the landing craft onto a beach, while others called for more lengthy overland hiking and bushwhacking.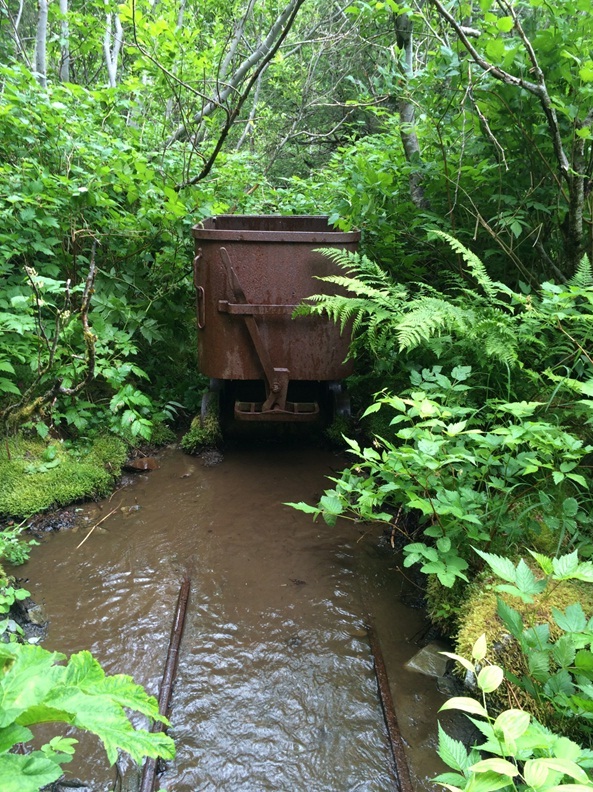 An abandoned ore cart and rails at the Sonny Fox Mine site. Note the heavy surface runoff and encroaching vegetation.
Photo: NPS / Travis Fulton
Beyond educational goals, these visits also allowed Shannon and me to conduct condition assessments at each site, update photographic and GIS documentation and effectively strategize for future site needs. It was a very productive trip and made me look forward to directly collaborating with VRP and other divisions again soon!