Nuka Bay and McCarty Fjord are two of the most infrequently visited regions of Kenai Fjords National Park, primarily due to their remote location at the southern extent of the park.  A several hour boat ride or a trip in a float plane is required to reach these sites, making travel to these locations difficult for most visitors.  This remoteness has limited the impacts of human disturbance on the native ecosystem and has provided a buffer from the introduction of non-native plant species. Despite their isolation, non-native plants have been documented in these beautiful and largely pristine ecosystems.  Last week the Kenai Fjords National Park Exotic Plant Management team traveled down to both Nuka Bay and McCarty Fjord to control known infestations and survey for new introductions as part of our early detection and rapid response program.
Our first destination was an old mine site on the western side of Beauty Bay.  We had gotten very lucky with the weather, there wasn't a cloud in the sky and the ocean was calm and glassy as we dropped anchor in Beauty Bay.  The six hour boat ride from Seward had provided ample time to prepare for our field work, and we were all excited to get ashore and see what we could find.  Given the difficulty to get out to these locations, ensuring you have all the necessary gear to complete your work, plus a few backups, is essential.  We only get one chance to come out to these remote areas of the park each year so it is important to make our time here count. We stuffed final provisions into our packs, went over last minute check lists and donned our float coats as the crew of the National Park Service research vessel, the M/V Serac, lowered the skiff into the water.  Once we had all clambered aboard the skiff, we pushed away from the M/V Serac and were off, motoring toward our first beach.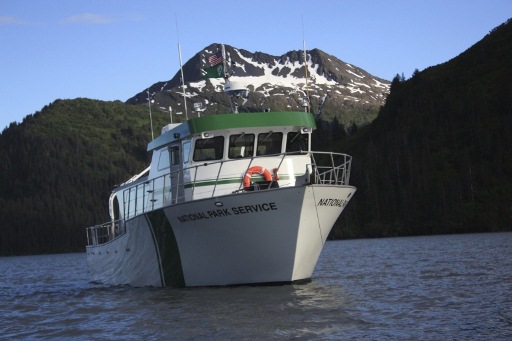 The Serac provided the accommodations during the trip into the southern regions of the park. Photo: NPS \ Peter Frank
As the skiff approached the shore we readied ourselves to disembark onto the beach.  We hopped out of the skiff, walked up through the water, smushed through rock weed (Fucus vesiculosus) in the intertidal zone, and onto the cobbly beach where we regrouped. Conducting surveys for non-native species is a complex and delicate operation in such a remote location.  Almost all non-native plant species found in the backcountry were unintentionally brought there by humans and so we must approach our surveys as if we were a camper, prospective miner, fisherman or any other intrepid visitor who may have found themselves in this area.  First, we look for signs of past disturbance; fire rings, tent impressions in the vegetation, social trails and any other sign of human activity.  On this particular site in Beauty Bay, there were several collapsed structures and an overgrown runway around which invasive plants had been found and treated in previous summers. We must also consider ourselves potential transporters of invasive species, because despite our stringent requirements for gear cleanliness, plant seeds may still linger on our cloths or equipment. Therefore, picking a survey route which will cause minimal disturbance to native vegetation is also critical. 
Once we had considered our route to the old runway, we set off through lush meadows of beach wildrye (Leymus mollis) dotted with an assortment of wild flowers. A GPS unit is used to navigate to the locations of previously documented infestations as well as to map any new infestations we found.  Fortunately, both the common timothy (Phleum pratense) and common dandelion infestations (Taraxacum officinale) which had been documented and controlled here last summer were not detected during this trip. This is one of the few instances in field work where not finding what you are looking for is a good thing.  Hopefully this discovery indicates that these species have been successfully eradicated from Beauty Bay, which will allow the native vegetation to thrive.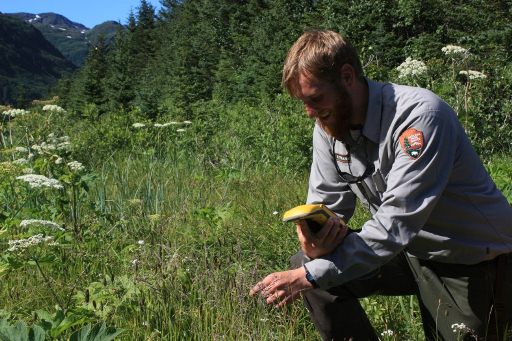 Identifying native timothy grass in Beauty Bay. Photo: SCA \ Nara McCray
During the following three days on the Serac, we surveyed a total of six beaches, discovered and treated one new infestation of common dandelion at Split Glacier beach, and re-treated a known infestation of common dandelion at Dinglestadt Glacier, which was smaller than previous visits.  Overall it was a very successful trip; the weather was perfect, the scenery was beautiful and the weeds were few and far between, what more could you ask for!

It was a beautiful day for mapping invasive species. Photo: NPS \ Peter Frank