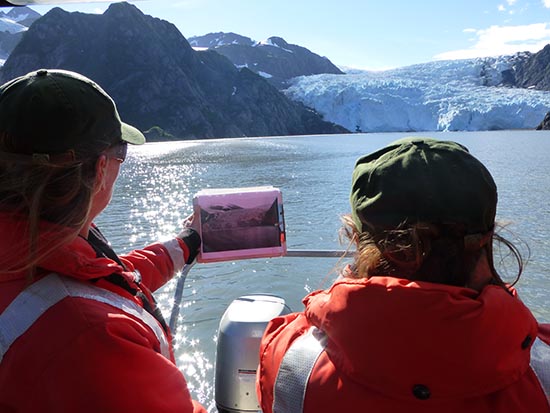 Deb Kurtz's repeat photography project incorporates taking pictures of landscapes and glaciers which have been photographed in the past.  By comparing the current and the historical picture we can get a better understanding of the change that has occurred. We did one set of pictures which were originally taken by Molnia, a geologist for USGS, from 1990 and 1991. These images showed immense differences of the environment and receding of the glaciers. Often the shore was covered with ice in the old pictures, where now only a small glacier is left. Even more stunning was the change we observed when we took repeat photographs of pictures originally taken by the researchers Grant and Higgins in 1909. This project will create a databank, using the pictures from the past and the present, including the pictures taken on this trip, so we can analyze the changes over time and continue to document them in the future.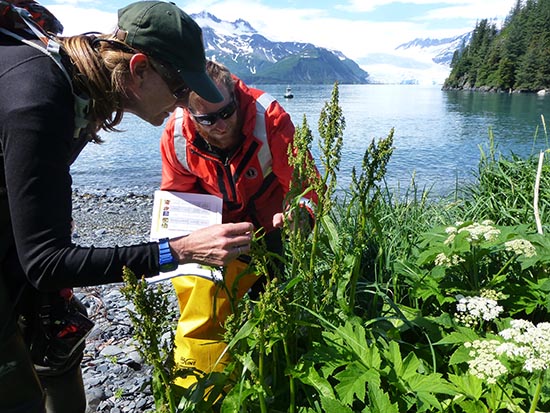 The other goal of our trip as the Exotic Plant Management Team was to survey the Aialik Bay beaches for invasive plants. This area of the Kenai Fjords National Park is a wild, beautiful place, mostly free of debris and invasive plants, and it is important that it stays that way. We assessed beaches by having the Safeboat drop us off at the shoreline where we looked for non-native plants. We were specifically searching for annual bluegrass, plantain and pineapple weed. On this trip we were able to survey various areas including Abra, Quicksand and Verdant Coves, and the Aialik and Holgate Bay public use cabin areas. Since these regions have been monitored and mapped on a GPS in past years, we were easily able to revisit previously infested areas. We found bluegrass near both public use cabins, just as in years past. An unexpected find was in Abra Cove where bluegrass was growing all around the camping spots. All these infestations were clearly man-made, since they were found in human visited areas, specifically near the cabins. Human transportation of seeds and plants can occur easily; please make sure to check your boots, boats, bags and kayaks for plant materials before landing on a beach! We treated all invasive infestations we identified manually, pulling out all visible plants and mapped all the infested areas.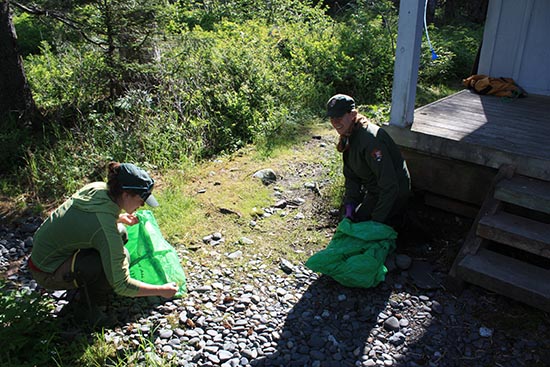 We had a great and productive trip leaving behind pristine beaches with nothing but our footprints. Hope everyone is enjoying the summer!