Sea swell, playground swings and reading in cars all have a similar uncomfortable effect on me.  If taken to an extreme, these actions will result in stomach upheaval.  One of the most efficient ways of seeing Kenai Fjords National Park, however, requires risking my lunch and taking a boat ride into the fjords themselves.  Today, I had the chance to shadow Ranger Jim and visit both tidewater glaciers in Aialik Bay, such opportunity is worth the risk.  Luckily a low pressure front pressed the swells in the notorious Gulf of Alaska down to levels more characteristic of the Lincoln Memorial Reflecting Pool and this trip was quite comfortable.

Besides seeing the remarkable tidewater glaciers, fjord tours are an excellent opportunity for seeing a wide variety of pelagic sea birds which visit the Park's coastline for breeding and feeding purposes every spring and summer.  This trip was no exception.  As we embarked into a dense fog I spotted the usual suspects Black-legged Kittiwakes, Pigeon Gillimots, Glaucous-winged Gulls, Double-crested Cormorants and Marbled Murrelets.  As we passed the Cape of Aialik new wings took to the air and the water.  Both Horned and Tufted Puffins dove to avoid the boat.  Nearing Holgate Glacier prompted the appearance of large "rafts" of rhinoceros auklets still touting their namesake horn-like extensions on their beaks: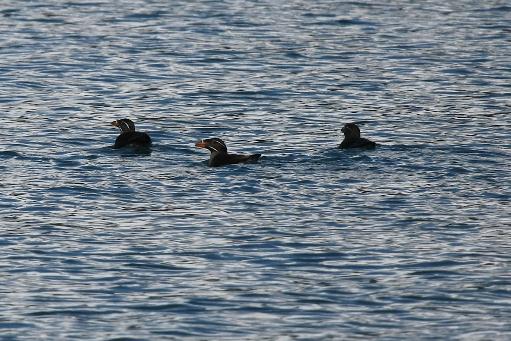 Later as we traveled to Aialik Glacier at the head of the Fjord I spotted a silhouette which was unusual to me.  With the help of Armstrong's Guide to Birds of Alaska I quickly identified the small, dark, graceful bird as a Leach's Storm Petrol.  Storm Petrels are very pelagic and are rarely seen close to land, so I was very pleased with the sighting.  I saw several murrelets near the tidewater glaciers but I was unable to positively identify any of them as the endangered Kittletz's who favor tidewater glacier habitat.