Hello Kenai Fjords Blog followers, my name is Sam Stark and I'm a Biological Technician here at Kenai Fjords National Park. I'd like to tell you a bit about trail cameras, a non-invasive tool for wildlife research. As many people are unfamiliar with trail cameras, I'll tell you about how they work, different ways in which they're utilized and how I used them for my work this summer.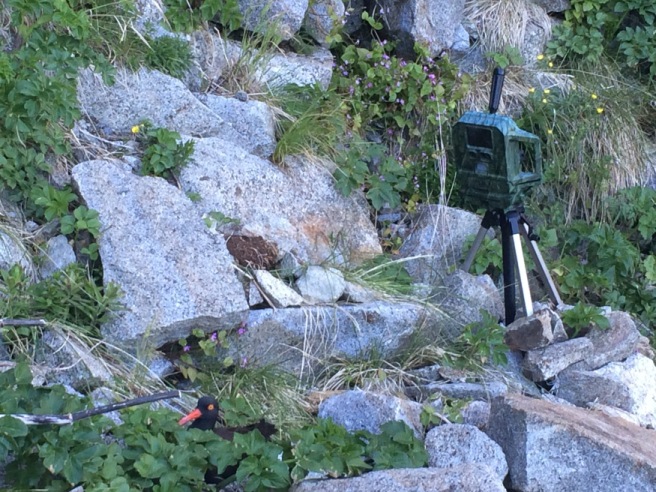 Trail Camera near oystercatcher nests on Natoa Island.
Photo: NPS / Sam Stark  
Trail Cameras are highly elaborate devices which are used to answer a simple question, "what's out there when we're not?" This question is extremely important to wildlife researchers as our presence modifies the behavior of many species. Trail cameras give us detachable eyes we can use to watch these animals without disturbing them. Trail cameras are made up of two basic parts: a camera and a trigger. Advances in technology have improved by leaps and bounds, especially in the sophistication of the trigger mechanisms. Triggers have transformed from simple trip lines to modern infrared heat sensors. These new sensors use the movement of an animal's body heat, when in range of the camera, to trigger the camera. This can be done as far away as 50 meters! These triggers allow the camera to save battery life and memory space while capturing photos of all the animals passing within range of the camera.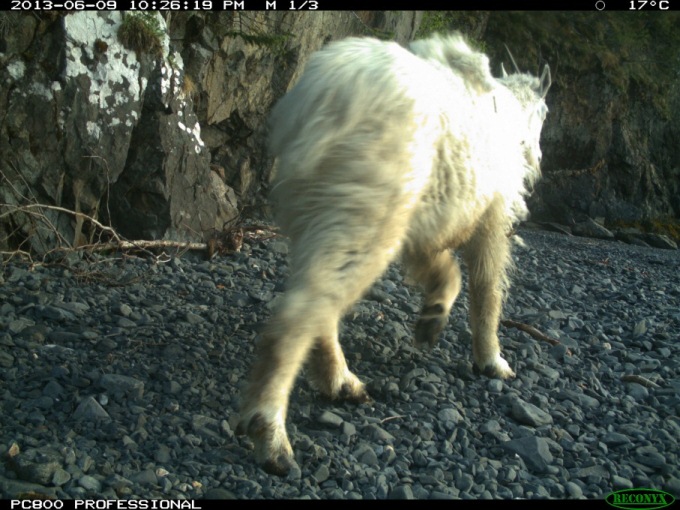 Trail camera photo of a mountain goat nearly stepping on an black oystercatcher nest (not visible, behind goat) on a beach south of Coleman Bay.
Photo: NPS / Sam Stark 
Though these cameras have been utilized in wildlife research for many years they also have several other uses. They have long been used by hunters to detect target animal presence or absence in hunting areas. They can be used for forensic purposes and they can used to record levels of vehicle traffic on remote roads. My work this summer was focused on nesting black oystercatchers here in Kenai Fjords National Park. An important factor in understanding population trends of nesting birds is determining sources of nest predation and rates at which nest are being predated. This is where trail cameras (or nest cameras in this case) become extremely useful. Though nest predators can sometimes be identified by tracks left at the sight or other evidence around a failed nest, these means are unreliable and often inaccurate. Using trail cameras we were able identify 100% of nest predators where predation took place at the nest site and a camera was in place. In the past two nesting seasons we recorded incidence of nest predation by Common Raven, Black Bear, Domestic Dog, and Peregrine Falcon.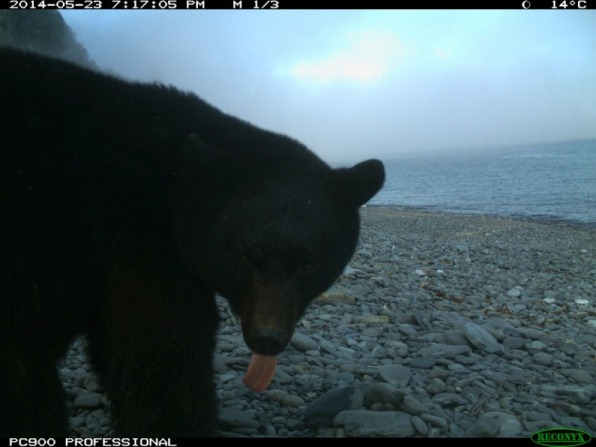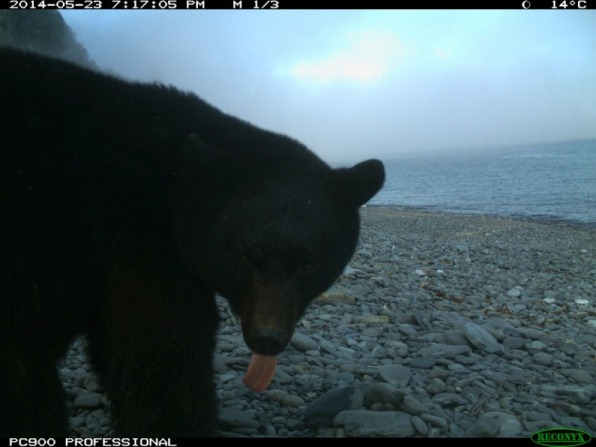 Nest Camera photo of black bear depredating an oystercatcher nest on N. Verdant beach.
Photo: NPS / Sam Stark 
Along with predators, we are also able to identify exact time and date of hatching, the identity of some prey items, and incidence of incubation disturbance. Trail cameras are a valuable tool for wildlife management and are becoming more widely used as cost of operation decrease and the technology improves. If you do come across a trail camera in the park or anywhere on public land recognize the potential for sensitive wildlife habitat in the area and leave them undisturbed. I hope you now understand a little more about trail cameras, their applications, and how this technology is helping park biologists understand pressures wildlife face.