I just got back from the field after conducting an hour long sound monitoring survey along the Harding Icefield Trail.  High above the valley floor, running water and bird songs dominated the soundscape.  I sat and strained to hear other sounds above the roar of the water.  Suddenly, I heard the high pitched alarm of the hoary marmot.  I was excited to hear something new, but then got a little nervous since marmots usually call to each other when there is danger; perhaps a bear was in the area.  I quickly became more alert since I was sitting so still, so quietly, so alone on the mountainside.  The marmot stopped calling.  I relaxed again and focused on listening (it takes practice to truly focus on listening).  The rest of the hour I heard the sounds of hikers chatting, insects buzzing, and the faint sounds of vehicles coming and going along Exit Glacier Road.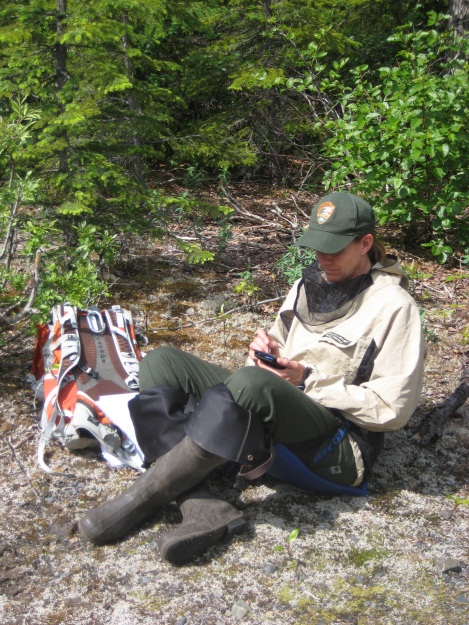 NPS researcher, Christina Kriedeman, conducting a listening session.  (Photo: NPS/Stacey Torigoe 2012).
The sounds I hear are documented using a personal digital assistant with a program developed by the National Park Service Natural Sounds program.  Each sound has a button.  When I hear that sound I turn the button on and it remains on until I can't hear it anymore. Once I download the data, I can calculate the percent time that human-caused sounds are heard, identify what types of sounds I hear (both natural and human-caused), and noise-free intervals (when I don't hear any human-caused sounds).  
We often don't realize how important the natural soundscape is to our experience.  When you visit a wilderness setting, you expect a certain set of sounds - perhaps even unknowingly.  When that expectation is not met, you realize the importance of the soundscape to your connection with place.  Just as noise can alter your Kenai Fjords experience, noise can also affect wildlife by interfering with their ability to forage or find prey, avoid predators, migrate, establish territory, find mates, and rear young.
Management zones have been established in the Exit Glacier area that consider future soundscape conditions.  Using the management plan and conducting sound monitoring surveys park managers can identify inappropriate sounds and sound levels in each of these zones.  Mitigation measures can then be taken to reduce human-caused sounds and improve the soundscape for visitors and wildlife.  Mitigation could include disallowing busses to idle in the parking lot, installing soft closure hinges on facility doors, and using hand tools when safe.
So, next time you visit a National Park take the time to stop and really listen, you might even hear silence!