The weather is just what we were hoping for: blue skies and just a touch of wind.  The fog that had rolled into resurrection bay every morning for the last few days was nowhere to be seen, which meant we were cleared for takeoff.
I met Chuck Lindsay, a Physical Scientist with the Southwest Alaska Network Inventory and Monitoring Program, at the Seward airport.  Part of Chuck's job is to maintain 11 Remote Automated Weather Stations (RAWS, if you like acronyms) across Southwest Alaska; three of which are in Kenai Fjords National Park.  Today, we are performing annual maintenance on the Harding Icefield RAWS, which involves changing all of the meteorological sensors.
The short flight from Seward to the weather station is spectacular, offering breathtaking views of the local mountains, cirque glaciers, and braided river valleys.  When the Harding Icefield comes into view, it seems to stretch out forever to the south, broken only by the jagged peaks of the nunataks.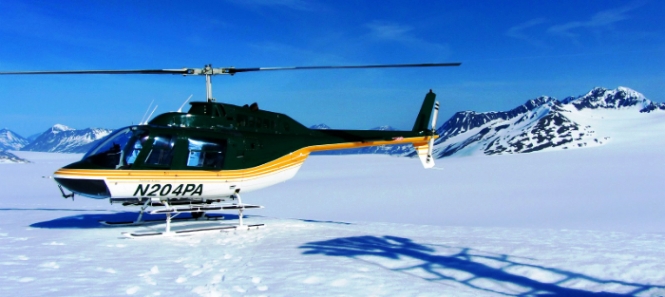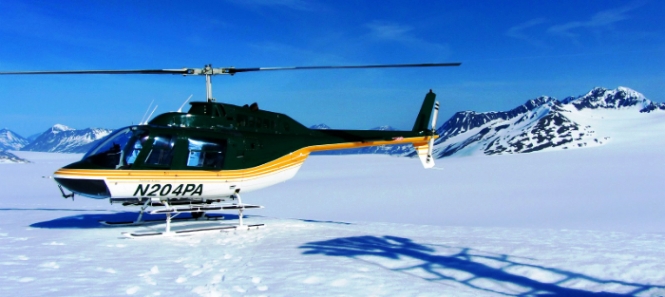 Our landing spot on the Harding Icefield, looking north.
(Photo: NPS / Sean LaHusen)
The pilot touches down next to the only exposed ridge of rock around, surrounded on all sides by an icy expanse.  When I open the helicopter door, I'm greeted by a surprisingly warm wind and brilliant sunlight.  Summer has arrived.
The weather station consists of two towers, one is solely an all-weather precipitation gauge, capable of measuring rain or snowfall throughout the year.  The other tower contains a host of meteorological instruments that measure temperature, humidity, wind speed and direction, snow depth, and solar radiation.  These measurements are taken hourly, sent to a geostationary satellite, and uploaded online soon after.  To check out the current weather on the icefield, or at another RAWS.
Closer examination of the weather sensors revealed the need for this annual maintenance. The head of the wind direction vein had snapped off, the plastic shield of the thermometer had cracked from temperature extremes and UV, and the solar panel that provides power for the station had been contorted nearly 45 degrees from its original position by extreme winds (Chuck reported gusts of nearly 130mph this winter!).  This weather station had clearly seen some harsh weather conditions.
It takes us around 5 hours to replace all the sensors and empty and refill the alcohol/antifreeze mixture used to prevent the all-weather precipitation gauge from freezing in the winter.  Weather data is considered a "vital sign" of all national parks, and a continuous meteorological record is important in order to understand trends in climate change.  Hopefully, with a fresh new batch of sensors, the Harding Icefield RAWS will continue to collect and transmit quality meteorological data for the next year!
View a time-lapse of annual maintenance on another Kenai Fjords RAWS.