Kenai Fjords recently completed its second field season as part of a region-wide effort to monitor for the invasive European green crab.  The European green crab is a small shore crab native to the shores and waters of Europe and Northern Africa.  European green crabs are known as voracious predators and can displace native species through competition and predation. For example, they pose a direct threat to shorebirds, as they have a similar diet of bivalves such as muscles and oysters and other infaunal (aquatic animals that live in the soft sea bottom) organisms.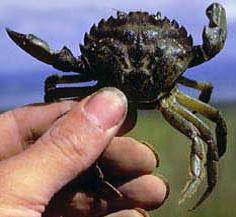 European green crab; Photo: simonsanctuary.org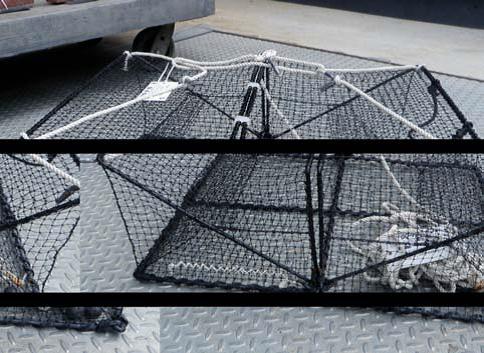 A Fukui folding trap used to survey for European green crabs. Photo: NPS
The first documentation of the European green crab in the U.S. was in 1989 in San Francisco. Ballast water is suspected as the crab's means of arrival. They have not been documented in Alaska, but are now prolific on the west coast of North America.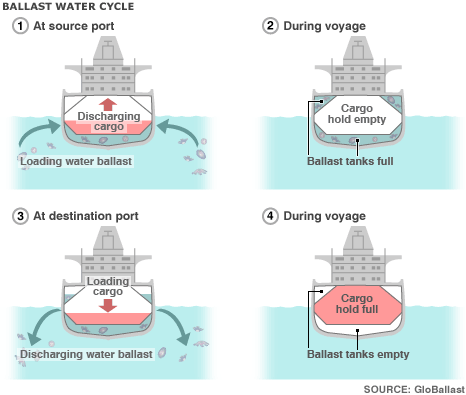 This year, we expanded our monitoring efforts for invasive species beyond European green crabs and joined the Invasive Tunicate Network (http://platewatch.nisbase.org/). Tunicates, often called sea squirts, are a marine invertebrate that attach to hard surfaces such as rocks, piers, boats, and docks.  Like many invasive species, invasive tunicate species often out-compete native species and can extensively cover both man-made and natural substrates. This can have dramatic impacts on local marine ecosystems like reducing or eliminating the number of native species.  In addition, they can have adverse impacts on human activities including aquaculture, fishing, and marine gear.
So far, no invasive tunicate species have been detected in Kenai Fjords National Park or in the Seward area including Resurrection Bay (monitoring efforts in the Seward Harbor are carried out by the Alaska SeaLife Center).  They have, however, been found in other parts of coastal Alaska including Sitka, Ketchikan, and Homer.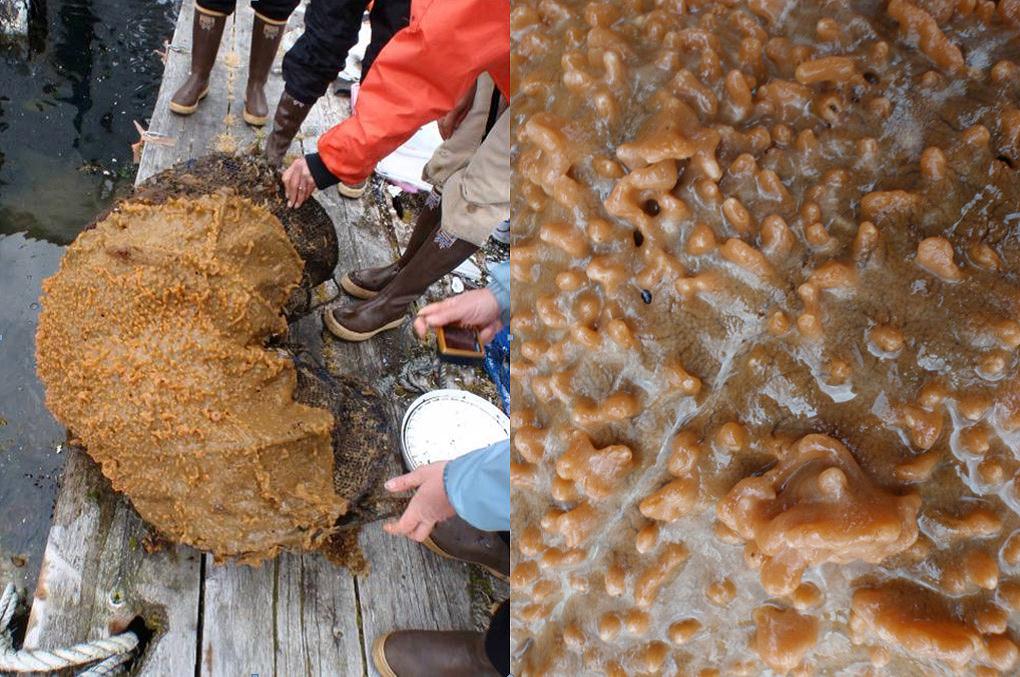 Didemnum vexillum on oyster lantern netting at Whiting Harbor Oyster Farm, Sitka, Alaska in 2010. Photo: NOAA/Linda Shaw.
While the mission of the work is to monitor for species that have the potential to bring about negative consequences, the monitoring effort is a positive example of successful collaboration.  It was only this year that Kenai Fjords National Park was able to join the effort, but it has been since 2007 that scientists from federal, state, and non-government agencies in addition to volunteer citizens have been working together.  Below is a map of all of the survey sites: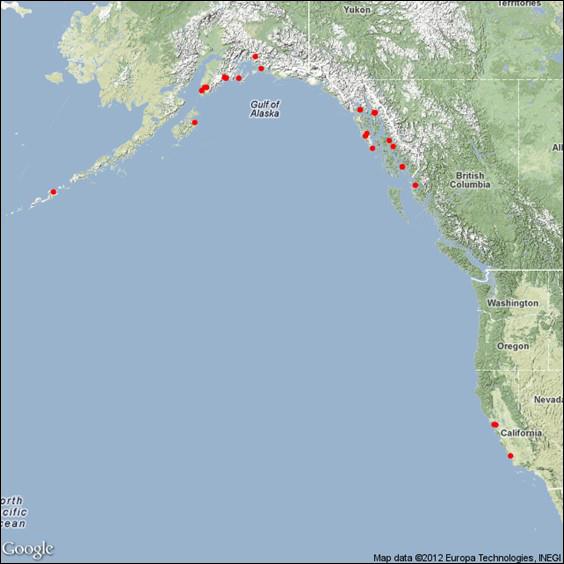 Map image: Google.
If you're interested in participating in a citizen science project, a good place to start looking is the website of your state's fish and wildlife agency.  If you live in Alaska, this is the link: http://www.adfg.alaska.gov/index.cfm?adfg=citizenscience.main For other projects, look here: http://www.scientificamerican.com/citizen-science/