The helicopter lands on the apparently barren landscape of the northern Harding Icefield and I can feel my muscles relax with the comfort that we are safely back on solid ground, or, in our case, 450 meters of ice. The 10 minute flight is breathtaking and certainly a highlight of the job, but there is always something slightly unnerving about flying in a helicopter. We step out of the chopper and into the brilliant sunshine and calm, crisp air. It is a welcome change from the steady winds that were blowing at our departure point near sea level at the Seward airport. We organize the gear that will allow us to measure the end-of-season snowpack but, first, we have to find our site. It is marked by a metal stake (electrical conduit to be exact) which happens to be buried under an unknown amount of snow. "Good luck finding your needle in the haystack" the pilot taunts us before departing for town to retrieve a second load of gear. But this year, luck is not a necessity; with three years of data and experience measuring the winter's accumulation of snow as part of a glacier mass balance monitoring program, we have both data and experience to lead our work.
To think of locating a metal rod in this body of moving ice recently blanketed by a season of heavy, Gulf of Alaska-generated snow does sound a little crazy.  Based on flow rates calculated from previous measurements, we are able to determine where the stake moved since our last visit- how far and in what direction-and use this information to identify the current position. Armed with a GPS loaded with these calculated points, I navigate to the predetermined location and am psyched when the metal detector immediately sings, indicating that there is metal nearby. We find our site and, after shoveling down through 1.6 meters of snow, locate the top of the metal stake.  Ha! If only finding a needle in a haystack could be so easy! With the stake located, we begin our work of measuring the snowpack to determine density and, eventually, to calculate the winter's accumulation as a measure of meters water equivalent. It takes us just under two hours to locate the stake, shovel a snow pit, and measure a sample of the snowpack at this site, the first of six.
During our three days of field work we ski off the ice field, via Exit Glacier, visiting each site along the descent. We find all six stakes, four of them buried but quickly and easily located with our calculated GPS points and a metal detector, and two of them slightly sticking out of the snow, making for quick work. The weather degrades with each passing day but with a labor of love, the camaraderie of a good field crew, and the fantastic landscape of the Harding Icefield, the work is accomplished with a sense of excitement, satisfaction and gratitude.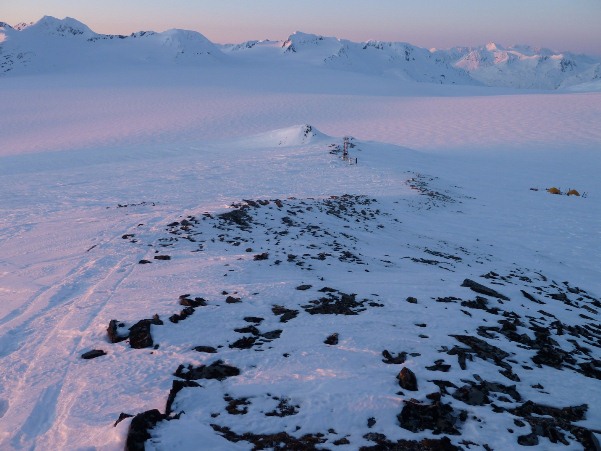 Camp is set near the weather station as the Harding Icefield blushes with alpenglow at the end of the first day of fieldwork. (Photo: NPS / Deb Kurtz)