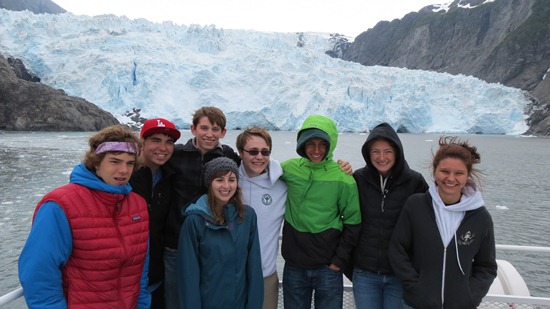 Photo: NPS / Max Odland
Last Thursday, Kenai Fjords National Park's Youth Conservation Corps members (YCCs) and Student-Ranger-Students traveled to Aialik Bay to experience Holgate Glacier and the park's magnificent fjords and marine life. YCCs and Student-Ranger-Students are high school and college students who work alongside Interpretation, Resource Management, and Maintenance personnel throughout the summer, keeping the park at its best while gaining valuable experience in conservation. This blog will let you hear stories of Kenai Fjords National Park in their voices.
This summer's YCCs and Student-Ranger-Student working in Interpretation introduce themselves:
Lindsey Kromrey, Student-Ranger-Student
My name is Lindsey Kromrey. I recently graduated from Seward High School and will be attending University of Alaska Fairbanks to receive a degree in engineering. I worked as a YCC interpreter before and really enjoyed the experience. I enjoyed contacting many visitors from different backgrounds in the park. I look forward to working in the park again this summer and learning more about Kenai Fjords National Park.
Sebastian Kratz, Youth Conservation Corps|
During this summer I would like to gain experience that I can use for future jobs. For example, I have never used a cash register and that experience will open new doors for me in the future. I am also excited to be working with people and interacting with others, as I have never had a job that requires you to interact with others. I am looking forward to working and learning new things.
Griffin Plush, Youth Conservation Corps
Hello all, my name is Griffin Plush. I'm one of the new YCC interpretive rangers at Exit Glacier for Kenai Fjords National Park. I applied for the job because I feel conservation is very important. I've volunteered in conservation/environmentalism a lot before, particularly with the Resurrection Bay Conservation Alliance and Alaska Youth for Environmental Action. Alaska is a beautiful place and I'd love to share that with others. I hope that this summer will be a constructive and fun one.
Michaela Headley, Youth Conservation Corps
Having this job for the summer will help me understand more about animals/sales/people, etc… This job will not only provide me with money, but also a good way to learn interesting things, which can help me further in the future. I'm looking forward to the season.
Robin McKnight, Youth Conservation Corps
Hello, my name is Robin McKnight and I'm a YCC interpreter at Exit Glacier this summer. I'm sixteen and will head into my Junior year of high school in the fall. This YCC Job is a wonderful opportunity for me to talk to people about the park and why it matters. Besides interacting with the public and tourists, I'm sure being an interpreter will enhance my knowledge of Kenai Fjords National Park and Exit Glacier.
Check back soon to meet the rest of Kenai Fjords' next wave of stewards and hear about their various projects!