My heartbeat quickens as I step into the helicopter. I feel the automated response of both excitement and nervousness flood through me. I click into the 5-point seatbelt of the R44 that will transport us to the far reaches of Kenai Fjords National Park. I can feel a huge smile spread across my face.
Today we fly with the eagles.
This is an important occupancy survey that is performed each year to monitor population of bald eagles (Haliaeetus leucocephalus)within Kenai Fjords National Park. Bald Eagles are one of the park's vital signs; a keystone species that can shed light on the overall coastal ecosystem health. A voracious predator on numerous seabird colonies that thrive in the park, fluctuations in eagle populations can tell a great deal about other animal groups as well. Changes in apex predator dynamics can create a domino effect and inform us about the stability of other populations in the lower food web; for example seabirds depend on schooling bait fish, which depend on plankton which can be affected by contaminants including the 1989 Exxon Valdez Oil Spill. This survey is an ongoing monitoring process to create a baseline of what a healthy Alaskan ecosystem should look like.
During the double-observer survey, we fly along historical transects and look for eagle nests that have previously been found throughout the park as well as new nests, starting in the southern part of the park and working our way north.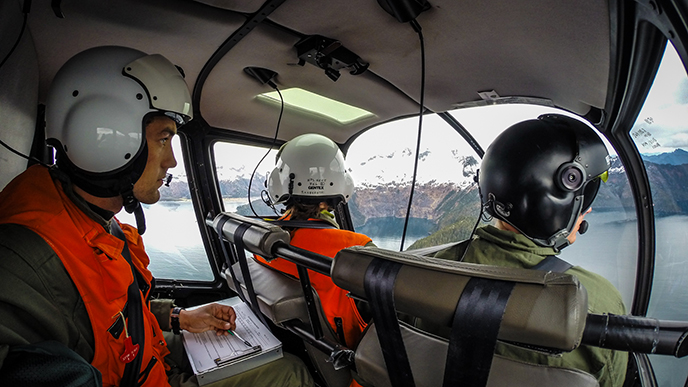 Researchers flying above the fjords in between transects.  Photo: NPS/Sam Stark
This is easier said than done.
 Although bald eagles hold the Guinness Book of World Records record for the largest nest ever built, which was 3 by 6 meters and over 2 tons, they can be very inconspicuous while flying at high-speed over immense homogenous forests of spruce and hemlock. Nests are usually spotted by seeking out the white head of adult eagles that may be perched nearby or incubating in the nest. With some skill, determination and a little luck we are usually able to find almost all of the nests that fall along the transect line. This year we found 8 new nests, 95 nests total and over 100 adult eagles associated with nests.


Flying with eagles is the most resource efficient way to monitor eagle populations over the broad expanse of wilderness and coastlines that make up Kenai Fjords. As I look over the mountains, rivers and rugged cliffs where the eagles make their home, I feel privileged to see the landscape as they do. As scientists we try not to anthropomorphize, but while flying surveys I find myself in moments of imagining that I'm gliding free over the forest and fjords as the eagles do.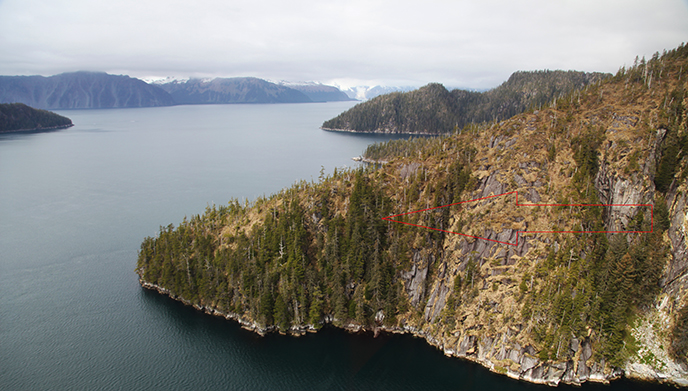 A peninsula with an eagle nest marked by the red arrow. Photo: NPS/Elisa Weiss