Hi! My name is Hannah Beutler and I am the Resource Management GS-1 this year working on the Exotic Plant Management Team (EPMT). I grew up in Seward and worked as a YCC three years ago for the interpretation department. Currently I am going to school in California at Stanford University and am pursuing a degree in the sciences. This summer I am excited to work at the Kenai Fjords National Park, bushwhacking to invasive plants and surveying trail use by visitors. I am looking forward to a great season, rain or shine!
On June 27th I got to experience my first hike as a GS-1 up the Harding Ice field Trail this summer. As we started out in the morning, the sun beat down on us as we made our way up through the alders to Marmot Meadows, where, not surprisingly, we spotted a cute marmot; so keep your eyes open for animals as you hike up the trail! As we continued climbing, our team worked on trail improvements. The main goal of this job is to protect the fragile mountain vegetation. One method by which we hope to keep the natural environment intact and healthy is by putting up signs that state "stay on trail to protect the fragile seedlings." Please respect these signs, as lichens, mosses and beautiful little mountain flowers take years to grow and it is difficult to revegetate a cleared area. One person walking on it may seem fine, however, if a friend follows you a small trail starts to form which develops the beginning of a devastating trend for the native plants. So please, step carefully and follow the trail!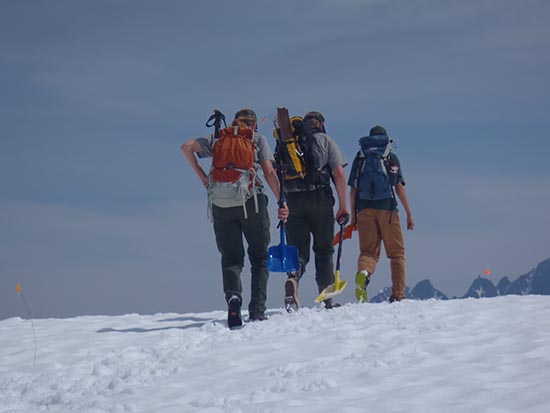 After we escaped the heat trapped by the alders, we were glad to catch the alpine breeze and work got a little bit easier with the cooling effect of the wind. In addition to putting up signs to prevent people from straying off the trails, we also re-routed the path hikers established on top of the snow, in order to prevent future damage. With the help of GPS coordinates we were able to pinpoint the trail underneath the snow, which we clearly marked and shoveled to make it easy for visitors to follow.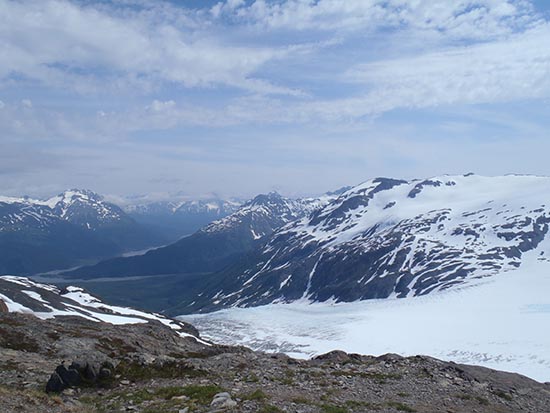 As our group made it up past the emergency shelter, approaching the end of the trail, we found some alpine flowers peeking through in full bloom, making the spectacular view even more impressive.  We also had the opportunity to take some pictures of a mountain goat grazing on a nearby cliff. It was an amazing day at work; sunny skies and wonderful views. It is satisfying to know that we help to protect our native plants. Let us try to keep our impact at a minimum, to keep the Parks clean and healthy for all organisms which make their home here, so that we can continue to share and enjoy the beauty!