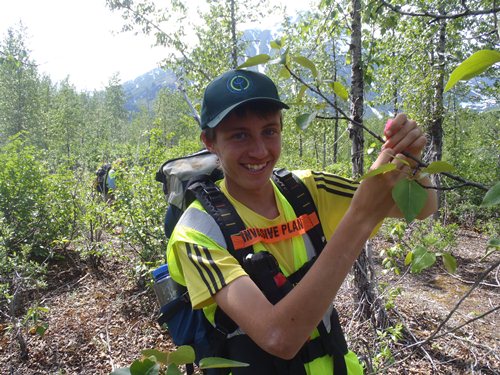 Miles working at Exit Glacier. Photo: NPS

Hi, my name is Miles Knotek and I am a lifelong Alaskan from nearby Moose Pass. This year I am part of Resource Management as a YCC member of the Exotic Plant Management Team (EPMT). I am excited to learn about invasive plant species, a subject I know little about, and to be in a working environment that is outside and active.
First Impressions on the Job
Early June marked my entrance into the YCC program in Kenai Fjords National Park. As a YCC in the Resource Management department, I have the role of working with the Exotic Plant Management Team. In my first few weeks, we've been faced with a number of tasks. Invasive plant species have of course been at the forefront of all the tasks we do, so hunting for them has been our number one priority. Frequent searches of the Exit Glacier Nature Center, parking lot and lower trails have revealed herbaceous invaders sneaking onto the premises. Prompt removal and mapping is helping to keep these intruders at bay while recording their location flags them for future employees to investigate.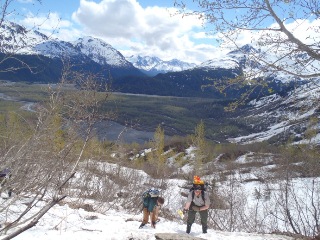 Exotic Plants Management Team (EPMT) on the Harding Icefield Trail. Photo: NPS / Mile Knotek

While this first introduction into keeping the lower grounds weed free has been vital, my most favorite tasks so far have been venturing into the backcountry and up the Harding Icefield Trail. The team spent a good portion of one week crossing Exit Creek in search of dandelions hidden within the brush of the outwash plain. Record warm temperatures and high river crossings thwarted out first efforts but we were soon successful. Dealing with invasives in the backcountry is extremely vital as they are on the "front line" to spread into more undisturbed and vulnerable areas. Due to a late and cold spring, the primary Harding Icefield Trail excursions brought us back into winter scenery while the valley was in full summer. We succeeded in clearing bits of trail, and rerouting snow paths in other places to preserve the delicate alpine and sub-alpine vegetation. After a few bouts of incredible heat, the snow is just now beginning to recede en masse back up the mountain sides. Investigation for invasives can now begin in earnest with the snow cover removed. My first few weeks in Kenai Fjords have been a great introduction into what lies ahead this summer. I am excited for further excursions this summer and more work to keep the park invasive plant free!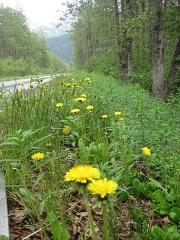 Dandelions next to Herman Leirer Rd. Photo: NPS / Mile Knotek