On Monday, August 25, we anxiously waited to hear weather reports for the Outer Coast to see if we were a go/no for our trip aboard the park boat M/V
Serac
. The Outer Coast;consisting of Black Bay, Thunder Bay, and Two Arm Bay;are notoriously difficult to get to since they are open to the Gulf of Alaska and aren't very well protected. This means that wind and current heading in the easterly or southeasterly direction can have a large effect on these bays, which often make it difficult to land (imagine trying to get off a boat that's pitching in large waves on the shore) We already had to postpone for two weeks because of the weather.
The purpose of this trip was two-fold—to figure just how much large debris was out there for planning a larger marine debris project funded for summer 2015, and to retrieve items such as foam blocks/buoys that break down into tiny pieces, becoming difficult to remove from shores. These tiny pieces of foam can find their way into the coastal food chain. Plus, we needed to know if there were any potential hazardous materials that might require special treatment. 
At 8:00 a.m. on Tuesday morning, we boarded the M/V Serac and headed out as soon as we could. There were four of us on the project—me (Sharon Kim) the project leader, Jordan Green (seasonal wildlife tech), Nick Kainrath (seasonal plant tech), and Cory Smith (SCA intern). The Serac was expertly captained by Melissa Knight, with Jennifer Pletz as the trusty deckhand. This trip was shorter than most other trips—a 3-day trip instead of 4 days or more due to budget constraints, and this was on top of a 5 ½ hour one-way trip to get to our sites. We really only had two half-days and one full day to work in these challenging bays.
We started hitting large swells as soon as we got out of Resurrection Bay which made a lot of us queasy. Knowing that we had a lot of work ahead of us, once we got to the bays, was a daunting thought. The most efficient way to work the bays given the next days' forecast was to work from south to north and start with Black Bay first. Amazingly enough, we hit a small patch of sunlight which was a welcome contrast to the wet forecast that we had expected.
Since 2009, the park has been working with a local non-profit, Resurrection Bay Conservation Alliance (RBCA) to clean marine debris from park and local coastal beaches. Many of the beaches we were going to had some previous level of clean-up and were marked on our map.
At 1 p.m. we landed at our first beach in Black Bay which wasn't recorded on the map, and we quickly realized this beach had likely never been cleaned before. Initially, we had hoped to pick up both foam and water bottles, but we quickly realized that we would need to only focus on foam due to space and weight limitations. On our first beach, we removed 16 large 55-gallons-sized garbage bags full of foam and some water bottles (around 120) which weighed out to 212 lbs. There were at least 4-5 skiff trips back and forth transporting these bags of debris. This beach was also really interesting because there were 2-3 foot boulders that were perfectly round—clearly a high-energy beach.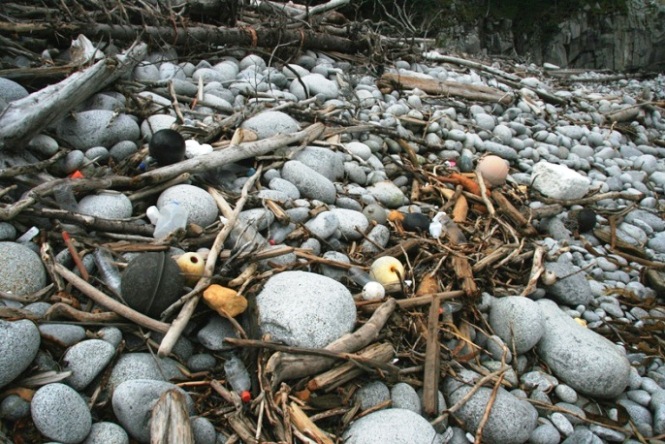 Note the rounded boulders and debris—shows how much energy this beach gets.
Photo: NPS / Jordan Green
Not surprisingly, it started to rain after we left the beach. We then began surveying Black Bay's western finger where debris beaches were noted. We did one skiff-based survey where we could not land on the beach. Looking at the RBCA map, there were no beaches identified in the eastern finger of Black Bay, so we got back on the M/V Serac and slowly cruised near the shoreline in the large boat.
The next bay we went to was Thunder Bay. Captain Mel told us the weather forecast was coming up during the next two days, and we decided to have a late evening surveying and collecting large foam pieces. We worked until 9 at night on a couple small beaches after dinner.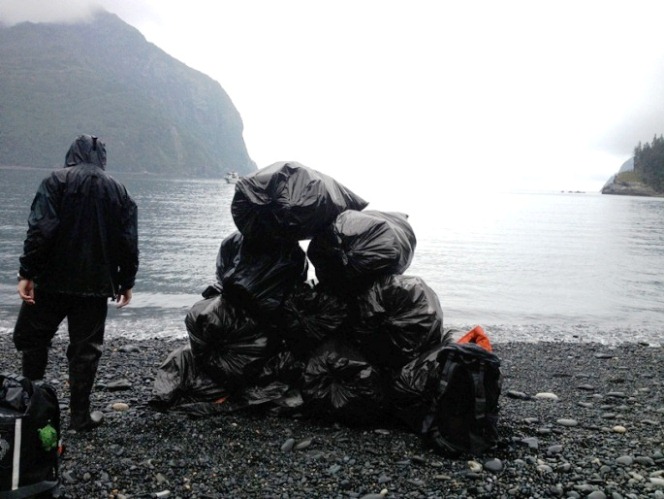 Tower of bagged up foam and some other debris in Thunder Bay.
Photo: NPS / Nick Kainrath
Wednesday morning, we landed on a beach reported to have a high level of marine debris, and boy were they were right! There were a number of large items that we could not retrieve, including several large black buoys, a 55 gallon drum, and other items that we marked for next year. Focusing nearly exclusively on foam, we removed 17 bags weighing a total of 273 lbs. We surveyed another beach close by that had a medium level of marine debris, and took a GPS point for an extremely long 1 m by 10 m length black solid cylinder with two holes through them. (Possibly a fender for a large ship?) That is going to be a challenge to get off next summer.
On the M/V Serac, we drove into Taroka in the late afternoon and decided to do more surveying and foam retrieval after dinner. The east wind was starting to pick up and we thought this might be our last chance to do some retrievals on the western side of the bay. We worked until 8:30 p.m. before we had to quit because the waves were starting to crest onto the beach.
That night on the large boat, we spun around the anchor all night long. We could hear the rain pounding on the deck above our cabins. In the middle of the night, Captain Mel started the engines just in case she needed to move the boat. In the morning, it was still raining and a little windy, but we could still quickly skiff to the two remaining beaches left in Taroka, and leave by 9:00 a.m.
While we had hoped to do a boat-based survey in Paguna, given the deteriorating conditions, we decided to head back to Seward earlier than we had originally planned. We knew with good seas it took 5 ½ hours to get back. The seas were very rough with 10-12 foot waves, but fearless Captain Mel negotiated the M/V Serac across the bays.
At Aialik Cape, the waves were steep and stacked up. Riding up the front of a wave, we slammed down into the trough. We weren't making much progress getting back into Resurrection Bay with the waves, wind, and tide against us, so we ducked into Chat Cove to wait out the ocean conditions for a few hours. We left a few hours later and were able to get around the Cape, no problem. In those 2-3 hours, the conditions had vastly improved. We got back to Seward by 7:30 p.m. and decided that we would take the debris to the landfill the next day.


Some of the debris we collected in the 2 ½ days piled onto the skiff for better transport on the
Serac
, and the debris crew, Cory Smith, Sharon Kim, Nick Kainrath, and Jordan Green. 

Photo: NPS / Sharon Kim
All in all, we had an incredibly productive trip with over a ½ ton of marine debris, mostly foam-related from our trip. We filled over 65 bags, plus some larger items such as a rubber railroad tie-like item, a few big floats, and a large net that was falling apart. We also know that we have a large task ahead of us for summer 2015's marine debris project!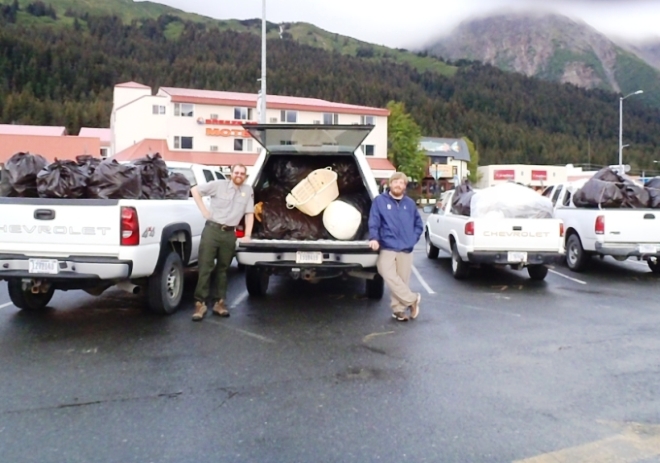 One of two sets of truckloads to the disposal site.
Photo: NPS / Sharon Kim