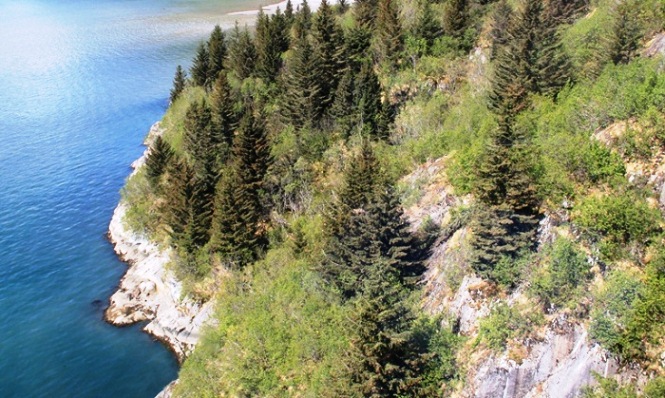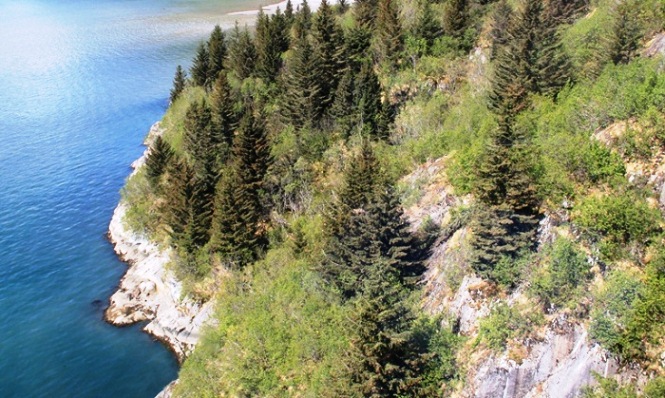 Bird's eye view from the helicopter, looking for bald eagle nests.
Photo: NPS / Laura Phillips
It's 7 a.m. and I'm staring out at Resurrection Bay in disbelief as a fog layer thick as pea soup has moved in overnight. All the planning and excitement of getting to go up in a helicopter that day was suddenly dashed. What is so important about this survey that we get to use a helicopter? Oh yeah, it's the only way to efficiently sample the some 500 miles of coastline of one of the most beautiful parks in the system, for America's most majestic bird, our national symbol, the bald eagle! Specifically, we are looking for the nests bald eagles make and whether or not they are being used. No big deal right? It's only the fastest and coolest way this wildlife technician has ever surveyed for anything, ever! So, yeah it's a huge deal that the weather isn't cooperating on this particular morning. I solemnly show up at work dreading the wait of one more day before flying in the name of science! 
About an hour after lunch I'm notified that we are going up after all! My heart races with excitement from this most excellent change of plans. Throughout the day, the weather of Kenai Fjords National Park's coastline can vary significantly from one end to the other. What looked like a no-go mission at 7 a.m. turned into a go by 2 in the afternoon. 
Our bright red helicopter, with 3 souls on board, took off by going straight up, followed by a forward sweeping motion. Very different from the takeoff of a commercial jet liner! We had begun our departure from Seward. In a matter of moments I could see the entire city! As we continued out to Nuka bay I quickly lost sight of all the familiar land marks I had only ever seen from the ground. As rapidly as the world I knew disappeared a brand new one materialized before me, the likes of which I have never seen before! After passing over impressive peaks, glorious glaciers, frozen lakes, and countless waterfalls we finally arrived at the beginning of our first survey area. 
I had been warned about the difficulty of this survey. I was told by several that this was "no pleasure cruise". I quickly learned the limits of anti-nausea medication while cruising around at 30 knots only a few hundred feet above the water, overheating in my protective flight suit and inflatable personal flotation device (PFD) while looking for nests and eagles, strike hazards to the helicopter, and working with positioning equipment. However, I quickly settled in, developing my search image for the faintest hint of either a white spot (indicating the head or tail of a bald eagle), or the brown to green colors that marked a bald eagle nest. My eyes strained, scanning through thousands of trees and fighting through the dizziness of the helicopter making sharp turns, returning to nests after we passed them. 
For each nest we found we take observational data. We record if there is an eagle present. If there is an eagle around we categorize its presence as flying, nesting, or perching. We also record characteristics of the tree the nest is in, take note of its location with a GPS unit, make comments about anything of interest, and finally take photographs of the nest to assist us in finding it on the next survey. 
Despite the uncomfortable conditions, the scenery I was exposed to made me fall in love with the great outdoors all over again! Probably the most amazing thing I saw (except for all the wildlife, and beautiful scenery of course), was the fading bubble curtain of a whale. Whales will dive down and swim in a circle around their prey while releasing a torrent of bubbles, confusing and trapping the whale's intended target in a "curtain" of bubbles. From the sky this looks like a spiral of bubbles breaking the surface!