Kenai Fjords is a unique park in many different ways. It is home to one of the most accessible glaciers in the National Park system, Exit Glacier. The glacier is reached by way of Herman Leirer Road, which stretches from the Seward Highway to the visitor center in the park. The road is very popular with visitors and leads to many miles of trails and a walk-in campground. The braided stream that drains Exit Glacier and parallels the road, named Exit Creek, has been flooding annually since 2009 and overtopping the road in sections, causing road closures and restricting visitor access in late summer during tourist season.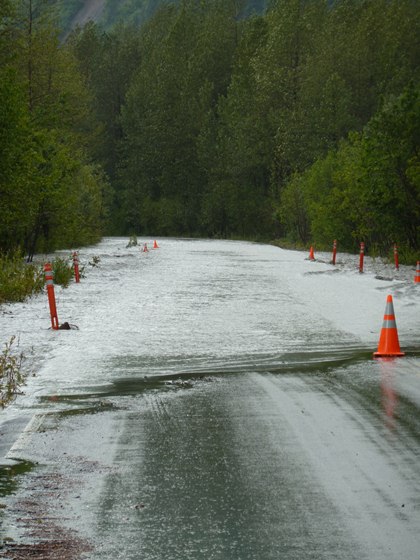 Flooding along Herman Leirer Road in August of 2011. Photo: NPS
This past week, I participated in a research project to evaluate the current conditions along Exit Creek. The main goal of the research is to understand the processes that have led to the flooding and to develop an understanding of the time-frame of these changes. The results of this study will help direct management decisions regarding the road.
It has been a hot month in Seward and our first day was no different. We drove out Herman Leirer road and, while warm, I was thankful for another sunny field work day. The majority of our equipment for this project revolved around a Real Time Kinematic (RTK) GPS system, used for surveying. It is extremely accurate and, for our purposes, can be used to map the topography of the stream channel. We began our day by setting up a base station with radio antenna at a known location, a US Forest Service GPS Control Point. This base station was a point of reference for our "rover" GPS that we took into the field to collect data.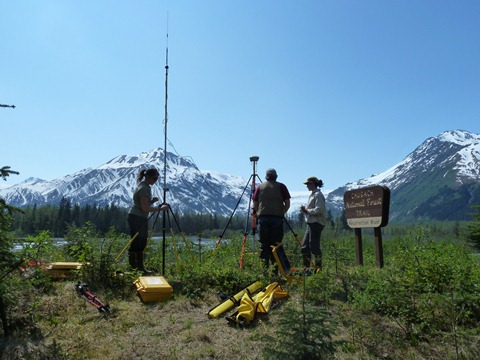 Setting up the GPS base station and radio antenna. Photo: NPS \ Julie Markus
Our first task was to bushwhack through the thick alders, cottonwoods, and other vegetation that extend out from Exit Creek. Our GPS rover was mounted on a 7 foot pole and I am about 5 foot. You can imagine the maneuvering it took to get out to the creek! In a previous week we had collected transects of data across the creek, allowing us to look at vertical variations over time due to sediment build-up and erosion across the channel. This time we were focused on gathering bank height information. Under the direction of Janet Curran, a USGS hydrologist and principal investigator on this project, I placed the GPS on the top of the bank and tried to stand still as mosquitoes buzzed all around. I counted down the 5 seconds that is needed to collect each point and then relaxed after the screen read "observation stored".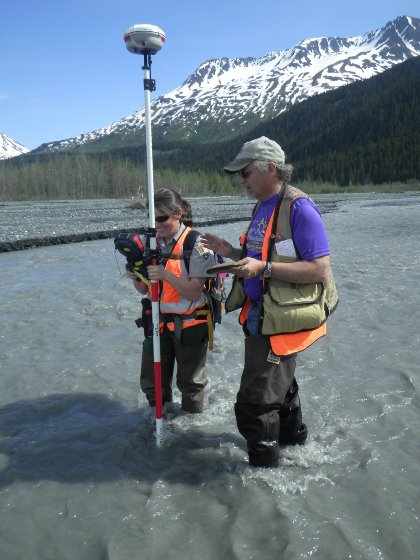 Taking a GPS data point in Exit Creek. Photo: NPS
Throughout the 8 total days of field work we collected about 150 GPS data points. It was interesting to observe signs of the river changing, such as small channels breaking away from the main river channel and making their way through the neighboring forest. The recent flooding is just a reminder of how dynamic braided river systems are.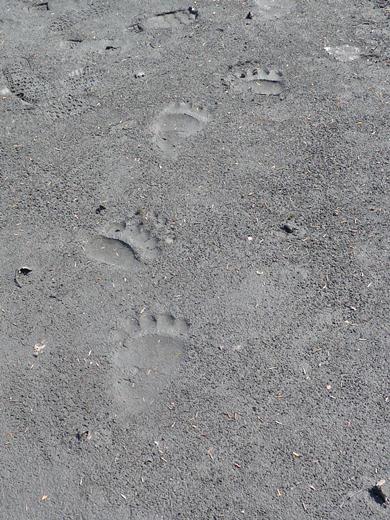 Bear tracks in the sediment near Exit Creek. Photo: NPS