Kenai Fjords National Park is home to hundreds of miles of stark, rugged coastline and scenic rocky beaches.  Every year many of these places, though relatively more difficult to get to (accessible only by air or water), are host to scores of fortunate visitors looking for excursions into wild, intact ecosystems and unbridled beauty.  Unfortunately, those fortuitous few that get the privilege of visiting these places can sometimes harbor unwelcomed stowaways in the form of exotic plant propagules.  Monitoring and mitigating these threats to the native plant communities of Kenai Fjords' coastline, lucky for me, falls under the jurisdiction of our Exotic Plant Management Team (EPMT). 
A typical day for the EPMT usually consists of controlling invasive plants around Exit Glacier, which receives the highest amount of foot traffic and is accessible by roadway (prime vectors for invasive introduction).  Occasionally, however, we get to take our fight to coastal destinations.  Our most recent of these trips began on a windy, rainy June 27th.  Our EPMT loaded up the National Park Service research vessel, the Serac, and started our 8 hour long journey to the far reaches of the park.  To make things a little more interesting, upon exiting Resurrection Bay into the vast openness of the Gulf of Alaska we were greeted by a healthy dose of winds accompanied by swells around 8 feet which rolled and tossed our craft about with little to no regard for the occupants within.  This provided me ample opportunity to find out that my brain does not take issue with conflicting messages between my eyes and my vestibular system.  That is to say, I'm thankfully not susceptible to sea-sickness.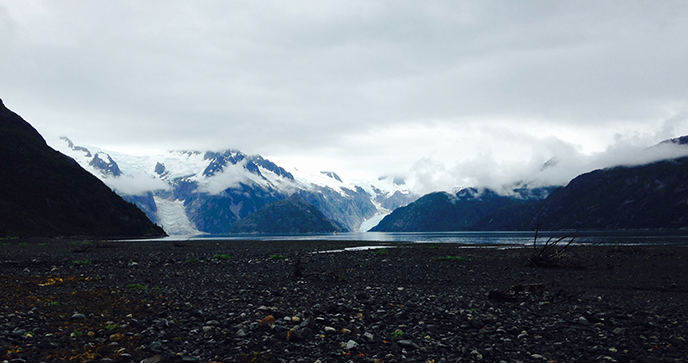 After 8 or so hours of chugging along we arrived at our initial destination of Quartz Bay in the West Arm of Nuka Bay, tucked safely away from the tenacious waves of the Gulf.  Over the next four days we cruised through the North Arm, the West Arm, and McCarty Fjord of Nuka Bay, Northwestern Fjord of Harris Bay, and finally to Verdant Cove in Aialik Bay.   Along the way we stopped at around 10 beaches, focusing on areas that receive the highest visitation.  The pristine and remote nature of these locations necessitate an "early detection – rapid response" approach to invasive species mitigation.  Failure to address these areas in such a way can allow invasives to establish populations to an extent that would be far more difficult and expensive to control and nearly impossible to fully eradicate.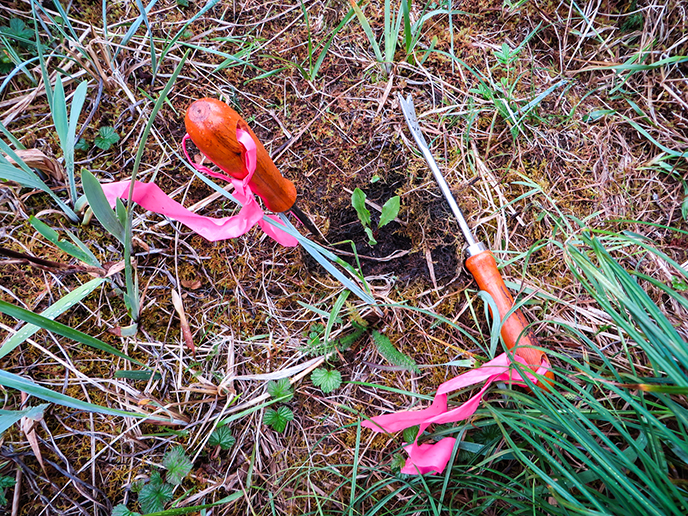 The weather was mostly rainy (which was beneficial in keeping down the swarming masses of biting insects) including our full day spent at Dinglestadt Glacier, where common dandelion, Taraxacumofficinale, has established a healthy population.  In the past, when weather permits, chemical control measures have been utilized to aid us in getting a better handle on this heavy infestation  This time around, however, the persistent rain was prohibitive and we were instead restricted to manual treatment methods.  Despite this hurdle, we were still able to visit all previously documented infestation sites and tear all observed dandelion from the earth's fertile crust, hopefully clearing the way for native flora to habituate itself.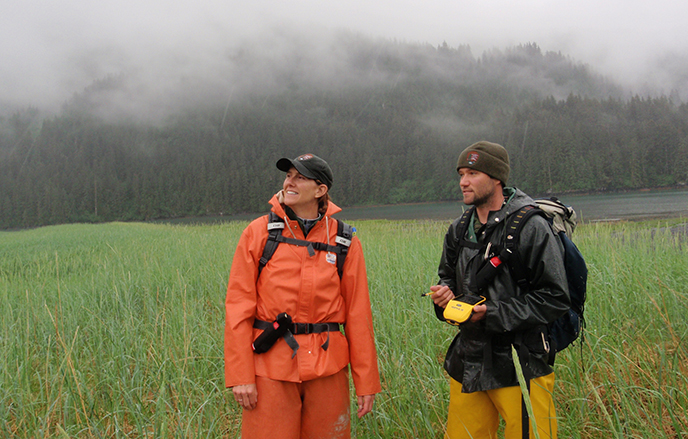 Even though all clothing, gear and skin cells were consistently supersaturated with rain, we refused to let it dampen our spirits.  It was truly a gift to be able to experience these far out sectors of Kenai Fjords National Park and I feel truly blessed to be able to become intimately familiar some of our Nation's most precious natural resources and to have my own small part in the effort to preserve these resources unimpaired for the enjoyment, education and inspiration of this and future generations.