Nuka Bay Coastline.
Photo: NPS / Nick Kainrath
On July 14th, it was a sunny 60 degrees F with calm winds and waves in Resurrection Bay. The Exotic Plant Management Team (EPMT) departed from Seward's Boat Harbor on the M/V Serac, Kenai Fjords National Park boat, for a 5 day coastal boat trip to monitor and treat invasive plants in Nuka Bay and McCarty Fjord. After spending a majority of the field season hand pulling common dandelions (Taraxacum officinale) along the roadside and Exit Glacier parking area, this trip was a break from the typical work week and a chance to explore remote areas of the park. Motoring at 10 knots along the Gulf of Alaska, the Serac took about 8 hours to reach Beauty Bay within the southwest corner of the park. This provided ample time to gaze upon the pristine coastline and spectacular sea life Kenai Fjords has to offer.
Upon reaching Beauty Bay, we visited our first invasive field site: an unmaintained airstrip that hadn't been used in decades. Late in the day we navigated and bushwhacked through the "air strip" to locate previously mapped and manually treated areas for common dandelion and common timothy (Phleum pretense). After the historic infestations were located and hand pulled it was around 9pm and the crew was ready to be off the clock, relaxing on the Serac, while anchored in Beauty Bay. I hadn't slept on a boat in years, but luckily with the calm waters and peaceful rocking of the boat I was asleep moments after my head hit the pillow. 
It was 7am, on the second day of the trip, when I awoke to coworkers moving about the sleeping quarters and the kitchen area a few feet away. After a few cups of coffee and some breakfast I found myself boarding our skiff that would transport us from the Serac to a beach where our next field site awaited. This field site, located within the North Arm of Nuka Bay, was recently approved for herbicide application to chemically treat the population of invasive common dandelions. Since 2010, Kenai Fjords National Park has been applying Milestone, a low-toxicity herbicide, to four remote sites in the park to help control common dandelion populations. This would be the first year selectively spraying the infestation at this site.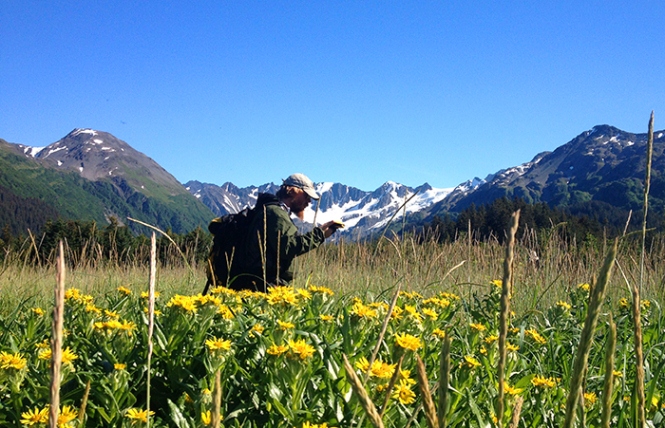 Navigating to historic invasive plant population within North Arm of Nuka Bay.
Photo: NPS \ Nick Kainrath
Throughout our trip we hiked miles along coastlines, bushwhacked up mountains, forded rivers and waterways; all in order to map and treat invasive plant populations. The losing battle against biting insects was mediated with the use of full body armor (or really just pants, gloves and bug shirts) in order to minimize skin exposure.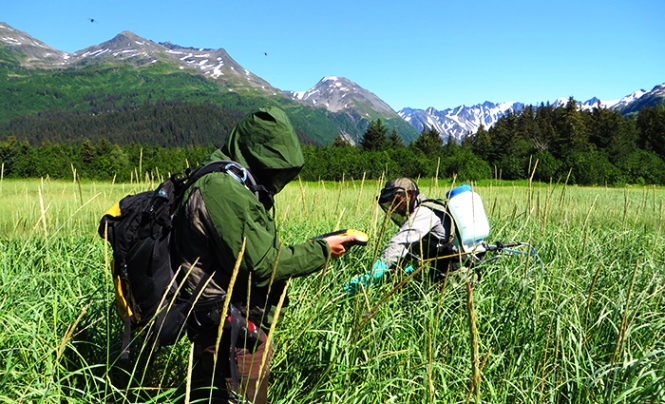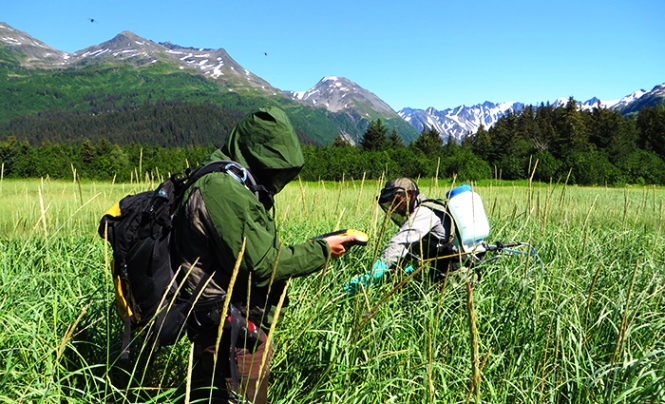 Applying herbicide to invasive common dandelions in North Arm of Nuka Bay.
Photo: NPS \ Christina Kriedeman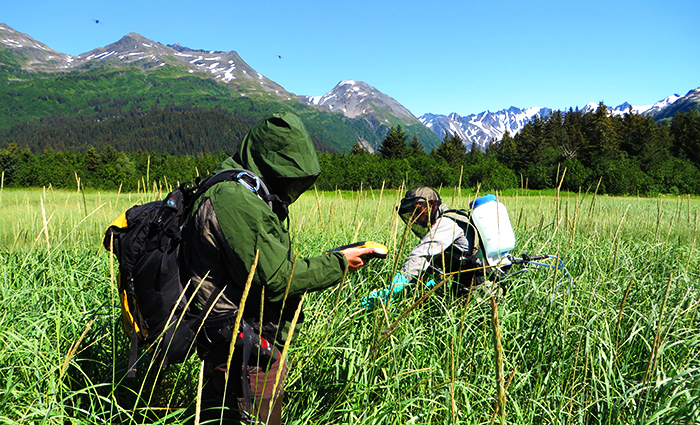 The majority of our fieldwork was conducted between days two and four, with our first and last days primarily consisting of motoring from Seward to the remote bays we visited. After monitoring nearly a dozen beaches for invasive plants, hand pulling at one site and chemically treating at two sites we were done with our EPMT fieldwork and heading back to Seward. The weather was fair and the views were spectacular. The EPMT team and supporting staff put in long days and a great effort to help preserve the native vegetation within the park by monitoring and treating the invasive plant infestations in Nuka Bay and McCarty Fjord. I felt incredibly fortunate to have visited and worked within some of the most remote coastal areas of the park. This is by far a major highlight of my season in Alaska!