Each year, resource managers at Kenai Fjords National Park determine the mass balance of Exit Glacier. What does this mean? How do we do it?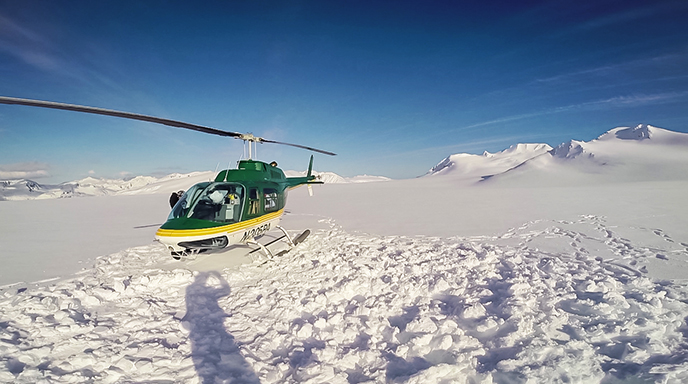 Glaciers are sensitive to temperature change over a range of timescales, so they are natural indicators of climate variability and provide some of the most visible evidence of climate change. Although glacier response varies by location and elevation, glaciers in Alaska have, for the most part, experienced widespread thinning and retreat since the end of the Little Ice Age (about 115 years ago). Changes to glaciers have both global and local consequences with impacts ranging from their contribution to global sea level rise to the transformation of scenic and recreational values for park visitors.
Glacier mass balance is the difference between the amount of snow and ice accumulation and the amount of snow and ice loss—or ablation—at a glacier. We determine glacier mass balance annually by taking measurements of winter snow accumulation in spring and ablation measurements in fall. Changes in glacier mass balance determine a glacier's long-term behavior. Think of a glacier like a bank account—if you can imagine accumulation being deposits and ablation as withdrawals—a glacier with negative mass balance over several years is out of equilibrium and will thin and retreat. On the other hand, a glacier with a sustained positive balance (also out of equilibrium) will thicken and advance.
We just completed accumulation measurements. A helicopter carried two of us and our equipment to six locations where we have measuring stakes drilled into the snow and ice. At each site we measured the thickness of this last winter's snowpack and determined its density by weighing known volumes of snow. We also measured the precise location of each stake using GPS, which tells us something about how fast the glacier is moving. Snow depth and density measurements are translated into the amount of water that was accumulated at each site. By doing some math and using a digital map of the glacier surface, we can integrate these measurements across the whole glacier. Later, after we have measured ablation in the fall, we will calculate and map accumulation and ablation across the whole glacier and determine the annual mass balance for the glacier as a whole.
As a geologist, I strive to understand the way a landscape changes over time—often over a really long time. Some events like volcanic eruptions and landslides are nearly instantaneous and their effect is easy to appreciate. Glaciers provide an opportunity to witness a much more gradual sort of change, but one that is also very recognizable on a human time scale—be it over days, seasons, or years.
Click on the picture below to watch the video on YouTube