It was a cloudy June day with a forecast of more rain to come for our 10-day marine debris trip.  There were eight people heading out on the M/V Serac, the park's 53-foot boat:  two people from Resurrection Bay Conservation Alliance, one person from the Alaska SeaLife Center, one person from NPS Oceans Alaska Science and Learning Center, two resource management people from Kenai Fjords National Park including me, and the captain and deckhand. 
Our trip started inauspiciously when we found out that the Serac's head (bathroom) was not functioning even before we left.  Was this an ill omen for our 10-day trip?  The captain fixed the problem after several hours, and we were off with our first destination being Thunder Bay.
In Thunder Bay, we knew that we had likely the highest concentration of marine debris from previous surveys.  There are a couple beaches at Thunder that are significant "keeper beaches," beaches that collect a lot of marine debris.  For Kenai Fjords, these beaches tend to face the open ocean and get hit by high waves in the winter months which can bring in a lot of marine debris.  We are also partnering with Port Graham Corporation, since they have lands interspersed with parklands. 
We arrived at Thunder Bay in the evening and decided that we needed to start work since this would be our most concentrated marine debris beach.  We knew that we'd be back in the morning to finish up, so we separated out the marine debris into bags as we picked them up—plastic, foam, rope/netting, metal, rubber, and other.  By the end of the evening, we were soaking wet and it was great to get back to the warmth of the Serac and dry off.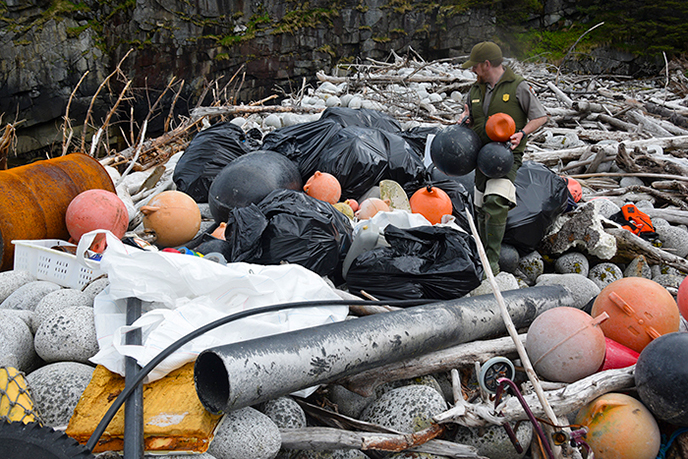 Clean up on Black Bay's "basketball beach."  Notice the very round and large rocks the debris is on.  Alaska SeaLife Center Photo, J. Bering
The next morning, we went back to the same beach and finished it off.  We weighed everything in the different categories, and then loaded the bags into the super sacks (heavy-duty mesh 38-cubic feet sacks that could hold up to 2200 pounds each).   We then moved to another keeper beach in Thunder and spent the rest of the day cleaning this high volume beach as well.  We decided that each of these two beaches would be a debris cache site.
In July, we knew that these super sacks would be removed by a helicopter and barge operations that included our area of the park.  The Gulf of Alaska Keepers and State of Alaska Department of Environmental Conservation (funded by Japan and National Oceanic and Atmospheric Administration) had coordinated a larger Gulf of Alaska project extending from Kodiak to Wrangell-St. Elias that we were able to hook into and get the marine debris off park shores.   This would be way more efficient and safer than dragging all the bags into a small dinghy boat, transporting it back to Seward, and having to offload the debris in town.  The helicopters would come and pluck the bags away from the upper coastal shores, and take it directly to the barge which would ultimately take the debris down to Seattle to a landfill.
For our marine debris work, we were creating caches of these super sacks for this helicopter/barge pickup.  We had to consolidate the supersack locations because too many caches spread across three bays would cost a lot more to divert the barge and helicopter.  The two beaches at Thunder Bay had enough concentrations of marine debris bags where keeping two different sets of supersacks made sense.  When we left, they looked like white sentries guarding the beach.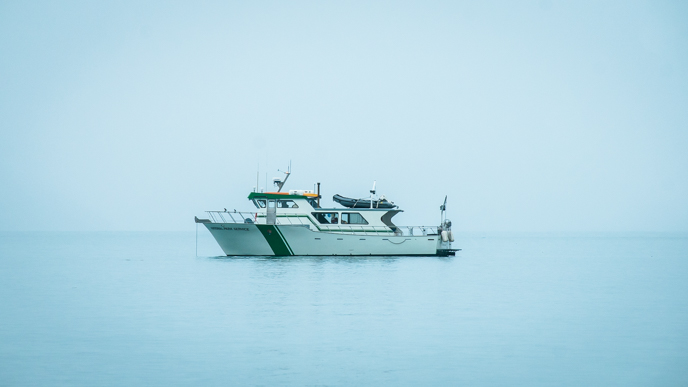 The M/V Serac, the Park's research support vessel, sits at anchor.  The Serac provides living quarters during field work and allows access to the remote shores of Kenai Fjords National Park.  
For the next five days, we were bagging up marine debris in Thunder Bay, Taroka Bay, and Black Bay.  The Black Bay beach was the most unique—with perfectly round basketball-sized beaches that made walking and carrying debris pretty tricky.  We also met up with a landing craft that Alaska SeaLife Center had contracted to help us move and consolidate the bags of marine debris to fewer locations.  We went back to the piles of bags we had created and weighed, and then moved them onto the landing craft.  Most of the moved bags went to the Taroka pile where back in May we'd moved more bags of marine debris we'd collected on Northwestern Spit. 
The days were long, the bags were heavy, the rocky shoreline was challenging, but the work was definitely rewarding.  It was incredibly satisfying at the end of the day to look back and realize how much debris was removed from each beach.  The tall super sacks bulging with debris bags and your sore muscles made you realize how many pounds you'd moved in the day.  We had some neat wildlife ops—one group even saw a wolverine strolling along the marine debris area that we'd just cleaned up, maybe enjoying debris free rocky shoreline.
In the end, on this trip, we ended up bagging up 4849 lbs. of marine debris during the June trip.  The combined May/June total was 5319 lbs—2.66 tons of marine debris taken off our Outer Coast beaches!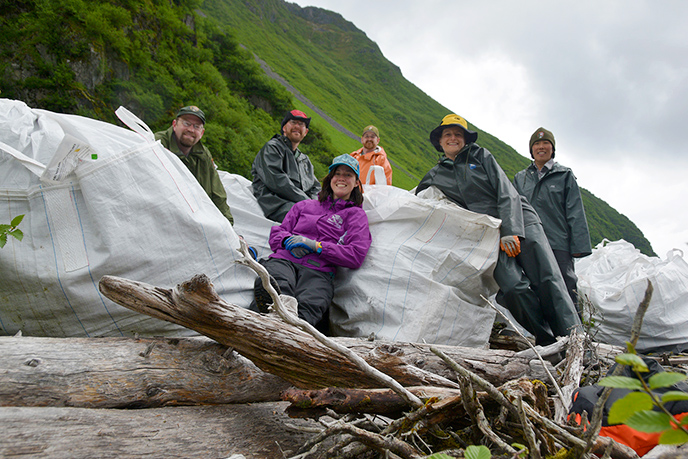 The marine debris power group from left to right:  Benjamin Pister (NPS), Tim Johnson (Resurrection Bay Conservation Alliance), Janet Bering (Alaska SeaLife Center), Jon Hardes (NPS), Michelle Keagle (Resurrection Bay Conservation Alliance), and Shaorn Kim (NPS).  Photo: Alaska SeaLife Center, J. Bering