It was a gorgeous blue-sky day as we prepared to motor out of the Seward small boat harbor. This was my first time on the National Park Service research vessel, the M/V Serac, and I was feeling excited and a little nervous. Luckily, the weather forecast for the next few days was looking good and the seas were calm. Soon, everything was ready to go and we began our trip out to the harder-to-reach coastal areas of Kenai Fjords with the goals of setting up marine debris monitoring transects and checking on how our bear-resistant food storage lockers ("bear boxes") had fared during the winter.
Our first stop was at Bulldog Cove which is notorious for being difficult to land on, but was a piece of cake with the amazing weather. The first order of business was to establish a site for a National Oceanic and Atmospheric Administration (NOAA) Marine Debris Survey. These surveys are part of a national effort to monitor marine debris on local beaches and compare debris sources, amounts, locations, movement and impacts across the US and internationally. This has been especially important after the 2011 Japanese tsunami.  After surveying our site, we inspected the entire beach for marine debris. We found and removed a couple of trash bags full of debris, mostly Styrofoam.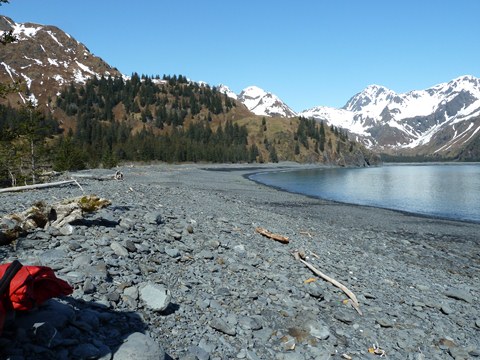 Bulldog Cove. Photo: NPS \ Julie Markus
While we were at Bulldog, we also conducted a Coastal Observation and Seabird Survey Team (COASST) survey. COASST is a seabird monitoring program whose goals are to involve citizens in marine natural resource management and collect baseline data to help assess patterns of seabird mortality. We spread out and walked the beach in search of dead birds and didn't find any.
From Bulldog Cove, we motored out to Northwestern Lagoon in Harris Bay. As we entered the mouth of the fjord, two glaciers, seemingly tumbling over the tops of the mountains, came into view. What a sight! We anchored here overnight and I had a hard time willing myself to go to sleep that evening, as I could have spent all night watching for seals and sea otters hauling out on the icebergs.
The next morning we woke up to amazingly still water with glass-like reflections. We spent the morning in Northwestern Lagoon boating in a small skiff to assess the bear boxes at backcountry campsite areas and scanning the sites for debris and overall condition. All of the boxes were in good condition and the nearby beaches had little to no marine debris.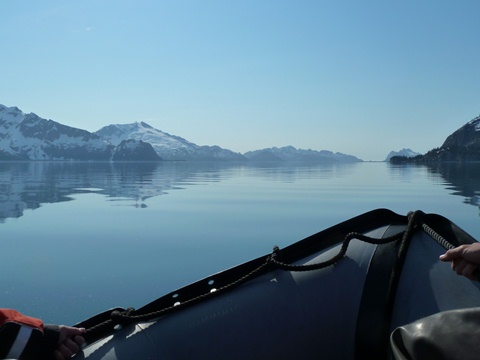 A calm morning in Northwestern Lagoon. Photo: NPS \ Julie Markus
Inspecting a bear box in Northwestern Lagoon. Photo: NPS \ Sharon Kim
Throughout the rest of the trip, we completed Marine Debris and COASST surveys at Northwestern Spit and Verdant Cove and a COASST survey at Pederson Lagoon. We found and removed a variety of marine debris, ranging from fishing nets and buoys to plastic drinking bottles and Styrofoam. Nothing was clearly associated with the 2011 Japanese tsunami. We also checked the rest of the bear boxes at the backcountry campsites in Aialik Bay, the more popular coastal destination for park visitors (all were in good condition and one was still under snow!). We returned to Seward feeling good about all that we accomplished. My introduction to the fjords was incredible and definitely one I will never forget!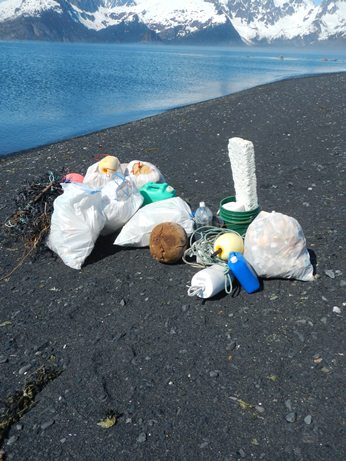 Marine debris removed from Northwestern Spit after several years of accumulation. Photo: NPS \ Sharon Kim
Learn more about the NOAA Marine Debris Survey Program at http://marinedebris.noaa.gov/welcome.html and the COASST program at www.depts.washington.edu/coasst/.