We left the Seward harbor at 9am and motored through 8-10 foot swells around Aialik Cape (thank you, Dramamine).  In Aialik Bay, under dark skies and cool temperatures, we made our way to our first of several popular camping beaches we would monitor, Abra Cove.  We stepped into the gray Zodiac skiff and, as if on cue, it started to rain.  There is nothing like starting a field week by getting all your equipment wet right from the off.  However, we all remained cheerful and the first day's work went smoothly.  The next day was met with unexpectedly good weather (sun!) and two harmless bear sightings on the beaches opposite Holgate Glacier.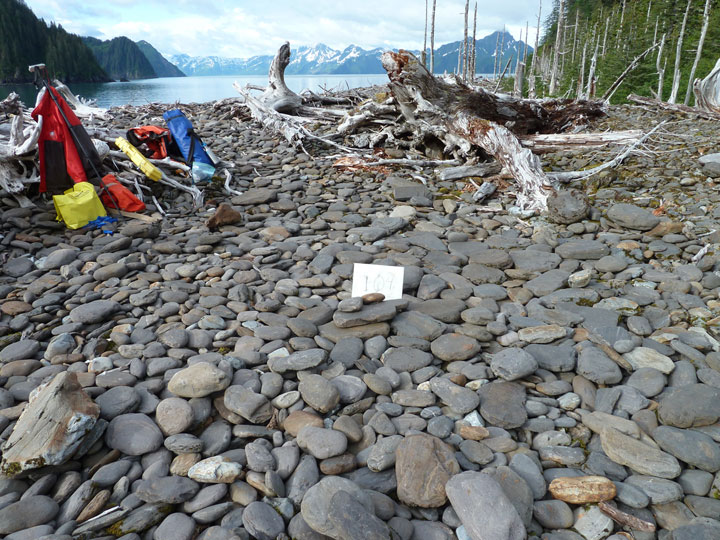 McMullen campsite looking across Aialik Bay. Photo: NPS/Deb Kurtz, 2012.
The weather turned on Wednesday: Cold, rain, and wind - potentially dangerous conditions if not careful.  That is what I said to myself as I lay rib deep in the ocean trying to regain my footing while halfway underneath the skiff and approaching Verdant Beach.  One misstep and I was acutely aware of my body temperature. Luckily, this was the last site of our day.  I eventually righted myself before my muscles seized and we reached the beach.  I poured the ocean out of my hip waders and took stock of my remaining warmth.  I was okay for now so we did our monitoring: looking for signs of visitor impact, such as areas of devegetation, social trails, trash, latrine sites, and fire circles.  By the end of our three sites I needed the refuge of the Serac.  Melissa, the deckhand, had just pulled warm lemon poppy seed muffins out of the oven.  They might as well have been a woodstove to me at that moment.  A change of clothes and calories and I was again warm in a couple hours.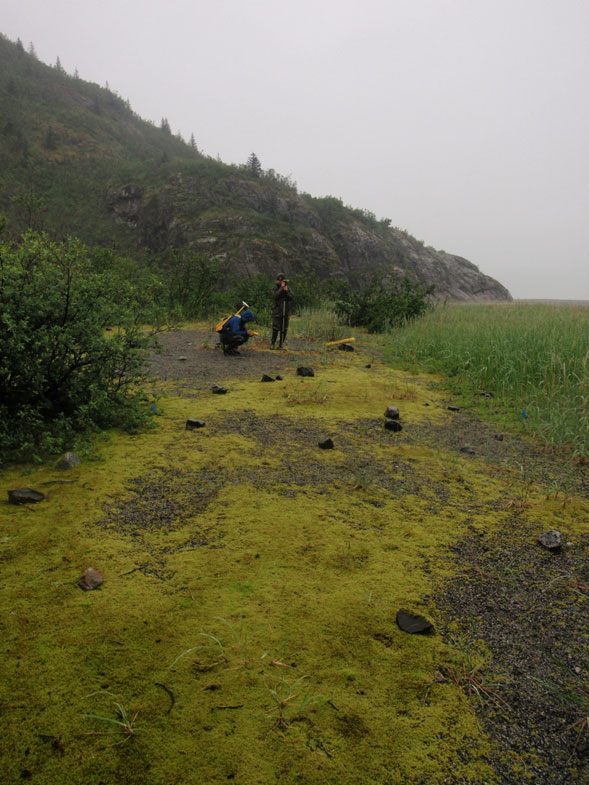 Campsite near Southwestern Glacier in Northwestern Lagoon.  Photo: NPS/Ryan Ek, 2012.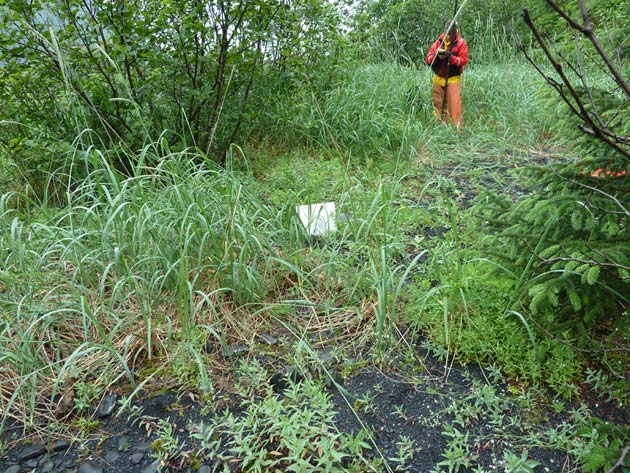 Campsite monitoring in Bulldog Cove.  Photo: NPS, 2012.
On the boat ride home, I reflected on the week's work and what stood out to me most?  I have worked at two other national parks and two national forests: This is the cleanest set of backcountry campsites I have seen.  If not for marine debris, the camping beaches would be nearly spotless.  This is something to be proud of for visitors and staff alike.  It seems the Leave No Trace messages are not only being disseminated, but they are being practiced!  From the perspective of someone responsible for resource protection, it gives some hope and validates some tasks that at times can seem overwhelming in their scale. 
Kenai Fjords is a beautiful landscape that we are lucky to enjoy, but this place can easily be tarnished by seemingly small things: granola bar wrappers, cord tied to a tree, stray toilet paper.  Let the mindfulness of those who visited before you provide you the inspiration to Leave No Trace.  Thank you, clean campers!