As we enter our third decade of archeological research in Aialik Bay we now know people, beginning with the native Unegkurmiut and later Russian fur traders, have utilized the Aialik Bay area and its diversity of resources (at least 29 species of terrestrial mammals, 11 marine mammals species, 287 species of fish and more than 150 species of birds), since at least A.D. 1400 and likely well before that. Unfortunately, multiple coastal subsidence events (when earthquakes cause the shoreline to sink below the sea level) over the past 15,000 years, including 2+ meters in the 1964 earthquake, have likely left scores of archeological sites deeply buried or submerged in the depths of the bay. The number of archeological sites is also limited by suitable locations for human settlement, due to the extremely rocky and steep terrain that characterizes much of the bay. Additionally, as recently as the mid-1600's, much of the bay was overridden by glacial ice to a mid-bay position, leaving human occupation in these areas nearly impossible prior to that time. Despite these obvious limiting factors, the bay is rich with the remains of cultures past.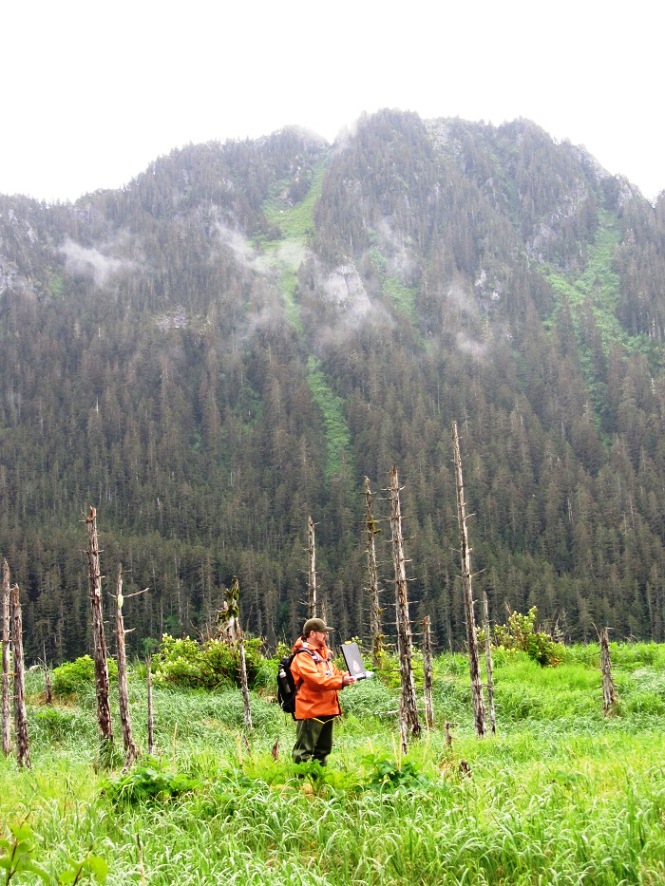 Conducting research in an Aialik Bay ghost forest. This stand of spruce was drowned by sea water when 2+ meters of land subsided during the 1964 earthquake.
Photo: NPS / Sean LaHusen
Types of Sites and Features
Sites in Aialik Bay range from pre-contact (prior to the arrival of Russian fur traders in the late 1700's), villages and seasonal encampments, to more permanent historic structures dating to the late 19th century. These sites can contain a myriad of different features. The term feature simply refers to signs of human activity that are by in large non-portable. This lack of portability distinguishes features from artifacts. Archeological features can include walls, hearths, house depressions, graves, culturally modified trees, middens, and so on. Middens are simply concentrations of human refuse, often found in heaps or piles and consisting of shells, bones, pot shards, etc.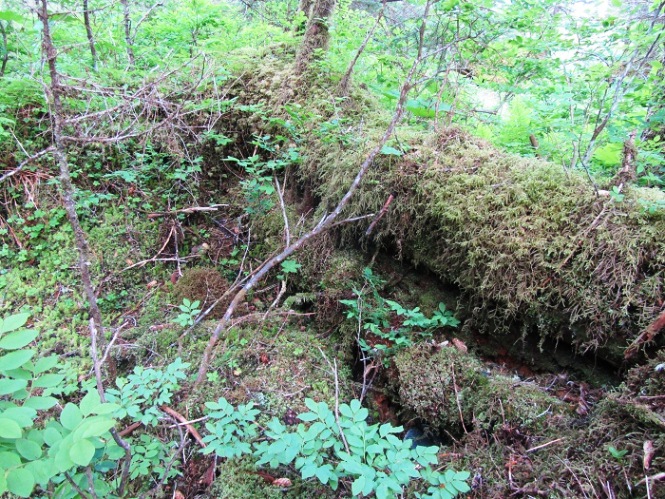 Remains of a historic log structure overgrown with vegetation.
Photo: NPS/Sean LaHusen
How Do We Age Things?
Archeologists working in and around Aialik Bay employ a number of techniques to determine the age of artifacts, features and sites. Probably the most commonly used, and most well-known of these techniques is Carbon 14 or radiocarbon dating. Accelerator mass spectrometry (AMS) tends to be the preferred radio carbon dating method due to its precision and use of a much smaller sample sizes than earlier methods. Carbon 14 dating can be used to date wood, charcoal, shell, seeds, hair and bone. Dates can also be derived by counting annual growth rings from living or dead trees. This study is known as dendrochronology. This method requires coring individual trees, drying the cores, sanding them with sand paper and then analyzing them under a dissecting microscope in order to accurately count the rings. The signatures of at least five volcanic eruptions are present on the Kenai Fjords landscape. These tephras (volcanic materials, ranging in size from large blocks to ash, deposited in layers or lenses on the landscape) can be radiocarbon dated and any cultural materials found either above or below the tephra lenses can be dated relative to the age of the tephra. A popular method of collecting tephra samples is through coring sediments in lake and pond bottoms. This method also allows for the collection and analysis of pollen samples that aid in the reconstruction of past environments.    
Ongoing Work 
Today, Kenai Fjords National Park cultural resources specialists and their research partners (University of Alaska and the Smithsonian Institution) continue to conduct research in Aialik Bay. Current work includes pedestrian surveys for new, previously unknown cultural sites and recordation of previously recorded sites with newer GPS technology. Cultural resources managers also conduct periodic site assessments in order to stay current with the condition of local archeological sites; monitoring for deterioration caused by natural forces and/or human activities. In June 2014 Park cultural resources staff traveled to Aialik Bay in order to ground truth previously collected GPS/GIS data, perform site condition assessments and to conduct cultural resources pedestrian surveys in Abra Cove and a beach north of Aialik Bay Ranger Station. This field work also allowed me (the new archeologist) the opportunity to familiarize myself with the Park's wealth of natural and cultural resources as well as the local geography. The summer of 2015 will see a new archeological field school in the Park! Under the direction of Dr. Aron Crowell, Director of the Arctic Studies Unit at the Smithsonian Institution, this forum will allow for new field data recovery and provide an unparalleled opportunity for students to receive hands-on experience in professional archeological field methods.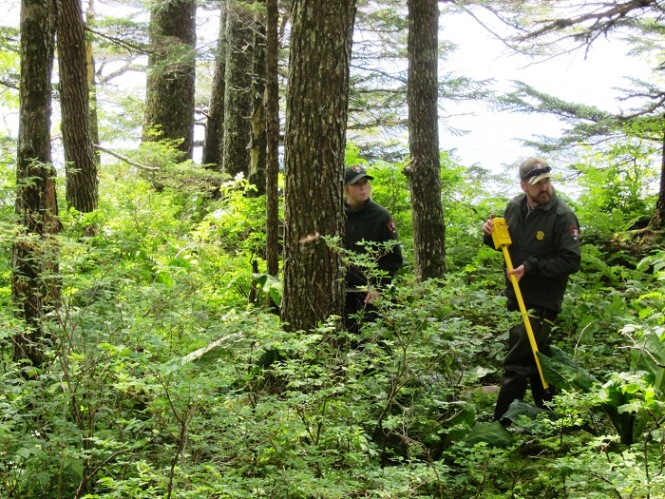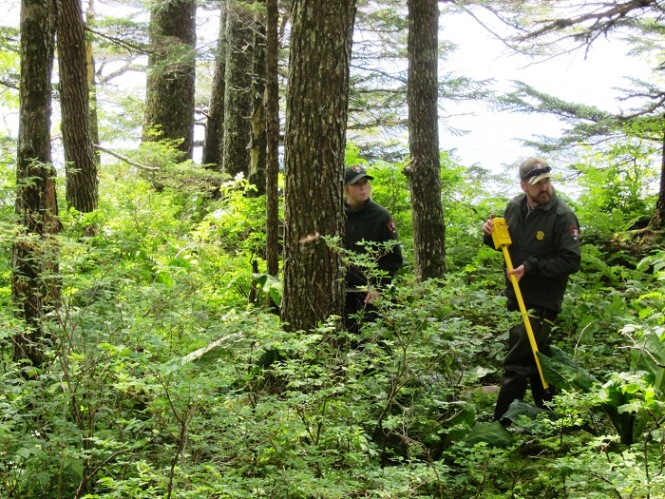 Using a magnetic locator to identify metal artifacts in a historic archeological site.
Photo: NPS / Sean LaHusen