I wake up every day and walk outside into a postcard. Kenai Fjords National Park is one of the most spectacular natural places I have ever seen.

I graduated in December from San Diego State University and I was positive that a position through the Student Conservation Association (SCA) was my next step in my journey.  After many applications, a couple interviews, and a series of plane flights, I now find myself at my desk in the Resource Management department of Kenai Fjords National Park (and I couldn't be more ecstatic). I am a team member of the Exotic Plant Management Team (EPMT) here at Kenai Fjords and I have already been provided with countless opportunities for field experience and career growth. In a typical day, there is a lot to get through, so we get to work first thing in the morning.
8:00AM: I arrive at the National Park Headquarters and immediately start packing my backpack for the day ahead. GPS? Dandelion digger? Bear Spray? Camera? Check.  I meet with my supervisors and go over our plan for the day so that we work as efficiently as possible. Meanwhile, our Youth Conservation Corps (YCC) members are working to gather their necessary items for a fun day in the field.
8:30AM: In the "commute" to Exit Glacier we see more beauty than most people get to see in a year. We go over "Five Minutes of Safety," making sure we know the risks at hand, depending on the work load for the day. Usually we get a karaoke performance from one of our YCC's when our radio reception fades out. About 15 minutes later, we arrive at the Exit Glacier parking lot.
9:00AM: We head to the perimeter of the parking lot to map and eradicate dandelions (Taraxacum officinale). My crew leader, Aaron, and I map these invasive species on our Trimble GPS Units, our YCC's, Megan and Elena begin to dig up the dandelions to help eradicate this invasive species. We go about this pattern for about 3 hours, all the while basking in the glory that is Exit Glacier. Talk about an office with a view.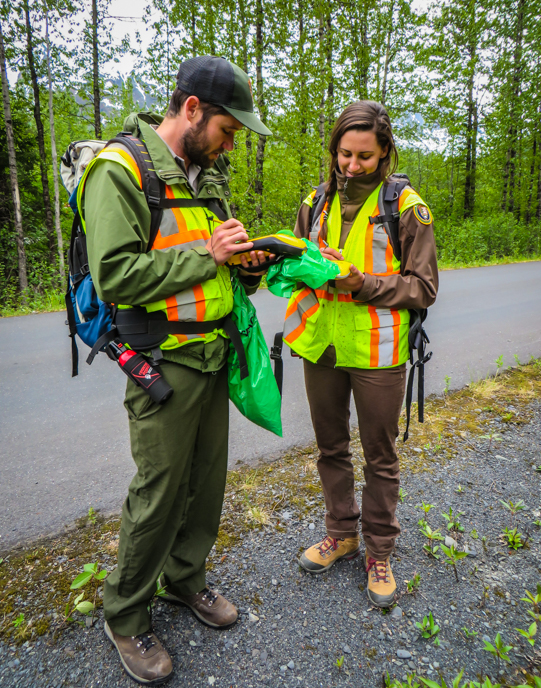 Noon: Time for lunch! We usually find a shady spot to enjoy our lunch. Depending where we are, we almost always have an incredible view of a mountain, glacier, or river. Sometimes we even get to do some wildlife spotting as moose, bald eagles, and marmots are all common in the park!
12:30PM: Most days, we will get back to work pulling dandelions or annual bluegrass (poa annua) on the Exit Glacier Lower Trail System. Some days, we hike up the Harding Ice Field trail to shovel and flag the trail to ensure it is safe for visitors. This also allows us to look at the trail register to determine the number of visitors we have on the trail itself. We can compare data to previous years to determine if we are seeing more or less usage of the trail.
The reason it is so important to eradicate invasive plant species is that we want to preserve the natural beauty of Kenai Fjords National Park. Many invasive species have the ability to overtake native vegetation and completely destroy native plant species. One of the main responsibilities Aaron and I have is to map invasive plant species data to compare to previous years. This is beneficial in seeing the difference we are making in protecting the native flora in the park and seeing how the populations of invasive species change from year to year.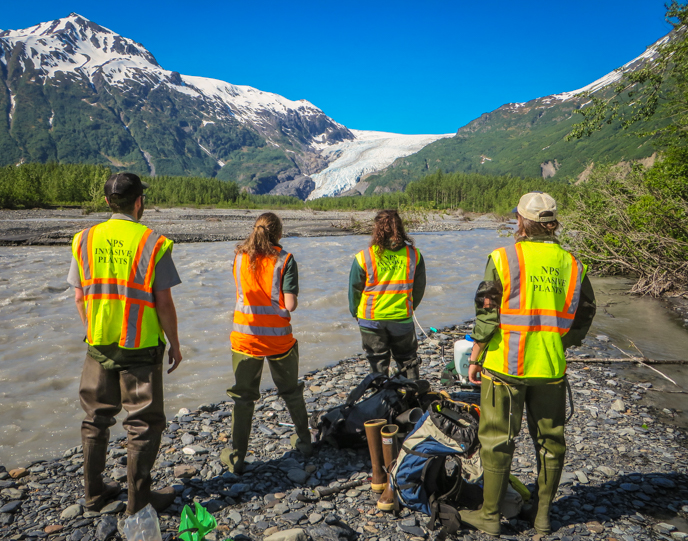 4:00PM: Time to head back to the office. Aaron and I have plenty of data to upload and review so that we can see what improvements we have made from years prior. Our YCC's head home at 4:30PM with many hours of daylight to enjoy the rest of their day.
One of my favorite aspects of this position is that every day is different. I wake up not knowing where my job may take me that day. At the end of the day, when I reflect on the natural beauty I get to see, the different plants I get to learn about, the hard skills I have learned, and all of the hard work we have accomplished, I realize how fortunate I am. Work days do not have to be filled with, "Monday's suck," or "Thank-God-It's-Friday," if you find a job you look forward to. Thanks to SCA, I know those jobs exist and I am one of the fortunate people who gets to experience that daily. Sure, we have days of rain and cold. But like everything in life, it makes us appreciate the good days even more. So thank you, SCA & Kenai Fjords NP, for showing me the true benefit of working in conservation. I get to make a difference every single day and for that, I am grateful.