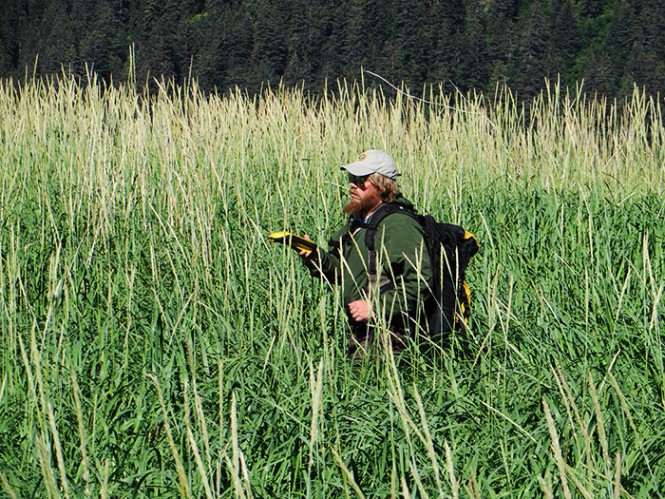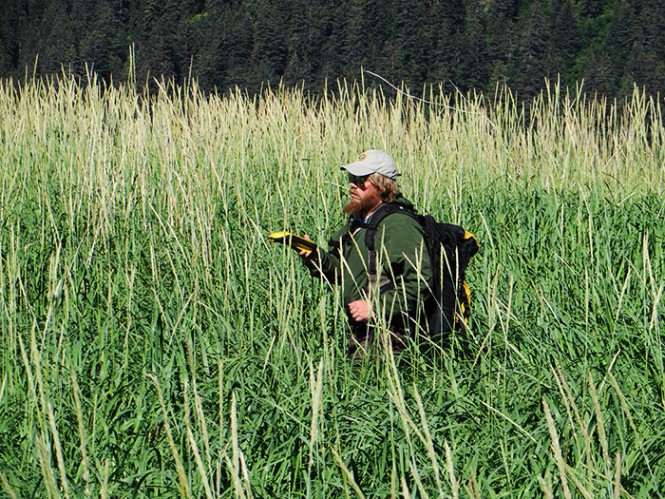 Mapping invasive plant species in the park in Nuka Bay.
Photo: NPS / C. Kriedeman

"Beep, Beep, Beep" is a sound I now associate with joy. It signifies that my Trimble GPS (global positioning system) Unit has gathered enough satellites to take a point and mark an area containing invasive plants that will then be managed. Being the Invasive Plant Manager for the Kenai Fjords Exotic Plant Management Team (EPMT) has provided me with an exciting opportunity. On an average day in the field, we drive to one of the most scenic places in Alaska, Exit Glacier. Though we are often on a lower trail system or in the parking area, it is wonderful to see Exit Glacier almost every day. Visitors do not hesitate to tell me how lucky I am to work in such an area, and I try not to take it for granted. 
My position has provided me with a plethora of new skills in the field of Resource Management, such as learning how to identify several different species of invasive plants;primarily Taraxacum officinale (common dandelion), Plantago major (common plantain), and Poa annua (annual bluegrass). Once these plants have been identified, the EPMT will treat the area. This most often involves digging at a stubborn dandelion tap root, but I am always extremely satisfied when I remove the entire thing! Tap roots are not the only challenging root structure;plants like the invasive Trifolium repens (white clover) have a rhizomatous root structure and removal is very meticulous because the roots are long and fragile. 
Using a Trimble GPS unit is also an exciting new experience I have gained working with the park service. Being able to log positions of invasive plants and then correct and manage the data to be used by Kenai Fjords and Alaska's Regional NPS office makes me feel like a useful member of the team. I am looking forward to using and managing a Trimble unit with other employers.
About once a week the team and I have the opportunity to maintain the Harding Icefield Trail, which was always an adventure! We hike up the trail with 20-30 pound packs, carrying rope, signage, and shovels. The end goal is to shovel snow near the top of the trail and to fix signs that had fallen or become worn from the harsh weather conditions. These tasks help keep visitors on the trail and protect the fragile alpine ecosystem. A few times we were lucky enough to catch a glimpse of the Harding Icefield, which was always breathtaking. Wildlife was abundant every trip up the trail with goats (sometimes in numbers as high as 20), marmots, and the occasional black bear! Visitor interaction was always a welcome part of the day, though we did have to explain a few times that we were not "gold mining". Visitors were genuinely interested in our work and even thanked us, which always brightened my day.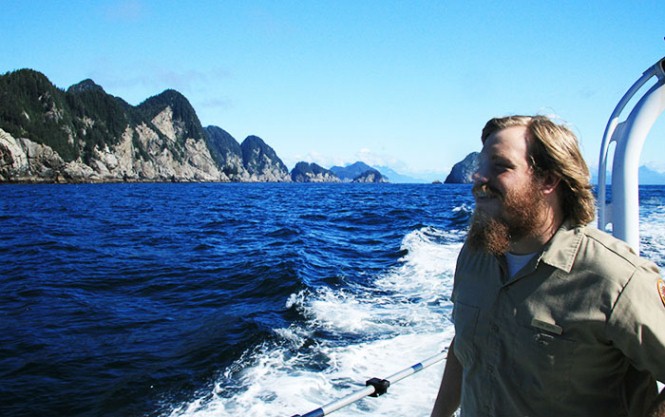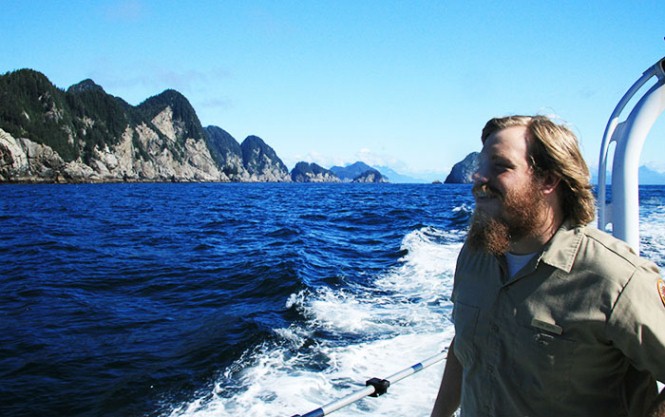 On the outer coast aboard the park boat, M/V
Serac
.
Photo: NPS / C. Kriedeman
A major highlight of my time at the park was a rare visit to the outer coast to monitor and treat invasive plants. Living on the boat for a week was an experience in and of its own, but it could not beat the pristine reaches of the park, my personal location being Bear Glacier.
With only two weeks remaining in my season, I can now look back and appreciate of the skills I have developed here at Kenai Fjords National Park. I am glad to have had the opportunity to help keep invasive plants from becoming more established in the ever changing landscape that accompanies a receding glacier. I know these experiences will help me with further employment at a government, state, or local level in the future. Lastly, I am glad I got to see Exit Glacier and other glaciers along the coast, I will cherish those memories forever.