"So you just pull weeds all summer?" is a question I receive quite often when I inform people of my summer job title, Invasive Plant Management Intern. Being a part of the Kenai Fjords National Park Exotic Plant Management Team encompasses more than just pulling weeds. All of the employees working at the park have a role that benefits the park and its visitors. Our responsibility is to protect the flora of the park. Along with removing invasive plant species we do trail impact monitoring, maintain the Harding Icefield trail registration system, re-vegetation projects, mark and clear trails in order to protect sensitive alpine vegetation, as well as educate visiting trail crews on minimizing the spread of invasive plant seeds into the park, and more. In order to track the locations and extents of invasive plants in the park, infestations are inventoried using a global positioning system (GPS) unit, which is one of my responsibilities as a Student Conservation Association Intern. Although I spend most of my time in the field I do have some office duties. Office tasks for me include keeping a time log tracking what our Exotic Plant Management Team (EPMT) is working on throughout the day, and correcting/editing data collected using a GPS unit. The data is compiled and used in Geographic Information Systems (GIS) complete analysis of presence, density, and effectiveness of control methods used over time. It is also used as a reference to locate persisting infestations for the next year's surveys.
"Why eradicate the presence of invasive plant species in the park?" is a question I am also asked regularly. It may seem obvious to some but it is highly important to manage invasive plants because of their ability to grow prolifically and take over, pushing out native plants. Compared to the lower 48 states, Alaska has a relatively small invasive species problem, and therefore we can still control or eradicate those found in Kenai Fjords National Park. Therefore the EPMT's role within the park is vital to ensuring plants like common dandelion, yellow toad flax, common plantain, annual blue-grass, clover, chickweed, and countless others do not crowd out beautiful native wildflowers, harm species that depend on the native plants or become uncontrollable. One reason many of these weeds are so successful is because they typically release a huge amount of seeds which can be transported by wind, water, clothing/shoes, vehicles, animal scat or fur and equipment (tents, tools etc.). To counter some of these venues of dispersion we provide a boot brush at the Exit Glacier Nature Center so hikers can clean their shoes before hiking in the park. We also make sure that invasive species found in the Exit Glacier parking lot, the park's maintenance yard, and campsites are all controlled, or at least prevented from going to seed.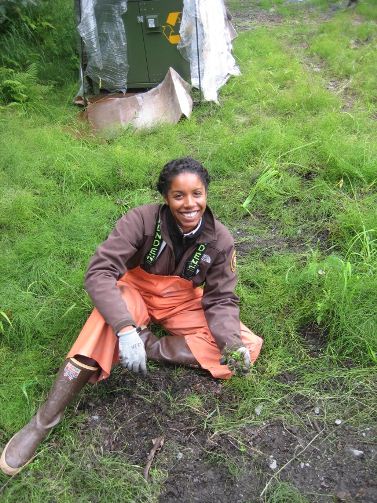 The areas of the park with the most traffic are the most vulnerable to invasive plant infestation but unfortunately our biggest enemy, common dandelion (Taraxacum officinale), has made its way to even some the most remote areas of Kenai Fjords National Park such as the gorgeous Nuka Bay and Northwestern Fjord. I had the privilege of visiting both of these amazing areas this summer to survey for and control invasive plants.
So although some consider my summer job a grueling one, spent on hands and knees pulling weeds, it has been one the best I've had yet! Being complimented by visitors about how nice my 'office' looks also really puts things in perspective! The weather has been spectacular especially for Seward. I have had the fortune of working with great people, hiking the Harding Icefield Trail at least once every week and visiting areas of the park many don't get to visit. I have also learned a ton about invasive and native flora as well as gained GPS skills and most importantly, I have helped reduce the presence of invasive plant species within Alaska's pristine wilderness.