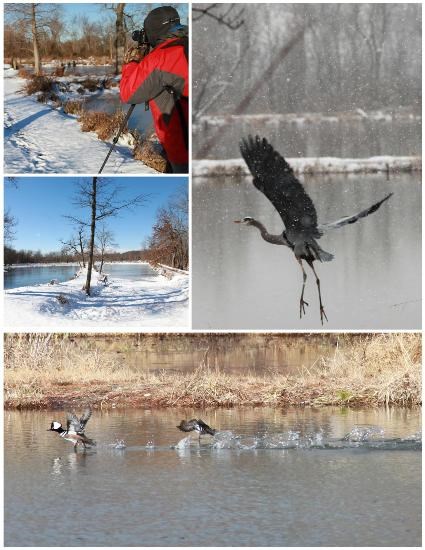 Winter Hours
Visitor Center: 8:00am - 3:30pm
Please check local weather listings for all winter storm advisories and road closures for your safety. Federal Government weather closures results in Kenilworth Aquatic Gardens to be closed. Check OPM status updates.
Dress accordingly; winter jackets, scarfs, gloves, beanies, thermals, earmuffs, and leg warmers are a few things to remember as winter temperatures can drop into the teens. Stay dry and keep your feet warm by wearing thick winter socks. It is always recommended to pair up when venturing out in the cold.
Umbrellas, rain boots, and maybe an extra pair of shoes may come in handy in an event it starts raining.
Winter is a wonderful time to visit!
All the song and migratory birds have flown south to warmer temperatures and the reptiles and amphibians are resting in their muddy burrows underground.
Winter residents and wildlife are still abundant throughout the park. Bring your binoculars and spot the year round resident Great Blue Heron slowly wading through the ponds looking for a meal to get him through the winter. Hooded Mergansers frequent the ponds after leaving their frozen waters up north.
Walk the Boardwalk and enjoy birding and wildlife viewing. See the marsh and winter birds gathering on the mud below during low tide searching for food. Look up and see raptors soaring the skies.
Walk the River Trail and experience the sights and sounds of leaves crackling as birds rustle in the distance. Keep your eyes peeled as you may see a family of deer through the bare branches and trees.
Bright red mohawk or an orange bushy tail? Could that be a Pileated Woodpecker or a Red Fox?
The Boardwalk is about 0.5 miles to the end. The River Trail is 0.7 miles to the end.
ABSOLUTELY NO ICE SKATING IS ALLOWED ON ANY OF THE PONDS. FOR YOUR SAFETY PLEASE STAY ON THE PATHS.