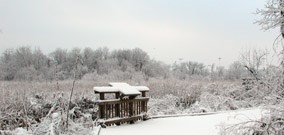 It is a balance of what seem conflicting mandates that makes this park spectacular all year. This site is home to both cultivated, historic water gardens, and wild wetlands including some of the original tidal fresh water wetlands that characterized the area before a city was built. Both have their own unique beauty.
Management decision are made that maintain both the cultivated gardens and the river marsh surrounding the ponds on three sides. This balance has including building marsh land in areas excavated decades ago, and growing cultivated plants that are attractive but less likely to be eaten by neighboring wildlife.
Since 1938 the balance has been maintained, an example of what can be done in other areas.