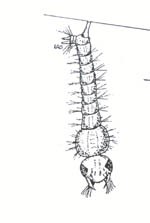 It's a bug eat bug eat plant world here. Mosquitoes in the park get eaten by pond beetles, and dragon and damsel fly larvae, and also by frogs and birds. In addition, the ponds have bladder weed, a carnivorous plant.
The ponds maintain water for predators, like dragon flies, to mature. The marsh is tidal with moving water where mosquitoes can't survive. Our hours of 7:00 a.m. to 4:00 p.m. put visitors in the park between the dawn and dusk feeding times of mosquitos.
The small bits of water that collect in street litter, however, are ideal for mosquito females to lay eggs safe from longer developing predators.
This is why you are more likely to get bit by a mosquito in your neighborhood than at the park.