Winter Trail Conditions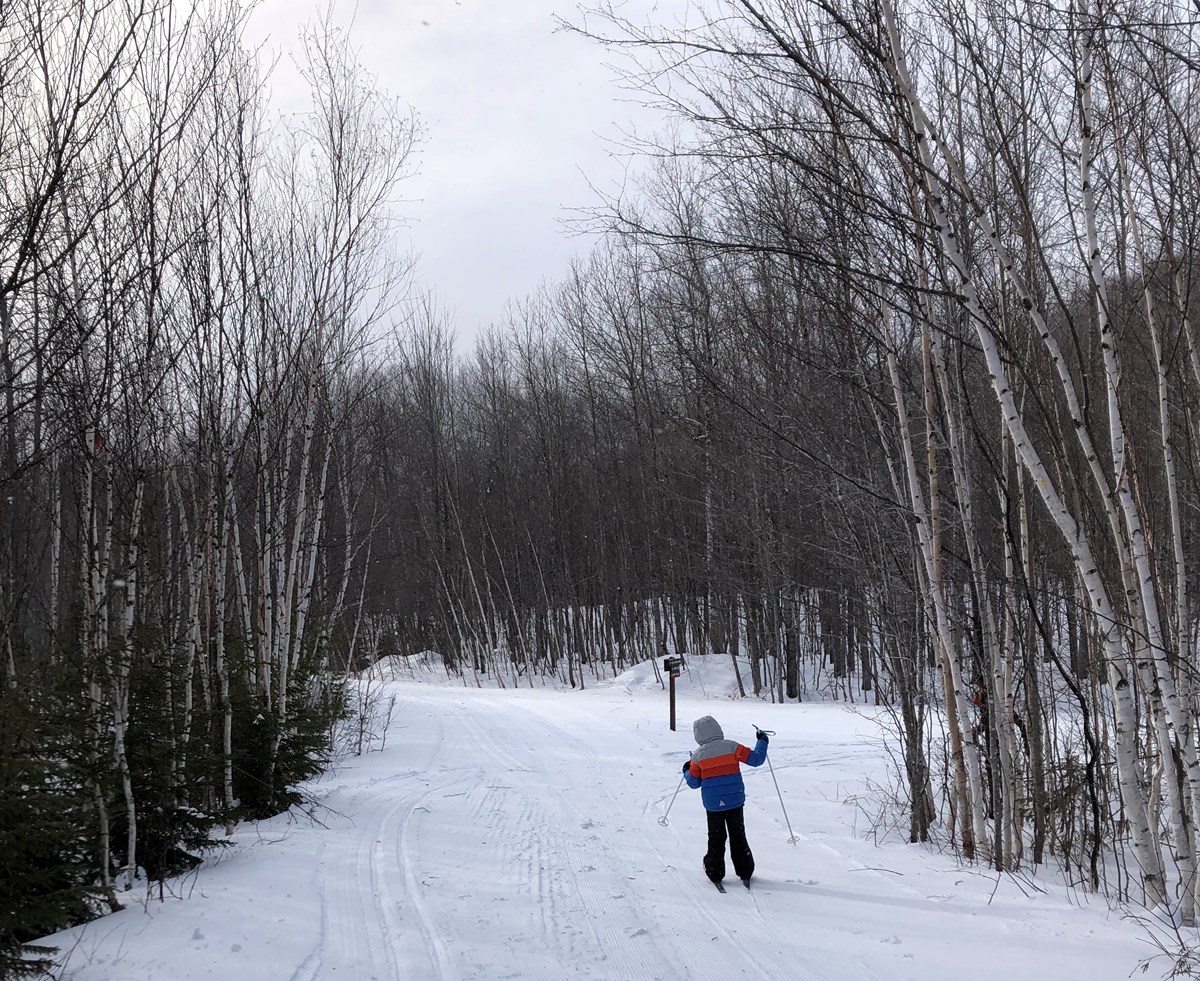 Come enjoy the snow in Katahdin Woods and Waters National Monument.
Grooming operations for the 2022 ski season began in mid-January and lasts through mid March, depending on snow conditions.
Things to know:
The parking lot at the North Gate is plowed, the vault toilet is open, and visitors can access the park by foot, snowshoe, or ski.
Ski trails are typically groomed from mid-January to mid-March. Trails from the North Gate along the Old River Loop and Messer Pond Road to Big Spring Brook Hut are groomed. Ski tracks may be set on the Old River Loop.
Dogs are permitted on leash, but please try to avoid the ski tracks.
Snowshoeing is encouraged. Stay to one side of the groomed trail and avoid any set ski tracks.
To track your trip on a map, download the NPS App onto your mobile devices and make Katahdin Woods and Waters available for offline use. The NPS App is currently available for iOS- and Android-powered devices. It can be downloaded for free through the App Store and Google Play.
Current Conditions:
March 15, 2022
- Trails were packed and groomed on Tuesday, March 15. Downed trees cleared from trails from the North Gate to Big Spring Brook Hut in January.
| Trail Name | Length | Reported Conditions |
| --- | --- | --- |
| Messer Pond Road | 4.6 miles one-way to Haskell Hut, additional 4.5 miles one-way to Big Spring Brook Hut. | Snow is present. Last packed and groomed to Haskell Hut on 3/15. Packed to Big Spring Brook Hut on 2/11. |
| Old River Road Loop | 3.4 miles round-trip | Snow is present. Trail packed and groomed on 3/15. |
| Oxbow Road | 0.4 miles one-way | Snow is present, last packed on 1/28. |
| Stair Falls Trail | 0.5 miles from Messer Pond Road to Stair Falls | Snow is present, but not packed or groomed. |
| K-Comp Road | 2.8 miles one-way from Messer Pond-Orin Falls Rd. to East Branch Penobscot River | Snow is present, but not packed or groomed. |
Loading weather forecast...
Last updated: March 15, 2022