The Ten Essentials for Backcountry Travel in Katmai
To have a safer and more enjoyable visit to Katmai, be sure to bring these essential items with you.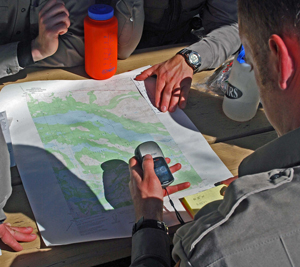 1. Appropriate Footwear
Consider where you are going and what terrain you will encounter. In the Valley of Ten Thousand Smokes the best footwear is a good set of hiking boots with multi-sport sandals for river crossings. If you are boating, then consider using lightweight fishing waders and hiking shoes for camp shoes.
2. Map and Compass/GPS
Route finding/navigating tools and a knowledge of how to use them are a necessity. Maps can be downloaded from the
USGS MapStore
or purchased from Katmai's cooperating association,
Alaska Geographic
.
3. Water and a Water Treatment System
Many places in Katmai's backcountry, like the Valley of Ten Thousand Smokes have limited water sources, especially in late summer. Other places offer easy access to lakes, streams, and springs. Stay healthy and treat your water by filtering it, using chemical tablets, or boiling it.
4. High Calorie Food
Bring and eat a lot of food. Snack on food throughout the day. You never know when you will need the energy for that final push back to your campsite.
5. Rain gear and Extra Clothing
Always plan for rain at Katmai. Staying dry is key to staying warm and comfortable. Rain gear makes for great wind protection too!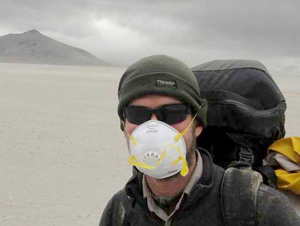 6. Safety Items
Fire starter and/or camp stove: Keep in mind that wet, damp wood may be difficult to ignite with matches.
Headlamp or flashlight: Carrying a light source is always a good idea, even around the summer solstice.
Whistle, laser flare, or other signaling device: You are never so tiny as when someone is looking for you! Signaling devices and mirrors help searchers find you. Signal mirrors can be seen up to 5 miles away.
First Aid Kit: Small, easy to use kits can be purchased from backpacking stores and outdoor outfitters.
Protection from Volcanic Ash: Winds often increase without warning. In places like the Valley of Ten Thousand Smokes, it can blow volcanic ash into your eyes and mouth. Goggles and a bandana or dust mask are recommended to protect your eyes and airway.
Knife or all-purpose tool
Any other items you think you may need
7. Sunscreen and sunglasses
Almost nothing spoils an otherwise enjoyable trip as quickly as bad sunburn. During the long days of summer, it is possible to get sunburned even at 10 pm! Sunglasses are great protection from the fierce subarctic sun.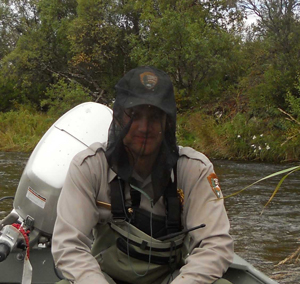 8. Bug Spray and Head Net
It's no lie. The bugs are bothersome in Alaska! Insect repellant helps, but wearing a head net really helps to raise your comfort level. Wearing a heat net along with a long sleeved shirt will work better than anything to protect you from biting insects.
9. Bear spray, Flares, Airhorns
The Alaska brown bear can be found in all environments at Katmai, so many people carry some sort of emergency deterrent in the rare event that they need to deter an aggressive or defensive bear. Be aware of the limitations of bear protection (blow-back from bear spray, restrictions in carrying items on airplanes) and be sure you know how to use them properly when you need them!
10. Backpack
A comfortable backpack makes carrying your gear much easier. Please remember that bears and other critters will make short work of your equipment and can easily destroy it. Keep your pack on your back or within arm's reach at all times.
Last updated: September 30, 2016