Katmai's 2018 Centennial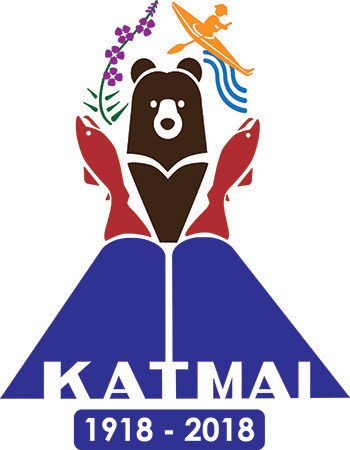 Katmai is celebrating its 100th birthday in 2018, and we want you to be a part of the festivities!

Katmai National Park and Preserve will be hosting a series of webinars commemorating 100 years of preservation. These will feature a variety of dynamic speakers deeply connected to Katmai's wildlife, historic lodges, flora, fisheries, and Alaska Native cultures. All webinars will be streamed on Explore.org and archived on katmaiconservancy.org The following schedule is subject to change:

June 27th
Katie Myers, Alaska NPS Museum Curator
"100 years of Administrative History at Katmai National Park and Preserve"
Katmai came into existence with a bang, but did you know that the park itself wasn't directly managed for many years? From the first rangers, to historic fisheries, to the reason Katmai was created, Katie Myers will speak on a century of preservation and management.

July 6th
Dr. Katie Ringsmuth, Historian at The Alaska Association for Historic Preservation
"One Fish Two Fish Red Fish Brooks Fish"
Before there were bears there were fish! Dr. Katie Ringsmuth explains how counting fish at the outlet of Brooks Lake helped develop the management methodology used to regulate one of the most important sockeye salmon fisheries in Alaska. This presentation underscores the conclusion that salmon-pursuing human beings have been an integral force that have profoundly shaped the salmon resource since the Brooks River formed nearly 4,500 years ago.

July 7th
Dr. Katie Ringsmuth, Historian at The Alaska Association for Historic Preservation
"NN Cannery History Project"
The NN Cannery Project presents to the public an introspective, unique, and colorful depiction of cannery people's lifeways and history. Whether they came from China, the Philippines, or simply upriver, cannery people found dignity through their laborious interactions and forged a deep connection to the surrounding environment. Their diverse traditions left a mark on Alaska history and culture.

August 3rd
Grant Hilderbrand, Ph.D., Chief of the Marine Ecosystems Office, USGS Alaska Science Center
"Wildlife of Katmai"
Grant Hilderbrand will present on the dynamic fauna of Katmai National Park and Preserve.

August 16th
Torre Jorgenson, Ph.D., Botanist, Ecologist, Alaska Ecoscience, University of Alaska Fairbanks
"Century of Landscape Change"
Through historical photography, botanist Torre Jorgenson will present on a century of ecological change of the Katmai landscape.

September 21st
Aron Crowell, Ph. D., Alaska Director of the Arctic Studies Center, Smithsonian Institution
"Cultural Crossroads in Prehistory"
Did you know that Katmai has not hundreds, but thousands of years of human history? Join Dr. Aron Crowell as he presents on the people that call Katmai home.

All webinars will be streamed live on Explore.org and archived on katmaiconservancy.org.
Katmai will also be adding music to the centennial celebration. Through a partnership with the local Bear Grass Art and Music Festival, Alaskan musicians Emma Hill, Kat Moore, and Justin Boot will perform at Brooks Camp on July 20th. This event will be free to all who can attend and will be live streamed on Explore.org.

All events listed are subject to change.

Saturday, September 22, 2018
Naknek, Alaska
A closing ceremony will be held in King Salmon-Naknek showcasing the local cultural community connections with Katmai parklands on September 22nd. This event will feature cultural presenters and demonstrators, Alaska Native dancers and artists, and family friendly activities. Food and beverages will be served, and admission is free to all.

These special centennial events are made possible through partnerships with the Katmai Conservancy and explore.org.

Share Your Stories
Katmai is a place full of wonder, adventure, and beauty. Share your memories and adventures with us on Facebook, Twitter, and Instagram with the hashtag #katmai100. We would love to see artwork and photography portraying your special connection with this wild land.

A Brief History of Katmai
Although many people know Katmai for its population of brown bears, Katmai was first established in 1918 as a national monument to protect and study the site of the 1912 eruption of Novarupta, the largest volcanic eruption of the 20th century. Botanist Robert F. Griggs was fascinated by the cataclysmic eruption and its effect on the surrounding landscape. He led multiple expeditions funded by National Geographic to the site of the cataclysmic event. Completely taken with the remarkable volcanic terrain in front of him, he dubbed the land the Valley of Ten Thousand Smokes and pushed to have the land protected by an act of Congress. Thus in 1918, Congress established Katmai National Monument, a place to protect, interpret, and study active volcanism. After multiple expansions, Katmai officially became a national park in 1980. Katmai National Park & Preserve has world class wildlife viewing, incredible salmon runs, thousands of years of human history, and 4 million acres of mountains, rivers, and coast.
Last updated: June 23, 2018