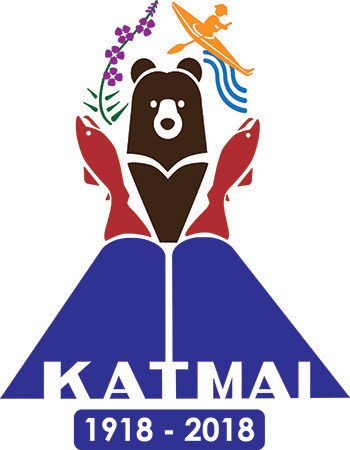 Katmai is celebrating its 100th birthday in 2018, and we want you to be a part of the festivities!
The Geologic Story of Katmai
Saturday, April 28, 2018
Cuddy Hall, University of Alaska Anchorage
10:00 am - 3:00 pm
10:00 am - Opening with JBER Color Guard, Anchorage Sugpiaq Dancers, and remarks from Katmai Superintendent Mark Sturm.
10:40 - "Katmai Identity" - Loren Anderson, Director of Culture Programs, Alaska Native Heritage Center. Learning identity as an Alaska Native through stories to teach further generations.
11:20 - "Beyond the Volcanoes: Glacial History, Fossils, and Plate Tectonics of Katmai" - Chad Hults, Regional Geologist, National Park Service. Katmai National Park and Preserve is a veritable playground for geologists with a rich and complex geologic history. Although today's active volcanoes are spectacular geologic features, and core to the formation of the park, the rocks of Katmai record a history of volcanic arcs, far traveled path from lower latitudes, and North American glaciation. Katmai was the western extent of the continental ice-sheet, so contains geologic landforms that recorded a detailed record of glacial advances and retreat during the last Ice Age. Katmai's underlying bedrock goes back 200 million years, with rocks and fossils that hold a record of plate tectonics and past climate change. For example, Katmai today has an active volcanic arc that is built upon older volcanic arcs that first erupted 180 million years ago. We'll travel back into deep time and see Katmai through a geologist's eyes; it's a spectacular place.
12:00 - Anchorage Sugpiaq Dance Group
12:10 - Lunch
1:10 - "The Valley of Ten Thousand Smokes – the Natural Classroom to Study Volcanology"
Speaker: Pavel Izbekov, Research Assistant Professor, Geophysical Institute, University of Alaska Fairbanks. Since 2003, the University of Alaska Fairbanks offers a field-based volcanology course, which uses the Valley of Ten Thousand Smokes, Katmai National Park as a natural classroom. During the two-week field trip to Katmai students have an opportunity to learn about volcanic processes using the 1912 Novarupta/Katmai eruption as an example. They visit the Novarupta dome, the Katmai caldera, as well as numerous outcrops of the pyroclastic flow deposits, making their own observations. Students also have an opportunity to visit Trident and Mageik Volcanoes and learn about extrusive and effusive volcanism. By taking this 3-credit UAF's course students learn about volcano research and monitoring. They also gain experience in conducting fieldwork in a remote and challenging environment.
1:50 - "The Novarupta-Katmai Eruption of 1912: Largest Eruption of the Twentieth Century" - Michelle Coombs, Scientist-in-Charge, Alaska Volcano Observatory.
The explosive outburst at Novarupta in June 1912 was the 20th century's most voluminous volcanic eruption. It was one of the few historical eruptions to produce a collapsed caldera, welded tuff, and an aerosol/dust veil that depressed global temperature measurably. The eruption emplaced a series of ash flows that filled what became the Valley of Ten Thousand Smokes. From the early explorations of the Griggs expedition, to the mid-century work of geologists such as Garniss Curtis, to the seminal studies of Judy Fierstein and Wes Hildreth in the late twentieth century, scientists have spent decades developing an understanding of this eruption, and applying the lessons learned to volcanoes around the world. Today, ongoing geologic research still seeks to understand more fully the processes that drove the 1912 eruption, as well as the current state of Katmai's volcanoes, and geophysical instruments send data to us in real-time to warn of the next impending eruption in Katmai National Park.
2:30 - Katmai National Park and Preserve's Superintendent Mark Sturm closing remarks.
2:45 - Reception
Food and beverages will be served.
Throughout the summer of 2018
Twice-monthly webinar series
Saturday, September 22, 2018
Naknek, Alaska
Closing event with presentations on the history and culture of fisheries in the Bristol Bay region.
These special centennial events are made possible through partnerships with the
Katmai Conservancy
and
explore.org
.
Share Your Stories
Katmai is a place full of wonder, adventure, and beauty. Share your memories and adventures with us on Facebook, Twitter, and Instagram with the hashtag
#katmai100
. We would love to see artwork and photography portraying your special connection with this wild land.
A Brief History of Katmai
Although many people know Katmai for its population of brown bears, Katmai was first established in 1918 as a national monument to protect and study the site of the 1912 eruption of Novarupta, the largest volcanic eruption of the 20th century. Botanist Robert F. Griggs was fascinated by the cataclysmic eruption and its effect on the surrounding landscape. He led multiple expeditions funded by National Geographic to the site of the cataclysmic event. Completely taken with the remarkable volcanic terrain in front of him, he dubbed the land the Valley of Ten Thousand Smokes and pushed to have the land protected by an act of Congress. Thus in 1918, Congress established Katmai National Monument, a place to protect, interpret, and study active volcanism. After multiple expansions, Katmai officially became a national park in 1980. Katmai National Park & Preserve has world class wildlife viewing, incredible salmon runs, thousands of years of human history, and 4 million acres of mountains, rivers, and coast.