Science and Research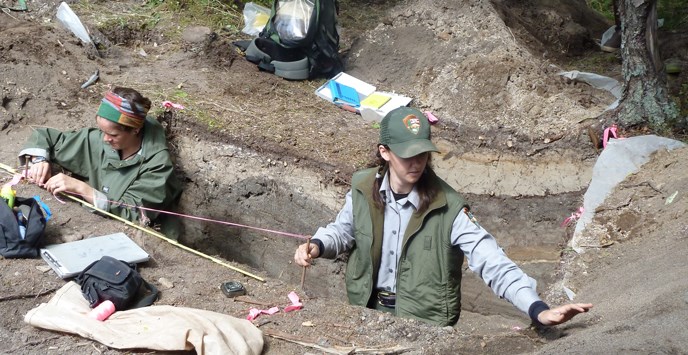 Katmai National Park presents a unique opportunity for researchers. With a wilderness over twice the size of Yellowstone comprised of complex and abundant ecosystems, Katmai offers a wealth of ecological data for everything from the habits of brown bears to the adaptations of tundra plants. With a kaleidoscope of dramatic formations and volcanic marvels, it is a geologist's paradise. With over 9,000 years of human history and some of the densest archeological units in the park service, Katmai is a bounty for cultural research. Katmai offers a library of knowledge for understanding the world around us, if we only have the tools to translate it.

Click the links below to learn more about the research taking place in Katmai, as well as the diverse group of agencies and partners collaborating in park science.
Partners in Science:
Katmai's diverse landscape and ecosystems are studied by an equally diverse group of agencies and partners. Please visit these websites for more information.
Alaska Park Science: Alaska Park Science is a semi-annual journal that shares what we are learning in Alaska's national parks through the study of their vital cultural and natural resources. Browse Alaska Park Science articles about Katmai.
Alaska Sealife Center: The Alaska SeaLife Center generates and shares scientific knowledge to promote understanding and stewardship of Alaska's marine ecosystems.
Alaska Volcano Observatory: Over a dozen active volcanoes are found within Katmai's borders. The Alaska Volcano Observatory uses federal, state, and university resources to monitor and study Alaska's hazardous volcanoes, to predict and record eruptive activity, and to mitigate volcanic hazards to life and property.
Ocean Alaska Science and Learning Center: The Ocean Alaska Science and Learning Center (OASLC) is dedicated to understanding and preserving the marine ecosystem that connects Alaska's National Parks through research and education.
Research Permits: Find instructions on applying for a research permit.
Southwest Alaska Network (SWAN)
: The SWAN program is one of 32 National Park Service inventory and monitoring networks across the country established to facilitate collaboration, information sharing, and economies of scale in natural resource monitoring.
Changing Tides:
The National Park Service is embarking on a new study to investigate the unique link between the terrestrial and nearshore environments, specifically coastal brown bears and intertidal invertebrates.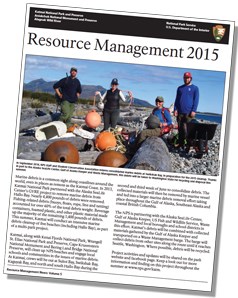 Resource Management Newsletters:
What are Katmai's biologists up to? Find out in their annual newsletter.
2017 Resource Management Newsletter
2015 Resource Management Newsletter
2014 Resource Management Newsletter
2013 Resource Management Newsletter
2012 Resource Management Newsletter
Last updated: September 29, 2017