Weather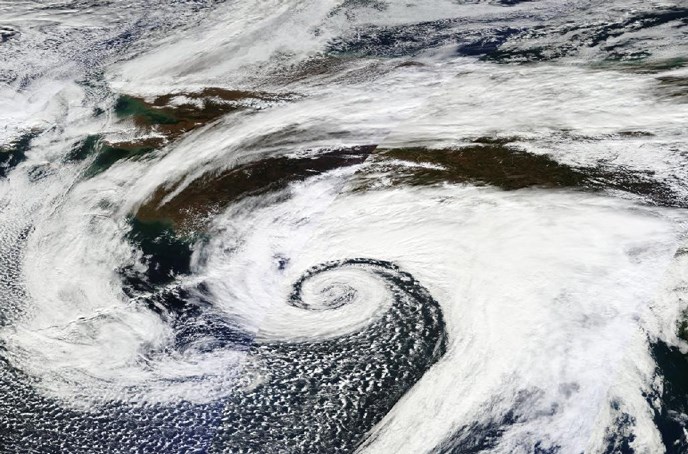 As M. Scott Momaday states in The Ends of the Earth: Alaska's Wild Peninsula, Katmai's weather is often "notoriously miserable." Katmai lies in the battleground between two climactic zones that profoundly influence the region's weather.
East and south of the Aleutian Range on the northern Alaska Peninsula is a rain and storm lashed coastline. It is a maritime zone kept warmer and wetter by the moderating effects of the Pacific Ocean. West and north of the Aleutian Range including portions of Bristol Bay, however, lie in a maritime-continental zone. In this zone the summer temperatures are moderated by the open waters of the Bering Sea, but winter temperatures are more continental and typically colder due to the presence of sea ice. Moving from southeast to northwest across the park and preserve, average temperatures and precipitation fall substantially, but stormy conditions are common anywhere at any time of the year.
From 1998 to 2008, King Salmon, AK, where the park's headquarters is located, averaged just over 20 inches (51 cm) of precipitation per year and an annual mean temperature of 35˚F (2˚C). In contrast, the town of Kodiak, AK, approximately 68 miles (110 km) from Katmai's Pacific coast, averaged over 80 inches (203 cm) of precipitation and an annual mean temperature of 41˚F (5˚C). Extreme low temperatures in the winter further illustrate the difference between the continental and maritime climates. King Salmon's record low temperature during that time was -44˚F (-42˚C) while Kodiak's record low was -8˚F (-22˚C).
In general, expect wetter and stormier conditions on the Pacific (eastern) side of the Aleutian Range than on the Bering Sea (western) side. Prevailing winds in the interior of the park are usually out of the north, but the strongest annual winds are almost always from the east. Average temperatures and precipitation at Brooks Camp and the interior of Katmai are most similar to King Salmon. Average temperatures and precipitation for the Pacific coast of Katmai are most similar to Kodiak. The Aleutian Range captures a great deal of moisture moving north and west off of the Pacific Ocean creating a slight rain shadow over much of western Katmai National Park.
More information about the climate of Alaska can be found at the Alaska Climate Research Center and the Western Regional Climate Center.

Last updated: December 24, 2015