Coasts / Shorelines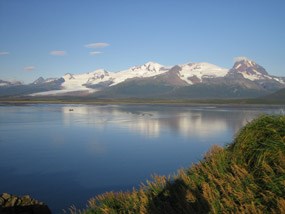 Separated from the rest of the park by the Aleutian Range, Katmai's eastern coast is a spectacular wilderness area ranging from narrow fjords guarded by bald eagles to broad coastal flats monopolized by clam-digging bears. The Katmai coastline extends from the mouth of the Kamishak River in Kamishak Bay to Cape Kubugakli in Shelikof Strait. The entire coastline has been shaped by glaciation, with long, narrow fjords and U-shaped valleys.
The 497 miles of the Katmai coast encompass an array of habitats, including salt marshes, sedges, mud flats, gravel beaches, sand beaches, rocky shorelines, alder thickets, and salmon berry bushes. The only stand of Sitka spruce in the park is also located on the coast, emphasizing the variety of coastal habitats. Wildlife thrive in the various habitats and wolves, foxes, puffins, cormorants, and kittiwakes are fairly common.
Brown bears in particular are found in the highest densities along the Katmai coast where nutrients and resources are consistently abundant. During early summer, bears spend much time foraging on the coastal sedge flats at Cape Chiniak and Swikshak, Hallo, and Kukak Bays. Once the salmon begin running on the coast, many bears will move to streams and rivers to catch the abundant fish. Bears are also known to clam along the coastal tidal flats.
The present-day uninhabited Katmai coast belies the rich cultural history of its past. Ancient travelers left the remains of their campsites along this coast 8,000 years ago, and were followed by a long series of resident Native cultures, hunters, trappers, traders, travelers, priests, scientists, and fishermen. During the recent 20th century, commercial clam canneries were among some of the human enterprises to leave their mark on the Katmai coast.
While the Katmai coast appears to be untrammeled by development, it is still an area vulnerable to man's mishaps. In 1989, the Katmai coast was heavily impacted by the Exxon Valdez oil spill. Although the coast was over 250 miles away from the actual spill, the strong Alaska Coastal Current located directly offshore carried the oil to the park within three weeks. Over 1055 tons of oiled debris were removed from the Katmai coast during the first five months. Oil from the spill was still documented on the coast in 2005.
Although the Katmai coast is fairly remote, it may be accessed by plane or boat. Coastal bear-viewing and sport-fishing opportunities are plentiful through commercial operators based in the towns of Homer, Kodiak, and King Salmon. For a list of commercial operators, click here.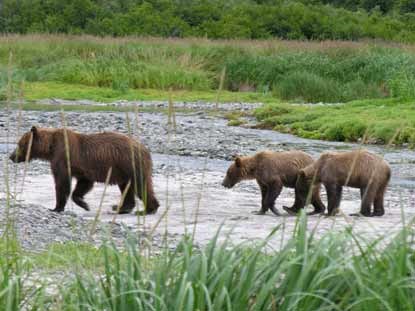 Last updated: October 21, 2015