Bridge Construction at Brooks River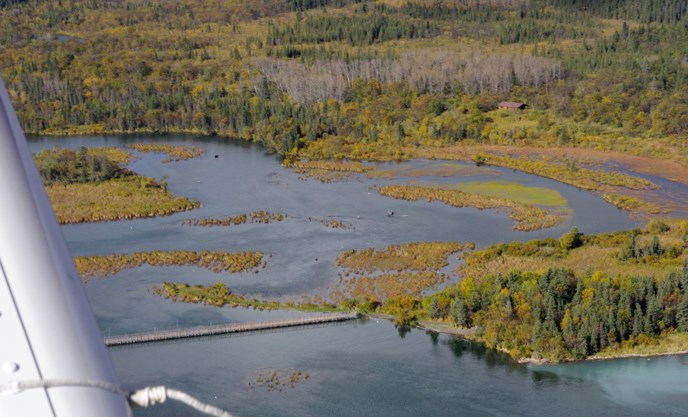 The bridge construction project initially planned for 2016 has been postponed until 2018. This project may affect the visitor experience in the lower river area and alter bear activity patterns during the construction phase.
What's happening and why?
A new elevated bridge and boardwalk system will be constructed over Brooks River. The elevated bridge and boardwalk system will improve visitor and employee safety by reducing the risk of human-bear conflicts; provide safe and dependable access for the phased relocation of NPS facilities; protect and enhance key park resources in the Brooks River area, including brown bears, salmon and trout, and cultural resources; improve visitor experience in the area; and connect infrastructure utilities between the Valley Road Administrative Area and the north side of Brooks River.
The bridge and boardwalk system will span the lower Brooks River near the location of current floating bridge. Electrical intertie and septic tank pump-out lines will be attached to the bridge structure. Most work on this project will take place over the winter of 2018-2019. However, staging of construction materials may begin as early as August 2018. Materials and heavy equipment may be staged within sight of the Lower River Wildlife Viewing Platform at the mouth of Brooks River. This may affect the area's viewshed, soundscape, and wildlife activity patterns, but park staff and contractors will mitigate these impacts as much as possible.
Where can I find more information?
Information will be posted on this page as it becomes available. Guiding documents for the project, including the Environmental Impact Statement, can be found on Katmai's Brooks River Visitor Access page. You may also wish to read Superintendent Mark Sturm's blog post about the bridge or a list of Frequently Asked Questions.
Last updated: September 16, 2018