Top Six Reasons - Brooks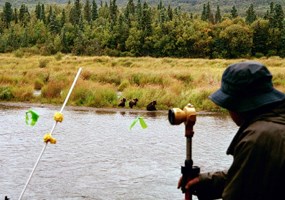 1. National Recognition
The Brooks River area is both a National Historic Landmark (NHL) and a National Register of Historic Places Archeological District. There are only five places in the whole state of Alaska that bear both these designations. Brooks is recognized as one of the top five most important places in the state for learning about prehistory.
2. Abundance
There are more than 900 house depressions in the NHL, making it one of the most densely concentrated archeological areas in North America.
3. A Chance to Solve a Mystery
The Brooks River sites together have the highest density of Arctic Small Tool tradition sites. The tradition, which dates from about 3,800 to 3,000 years ago, is still mysterious and is present at very few places in Alaska.
4. The Complete Record
Four other archeological traditions are represented in the NHL, which provides a nearly unparalleled opportunity to study culture change and population movement in Alaska.
5. People and Volcanoes
The 10,000-year record of volcanic ash falls (tephras) present in the Brooks area makes the archeological strata uniquely easy to separate. Organic matter from sites above and below ash fall layers also provides date ranges for important volcanic events that would otherwise be difficult to date.
6. An Enduring Connection
The Alutiiq people who are the descendents of those who lived at Brooks camp maintain strong ties to the area and are concerned about the archeological sites.
Last updated: December 23, 2015