Fat Bear Week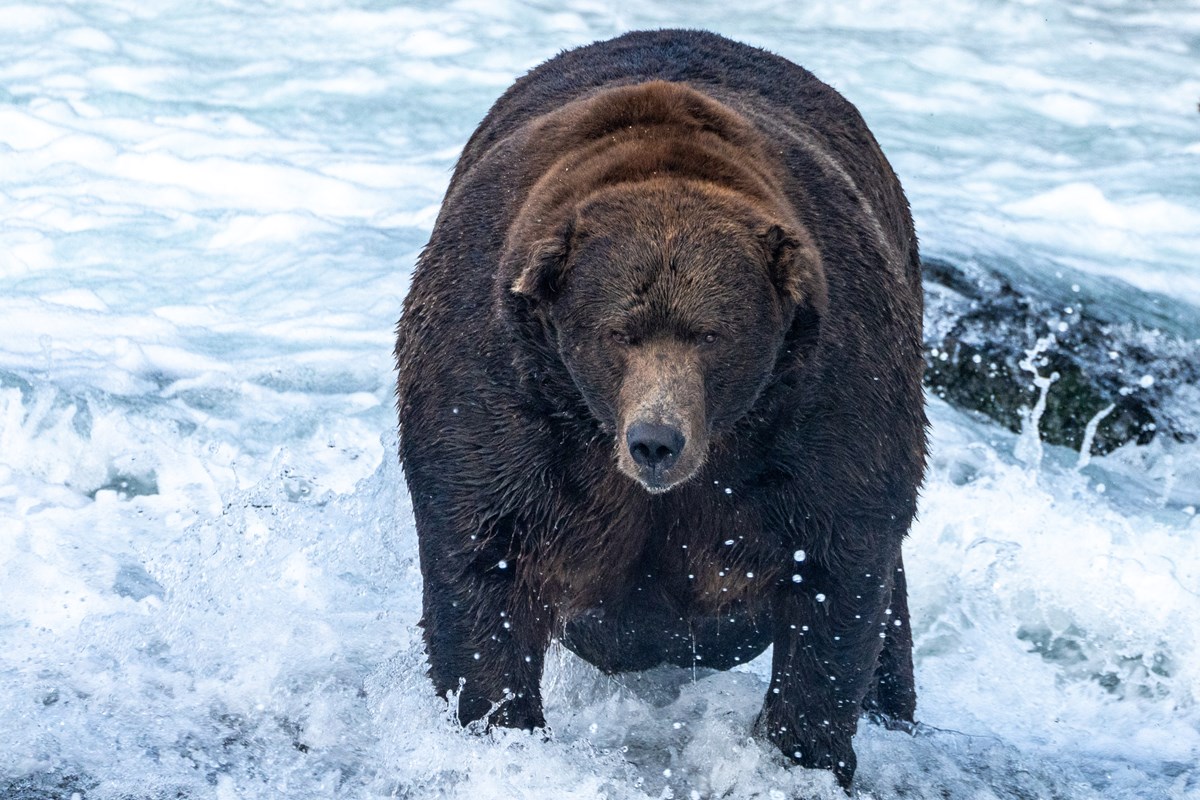 Fat Bear Week- an annual celebration of success. All bears are winners but only one true champion will emerge. Held over the course of seven days and concluding on the Fat Bear Tuesday, people chose which bear to crown in this March-Madness style bracket where bears are pitted against each other for your vote.
Why fat matters
From its humble beginnings as Fat Bear Tuesday in 2014 to nearly 800,000 votes cast last year in 2021, celebrating fat bears and Katmai's healthy ecosystem has since become a tradition. For bears, fat equals survival. Each winter, bears enter the den where they will not eat or drink until they emerge in spring. During this time, they may lose up to one-third of their body weight as they rely solely on their fat reserves. Survival depends on eating a year's worth of food in six months.

At Katmai, bears are drawn to the large number of salmon readily available from roughly late June through September. Salmon have long since been the lifeblood of the area, supporting Katmai's people, bears and other animals. Fat bears exemplify the richness of this area, a wild region that is home to more brown bears than people and the largest, healthiest runs of sockeye salmon left on the planet.
How it works
Rangers create a March-Madness style bracket pitting individual bears against each other. The public then votes to see who will advance each round. Voting takes place over several days on www.fatbearweek.org. People may vote using any criteria they see fit. In the end, one bear will reign supreme.
This year, Fat Bear Week starts on October 5 and concludes on Fat Bear Tuesday, October 11. In addition to voting during this week-long tournament, there will be a series of online chats on explore.org featuring Mike Fitz, explore.org's resident naturalist, and rangers from Katmai. These chats focus on both the individual bears and Katmai's healthy ecosystem. Throughout the season, you can also tune in to the explore.org bear cams, which offer unprecedented access to the lives of the bears of Brooks River. There are also special live events on a variety of topics hosted weekly throughout the season.

Who's who in the bracket? Check out the competitors and their early season/late season photos here.

More photos can be found on Katmai's Flickr site.
Schedule of events:
September 26: Fat Bear Junior Bracket revealed on social media
September 28: Live Chat at 3pm AK - Bear Language with information about the Fat Bear Junior competitors*
September 29 – 30: Fat Bear Junior voting open**
October 3: Live Chat at 3pm AK - Fat Bear Week Bracket Reveal*
October 4: Premiere of Fat Bear Week in the Classroom chat at 8am AK*
October 5: Live Chat at 3pm AK – Welcome to Fat Bear Week*
October 5 – 11 Fat Bear Week voting open**
October 11: Live Chat at 3pm AK – Fat Bear Tuesday (end of Fat Bear Week)*

*All live chat events are hosted on explore.org live chat channel.
**All voting takes place at www.fatbearweek.org
2021 marked the first year of the Fat Bear Junior competition, a smaller bracket where chubby cubbies compete for the chance to advance to the main bracket go up against the more senior, burly bears. This year, Fat Bear Junior takes place on September 29-30.

Who's who in the bracket? Check out the competitors and their early season/late season photos here.
Fat Bear Week in the Classroom
Looking to bring Fat Bear Week into the classroom? Check out some of these extension activities from Katmai as well as the explore.org curriculum.
Past champions
2014 - 480 Otis
2015 - 409 Beadnose
2016 - 480 Otis
2017 - 480 Otis
2018 - 409 Beadnose
2019 - 435 Holly
2020 - 747
2021 - Fat Bear Junior: 132's spring cub. Fat Bear Week 2021: 480 Otis
2022 - Fat Bear Junior: 909's yearling. Fat Bear Week 2022: 747
Last updated: October 13, 2022