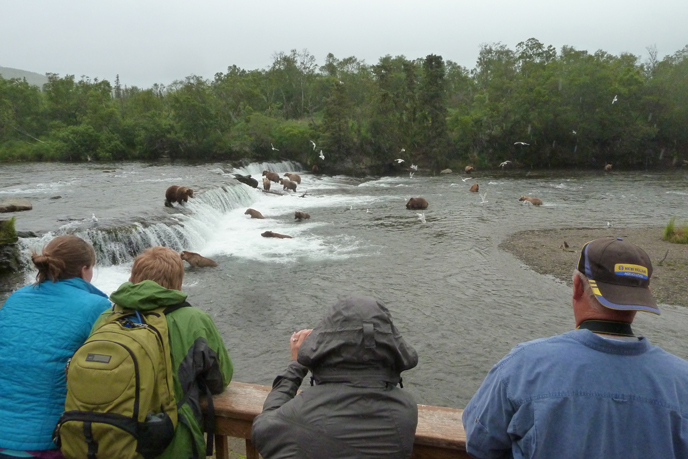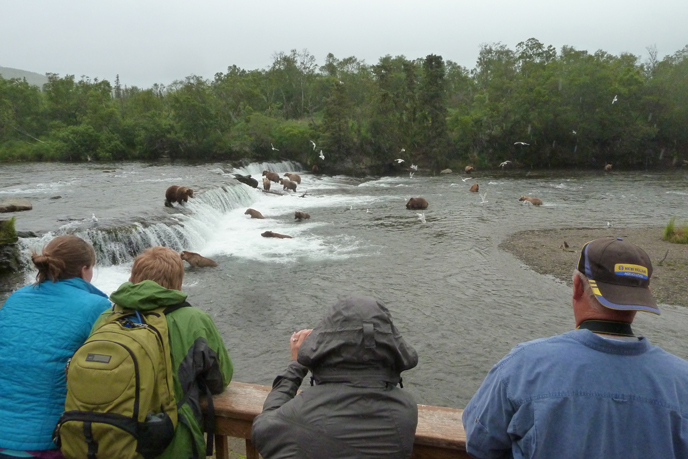 NPS/M. Fitz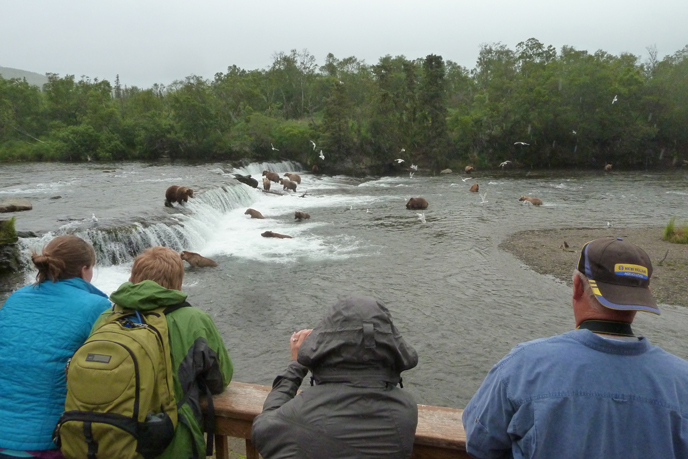 In May 2014 my wife, Ann, and I were vacationing on the southern Oregon coast. I use the word vacationing loosely as it generally refers to a short-term respite from work. Our vacations are not short-term. We are mostly retired and spend 8-10 months per year traveling the country in our Sprinter Van with sea kayaks on the top and a 17' Bigfoot travel trailer behind. I digress.

Upon checking my email while watching Pacific waves crash against sea stacks I saw an unexpected message from my former Katmai National Park supervisor. Curious, I thought. I have not heard from him in some time.

"I know this is a long shot, but would you consider returning to Brooks Camp this summer?" he wrote.

It seems a Brooks Camp park ranger had obtained employment elsewhere and an experienced last-minute substitute was needed. I had worked as a park ranger at Brooks Camp the summers of 2006 and 2007.

Ann and I were not together back then, when I first worked at Brooks Camp; she had never been there. Would she be interested in working as a volunteer in a remote place among brown bears? You bet she would be! There will be some adjustments required, I cautioned. No problem!

Living the park ranger life in a remote place with wildlife close at hand was not new to me. For several years before coming to work at Brooks Camp in Katmai National Park this summer I had worked a number of summers at Sequoia and Kings Canyon National Parks and even more winters at Everglades National Park. Ann was not new to remote living either. She annually heads into the Everglades wilderness in a kayak. Alone. For a month. Still, Brooks Camp was to be an extreme version of this lifestyle.

First off, we could not drive there. No road connects Brooks Camp with the outside world. The closest town is King Salmon, which also lacks road connection. The other seasonal rangers fly to Anchorage, then on to King Salmon where the Park Service arranges for the final leg to Brooks Camp. Since we live on the road and enjoy beautiful British Columbia and the Yukon Territory, Ann and I decided to drive to Anchorage.

Have you ever been on a backpacking trip, where you must plan your meals for several days? Try planning meals for three months. That is what we did in Anchorage. We planned our meals, purchased the food, boxed the non-perishables, and mailed them to King Salmon along with everything else we might need for the summer. Frozen food, produce, and eggs would be limited to what could be stuffed into carryon luggage.
After a couple of days in King Salmon attending to administrative chores and studying about the park, we boarded the NPS's de Havilland Beaver float plane for the twenty-minute flight to Brooks Camp. Woo hoo!

The Brooks River runs for all of 1.5 miles and drops a total of about 40 feet from its headwaters at Lake Brooks to its outlet at Naknek Lake. Part way along, the river plummets over the famous Brooks Falls where the bears gather in July each year for Salmonfest. Bears may fish for salmon anywhere along the entire length of the river, especially in September, but the falls are the best known spot.

The river separates two halves of the Brooks Camp area. At present the majority of park employees and all lodge employees live on the north side of the river near Naknek Lake, where the lodge is. For park ranger-naturalists living on this north side of the river, the commute to work is a walk of from 0.1 to 0.3 miles, depending upon the first duty station. Nice work if you can get it.

A handful of park employees live on the south side of the river, sharing three cabins on the shore of Lake Brooks. A ranger-naturalist living there, and there was only one in 2014, commutes from 1.0 to 1.2 miles on a dirt road to get to work each day.

I was that one ranger-naturalist. Ann and I lived at Lake Brooks this summer. Such a beautiful spot you can only imagine. Our log cabin, affectionately known as BL-3, was built in 1943 as a salmon research laboratory. We shared that cabin with three other park employees. BL-3 sits about the length of a typical suburban driveway from the lake. Brooks Mountain rises from the far side of the lake while Dumpling Mountain looms on the right. Idyllic. The only down side was that the bathroom was outside perhaps twelve steps away.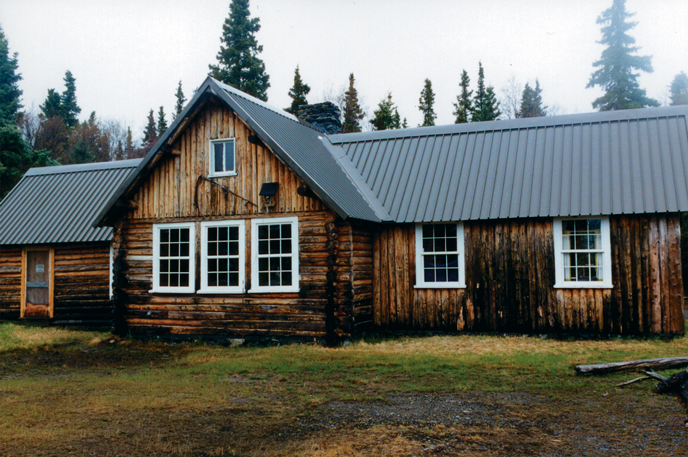 The oldest occupied structure at Brooks Camp was built by the Bureau of Fisheries in 1940. It now houses employees during the summer. NPS Photo

Living at Lake Brooks means a 20-30 minute walk to work each morning, depending upon the first duty station. The daily walk kept Ann and me in shape. The dirt road winds through dense forest. My tendency is to walk with my head down, lost in thought. This is not a good habit at Brooks Camp. As I walked to work I forced myself to keep my head up and scan the forest for bears. I do not want to be surprised by a bear. Also, I am a big fan of making noise as I travel. I do not want to surprise a bear.

"Hey bear, hey bear" is my default notice to bears that a human is coming. Late in the season I could repeat this mantra indefinitely and unconsciously, but I have another method. I have always been a shower singer, so I treated my twenty-minute walk to the Lower River Wildlife Viewing Platform as a long shower. It seemed appropriate since on many mornings the rain was falling. While I saw many bears I did not surprise any. I confess, though, that I surprised a few visitors when they discovered the screeching they were hearing was a singin' ranger.

I also have the habit of just walking abruptly out the door of my bedroom when I leave. This habit is also not a good one in Brooks Camp, and especially not from our bedroom in BL-3. You see, our bedroom door leads not to the common area but to the out-of-doors and Lake Brooks. We use that door to leave for work or to walk the few steps to the door of the common area or to the bathroom. This bedroom door contains no window. The wall on that side of the cabin also contains no window. The space between the cabin and the lake is a common bear travel path. On more than one occasion one of us would exit the bedroom to encounter a bear. There would be time for just one "Hey bear" before a quick re-entry.

We learned. We learned to open the bedroom door, look around first, THEN walk outside. On September mornings that look required a flashlight.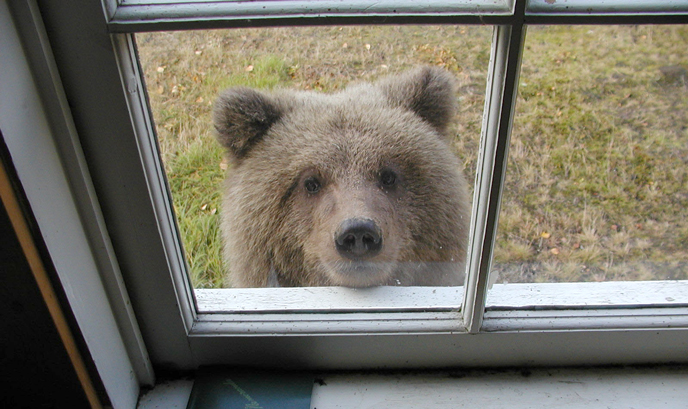 Bears are frequently seen near Lake Brooks and sometimes even peer in windows of employee cabins. NPS/E. Groth


Summer 2014 passed altogether too quickly. Our last evening and morning could not have been more iconic. I finished my last shift on the Lower River Platform at 7 pm. Twenty minutes later I arrived at the cabin. As is my wont, before entering the cabin I walked to the lakeshore to see who might be fishing at the outlet to Brooks River. As usual, Divot (Bear 854) was there. Her yearling cub was not to be seen, likely somewhere in the trees behind her. She has been fishing there most mornings and evenings for more than a month. Her coat is long enough and thick enough now that she must turn her head for any gap in fur to appear around her neck, evidence of the wire snare removed in late July.

A few minutes later, while taking out the trash, I was greeted briefly by Holly (Bear 435) and her two cubs as they walked between the cabin and the lake on their way to the river to fish. I was much closer to them than the approved 50 yards, but that was their choice not mine. I soothingly spoke "Hey bear, hey bear" while I backed up a couple of steps. They walked quickly by me and on to their supper. As usual, the adult does not look at me but the cubs do.

For the past few days I've been seeing Holly and brood daily from the Lower River Platform. I'm always amazed at how much bigger all of these bears appear when I am on the ground and close. And how Holly's cubs have grown this summer! Her adopted yearling is nearly as tall as she is.

Ann arrived home half an hour or so behind me. She called my attention to the dark sow with three dark spring cubs just outside the front door to the common area. The cubs are so big now they look like yearlings. They ambled down the road in the direction of the Lower River Platform.

Next morning was our last in Brooks Camp. So sad. Maintenance staff arrived in a truck to collect our many boxes of possessions. Ann and I were to walk the mile to the lower river, cross the bridge, and board the park landing craft on the lodge side of the river for the three-hour boat ride to King Salmon.

Along the way, at the intersection of the valley road and the road to the new boat landing, we encountered head-on the dark sow with three springers from the night before. We cut over to the new road to allow her to pass, intoning "Hey bear, hey bear" all of the while. In textbook fashion she continued on her way toward Lake Brooks without giving us a look, after which we continued to the Lower River Platform.

No ranger staffed the platform. We looked for ourselves to see if any bears were close enough to prevent us from crossing. Would multiple bears be in our way and delay the boat departure? Luck was with us. Only one bear was anywhere near, moving from down river towards the bridge. We believed we could cross before it reached the 50-yard mark.

As we crossed "with a purpose" the down river bear continued to close in on the bridge. In the dim light I now could see the bear clearly enough to identify it. This was Four Ton (Bear 410), my favorite bear. This size extra-large 26 year-old sow has seen it all and can do it all. Nothing fazes her. She is a good fisher from just about anywhere. She is successful fishing out in Naknek Lake, in the lower Brooks River, and will also fish the falls in July with the big bad boars. Did I mention that she is my favorite bear? What a way to end a season—our "Hey Bear! Hey Bear!" summer vacation.