"Don't get up bears, it's not worth it", I said loudly walking down the beach in the pouring rain.
"Yeah, don't be like us. We're crazy scientists!" Ranger Kelsey added wildly. 

It was cloudy and rainy for most of my week at Hallo Bay creating the feeling of being in a gray bowl. NPS Photo/K. Kunce
As I continued walking along the tide-line at Hallo Bay looking for evidence of beached birds, I though about how true this was. I had spent the week at Hallo Bay working with Ranger Kelsey and Researcher Joy. The weather had been miserable, expect for one day, and it did feel crazy to work in the pouring rain and wind. Everything we had was wet and damp, even in our tents. It gets to the point where you just accept that you may never dry out completely.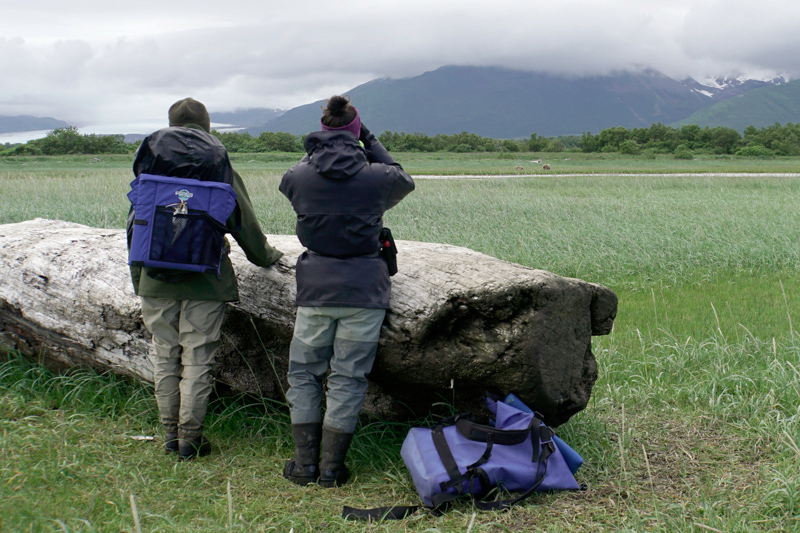 Ranger Kelsey Griffin, Researcher Joy Erlenbach, and I only entered into the sedge meadow once for observations. It was uncomfortable for me, to be surrounded by bears, with nothing in-between us. NPS Photo/K. Kunce
Ranger Kelsey and I were completing a COASST beached bird survey. We had 1 kilometer of beach in the northern half of the bay, and another 1 kilometer in the southern half of the bay to search looking for any signs of dead birds. Compared to the survey that was completed in Swikshak Bay, just north of Hallo, there were not as many birds found. It was surprising to us, and as we searched, we discussed theories of why it could be. All the while, we were being aware for brown bears, which was my main job. As someone who has a healthy respect for these animals, I did not want to be surprised or to surprise one of them. 
Even though I did not enjoy doing these surveys in the pouring rain, it was a neat experience. Plus, it did clear up for at least one half of one of the surveys.  When it was raining, there were no boats or planes to visiting to watch the bears. It was just Ranger Kelsey and I all alone on the beach. If I started to think about how remote and far from anyone or anything we were, it would start to make me a little anxious.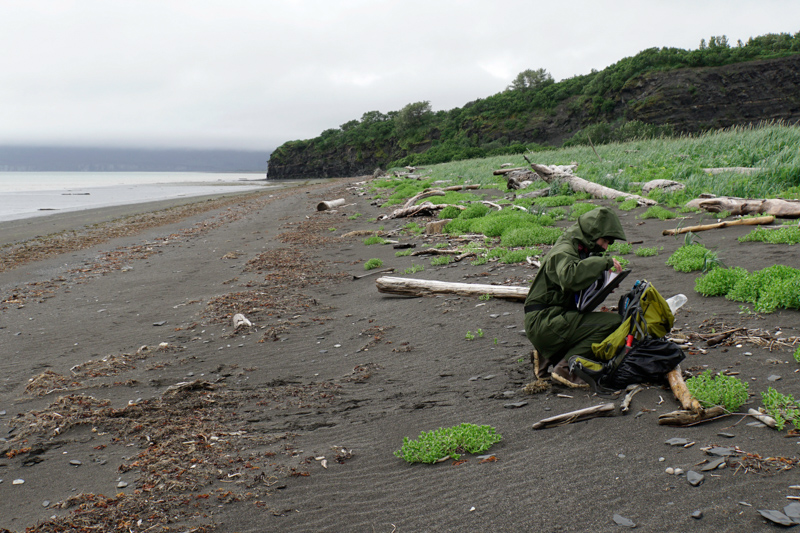 Ranger Kelsey getting out the data sheets for the COASST beached bird survey in the rain. NPS Photo/K. Kunce
Both Ranger Kelsey and I helped Researcher Joy with her survey for the Changing Tides project. Researcher Joy is completing focal and scan observations of brown bears in the vicinity. Over a span of eight hours, she documents how many bears she sees in the sedge meadow area or the intertidal zone. She writes what each bear is doing, and for some of the scans she focuses on one random bear. During that focal observation she watches the bear intently through the scope and creates a time frame of its day. How long does it eat in a foraging session? How many bites does it take during that time? How long does the bear fish before it catches one?
The eight-hour observations with Joy are broken up into two four-hour sessions, and can be back-to-back, or with a long break in-between. My first session with Joy was from 6:00 am to 10:00 am and it was cold and raining. As we walked down the beach in the morning, it was quiet. All I could hear was the rain hitting my hat and the sand moving under our feet. Joy could tell I was nervous, so we talked about different situations that could happen with the bears and what we would do.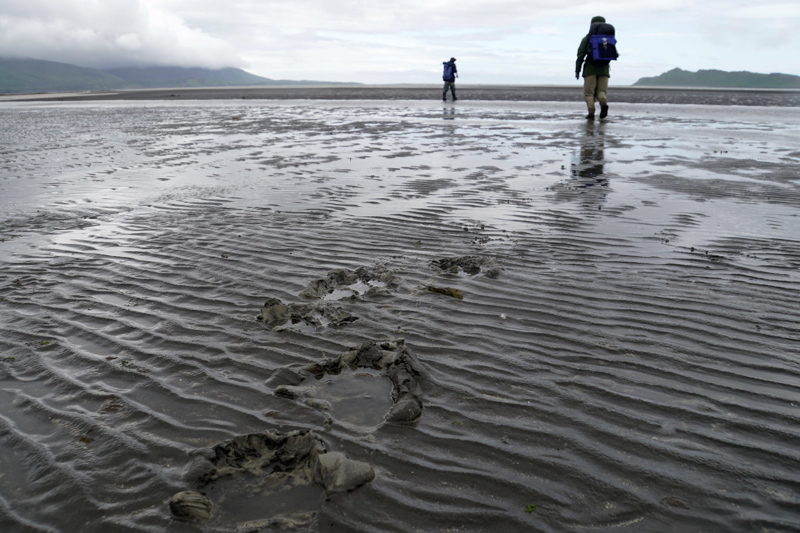 One of my favorite parts of the observations was checking to see if the bears were clamming successfully in the intertidal zone. NPS Photo/K. Kunce
Once we settled down on the log overlooking the sedge meadow, we saw only a couple bears. I asked her, "Why do you like bears?" as we sat in the quiet rain. "I like bears because they are misunderstood. Bears have such a bad rap when they are really neat animals," she replied calmly, looking through binoculars at a sow nearby.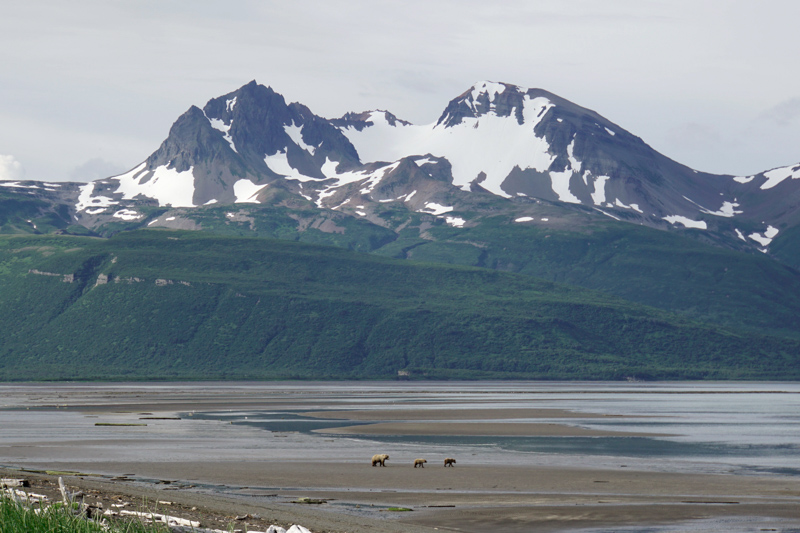 Most of the observations happen through binoculars or scopes, to limit our impact on the bear's behavior. NPS Photo/K. Kunce
Looking back on this week I'm glad I did it. Even though the rain made me want to stay inside my cozy sleeping bag, the enthusiasm from Ranger Kelsey and Researcher Joy made it easier to get up. 
"Kaitlyn, can I interest you in doing a survey?"
Well, I guess I'm a crazy scientist too.