As the Exotic Plant Management Team for Katmai National Park, our job is to survey for invasive plants at areas of high visitor use within the park. This includes popular destinations like Brooks Camp as well as remote backcountry areas that are frequently visited by anglers and bear viewers. When invasive plants are found, we document their locations and do our best to remove them, as well as plan future visits to the sites to remove the next generations.
Nicole and I are both ridiculously excited to be here this season. I grew up camping in Michigan's Upper Peninsula with my dad and following my mom around in her garden. It seems only natural that my career ended up including remote camping trips and ample time spent looking at plants. Nicole is a studying botanist who is enjoying the summer as an opportunity to botanize in one of the most pristine ecosystems in the country. It's a privilege to be able to work in such an unspoiled area of Alaska and to help keep it that way has been very rewarding so far.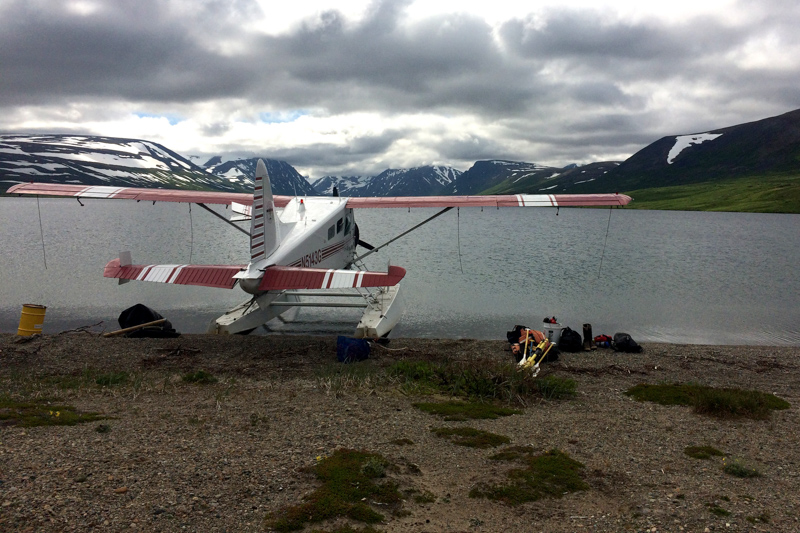 Not a bad view for the start of our first backcountry trip. NPS Photo/C. DeVries
Our latest trip began by taking a float plane to Hammersley Lake, where we then began our rafting trip of approximately forty miles down the American Creek to the outlet at Lake Coville. We stopped at popular campsites and fishing locations to survey for invasive plants. Rafting was a bit out of our comfort zone, but a few splashes (or thorough soakings), and one rather unintentional swimming adventure were all well worth it for the sights that American Creek had to offer.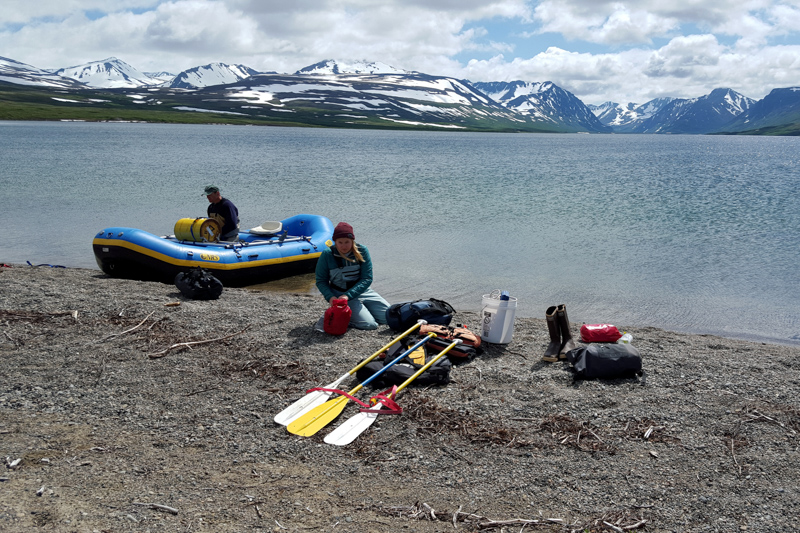 Prepping gear on the beach at Hammersley Lake before beginning our rafting trip. NPS Photo/N. Zampieri
This was truly the trip of a lifetime and we were continually amazed that our job is to nerd out about plants, which is also how we like to spend our free time. Fortunately, no invasive plants were found on park land during this trip, but it's very important that we check up on these high use areas in order to catch invasive plants quickly if they do become introduced. We were very happy to see a number of native species that were new to us on this trip, including rare native dandelions, lots of chocolate lilies, and even one uncommon alpine forget-me-not, the state flower of Alaska.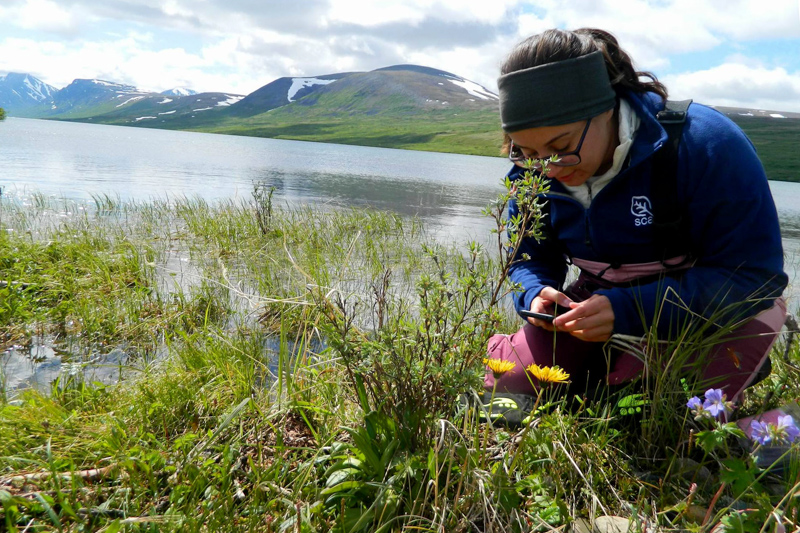 Nicole's first encounter with a native dandelion in the park. NPS Photo/C. DeVries
Katmai National Park is lucky when it comes to invasive species. With the remote nature of the park it has really limited the spread of invasive species into the area. That being said, prevention is the best form of invasive species control. It's extremely important that employees and visitors alike take extra care to clean their gear before entering the park to make sure that they aren't tracking in seeds from their last adventure. Invasive species can quickly establish in new areas and can crowd out native species that are important to Alaska's ecosystems. The few species that have managed to make it into the park, such as common dandelions, common plantain, and shepherd's purse, are our main focus as the exotic plant management team this season.
Christine and Nicole are SCA Interns working at Katmai as the Exotic Plant Management Team.