How is our knowledge of the past preserved, commemorated, and replicated so that it can be shared in the present?  We as archeologists confront these questions and more every day spent digging and mapping in the field.  Newly unearthed materials make us wonder about the "story behind the object." Imagine if you can, the challenge of interpreting materials that may be 9,000 years old.  Perhaps even more challenging is ensuring our interpretations remain objective and avoid ascribing contemporary worldviews or specific historic circumstances to the distant past.  While we cannot know with full certainty the story of every artifact or ancient landscape, we make every effort to develop methods that comprehensively consider data these resources provide. Chloe´ Stevens' recent blog post introduced ground-penetrating radar (GPR) as a new archeological technique adapted from geophysics for identifying buried house features at Brooks Camp.  Likewise, I find oral traditions and histories are some of our most vital resources in understanding our human history in the Park. Who better to unite the past and present in memory than those who share their heritage with that past?  
Oral histories from local descendants of former Katmai residents and long-time residents of Bristol Bay—elders and family members who retain memories of past generations—support the Savonoski Archeological and Ethnographic Survey.  The aim of this project is to better understand travel routes between historic villages in the interior of the park at Savonoski Drainage (Old Savonoski, Alinnak) and those across the Aleutian Range along the Pacific Coast (at Kaguyak-Douglas).  What was the motivation for traveling between these two areas?  Was travel heavily influenced by the availability of food and other life necessities in different places throughout the year, or were other factors at play, like trade of goods or celebration of winter holidays?  From these memories, we can learn about subsistence strategies that people used in the past and are still using today.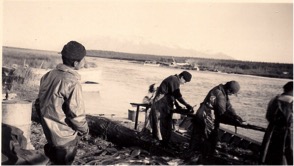 Trefon Angasan, Johnny Monsen, and Googie (Stephan Pututuk) splitting Fish at Kittiwik, the Local Name for Brooks Camp). PC, Melvin Monsen Sr.
This season, an ethnographic inventory by cultural resource staff succeeded in conducting interviews with five individuals, all of whom have different backstories and family histories that connect them to the upper Alaska Peninsula region.  The interview format included directed questions about identification with the aforementioned areas within the Park.  Individuals also shared were personal experiences within the region and oral histories passed along to them. The narratives from individuals, families, and community leaders are particularly germane to reconstructing not only the distant past of Katmai history, but also the more recent experiences with the development of Katmai National Monument and its expansion into a National Park and Preserve.
The interviewees shared stories of their experiences as children trapping beaver, catching red fish, putting fish up on drying racks on Brooks River, traveling by dogsled teams, hunting, and picking wild berries.  They recalled hearing stories of the cloud of ash from Novarupta's eruption in 1912 and the rigors of travelling to the coast.  While raising their own families, they experienced the economic transition to commercial fishing, changes in weather and wildlife patterns, and the changes in their own identification with the land.  At times, the interviewees shared anecdotal stories of traditional practices that generally took an air of comedic relief, like this excerpt taken from an interview with Dan O'Hara:
"…And about three generations from my teen years a man by the name of Evon Rickteroff and his son Frank killed the first moose on Iliamna.  He didn't know what he had killed but knew that it tasted good! (laughing)  And it became a tradition!  From that time on in 1952 and back three generations the moose started coming in."
All the while, every individual interviewed expressed a profound identification to, and admiration for, what we call Katmai Country. Much of what was shared will inform where future archeological surveys will be conducted, as well as help interpret how landscape and resources are connected to the lived experiences of local people. The project aims of recognizing the human story of Katmai County, uniting the past and present in memory, and commemorating the long-standing traditions will continue to develop over time. We hope this type of ethnographic collaboration will also be the start of providing more opportunities to our Alaska Native communities as important partners in the interpretation and science of Katmai National Park.   Special thanks to Melvin Monsen Sr. for sharing his pictures for this project.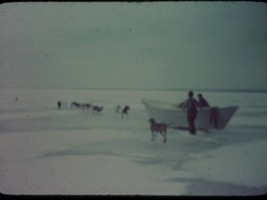 Johnny, Mike, and Googie using a dog team to tow a boat across Naknek Lake from Reindeer Point to Reindeer Station, 1946. PC, Melvin Monsen Sr.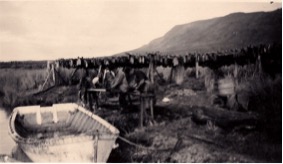 Fish racks and splitting table, Kittiwik (Local Name for Brooks Camp), 1945. Photo Courtesy, Melvin Monsen Sr.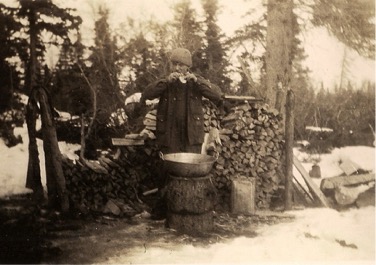 Well known trapper Johnny's half-brother, Victor. PC, Melvin Monsen Sr.